DOGECOIN: A crypto that started as a joke based on a meme but landed in the top 10 cryptocurrencies of the world today. Thanks to its Godfather, Elon Musk! Let's explore this lighthearted memecoin in this article.
For most of its history, Dogecoin was seen as a funny "memecoin" treasured by its community — but with no monetary worth. That changed in 2021 when Dogecoin rose to become one of the top ten cryptocurrencies by market cap, with a total value of $50 billion despite the fact that each coin is worth pennies.
A brief overview of Dogecoin
Originally created as a meme coin in 2013 by software engineers Billy Markus and Jackson Palmer, Dogecoin was intended to be a playful homage to Bitcoin without any practical purpose. Its name is derived from an internet meme featuring a Shiba Inu dog with comedic spelling, hence the term "doge" instead of "dog." However, Dogecoin has now transcended its humorous origins and is experiencing a significant surge, largely due to endorsements from influential celebrities and influencers like Mark Cuban, Snoop Dogg, and Elon Musk.
The impact of the GameStop saga in March 2021 partly contributed to the rapid growth of Dogecoin. Following that event, individual retail traders who had supported GameStop's rise shifted their focus to joke cryptos like DOGE. Elon Musk's frequent and enigmatic tweets in favor of Dogecoin also bolstered its credibility.
A pivotal moment for Dogecoin occurred in May 2021 when Elon Musk appeared on Saturday Night Live. Prior to the show, crypto traders and observers openly speculated whether Musk would mention Dogecoin. This speculation and subsequent discussions surrounding the coin captured the attention of various notable figures, including billionaire Mark Cuban. However, contrary to expectations, Dogecoin's value plummeted by over 30% after the event when Musk jokingly referred to it as a "hustle." Although Elon Musk's appearance on Saturday Night Live didn't directly benefit Dogecoin, his presence and the weeks of anticipation leading up to it undoubtedly brought crypto to the attention of millions of individuals, ultimately elevating Dogecoin's prominence.
According to its creators, Dogecoin has been utilized for online purchases, charitable causes, and fundraising initiatives such as supporting the 2014 Jamaican Olympic bobsled team and providing clean water to various regions worldwide. As crypto, DOGE is essentially a digital token that can be acquired in exchange for traditional currency and securely exchanged between parties via the internet.
Since its inception, Dogecoin and Bitcoin have always been a topic of debate. In the following section, let's see the basic differences between them.
Dogecoin Vs. Bitcoin
When we compare Dogecoin to Bitcoin, there are several differences between them. Firstly, Dogecoin offers a swifter and simpler process for miners to solve the complex mathematical equations necessary to validate and record transactions on the blockchain. This enhanced efficiency makes Dogecoin comparatively more effective for facilitating payment transactions.
Some experts say, "it takes 10 minutes for new blocks to be verified on the Bitcoin blockchain, it only takes one minute on the Dogecoin blockchain."
Another important difference lies in the absence of a lifetime cap on the total number of Dogecoins that can be generated. In contrast, Bitcoin has a total cap of 21 million coins, limiting the maximum quantity that can ever exist. Consequently, Bitcoin miners are required to exert greater effort and invest more time over the long term to acquire new coins. This plays a role in holding and growing the value of Bitcoin over time.
Now, let's see some important tips to consider before investing in Dogecoin in 2023.
4 Important Tips to Follow Before Investing In Dogecoin in 2023
#1 Volatility:
The foremost factor to note is the significant volatility of Dogecoin. Dogecoin gains popularity and attracts investors rapidly, so the price tends to fluctuate as investors cash out, causing declines.
#2 Influencers:
Influential individuals can have an impact not only on stocks but also on cryptos. Elon Musk, often referred to as the "Dogefather" and "Dogecoin CEO" by the community, has frequently tweeted about the coin, leading to substantial price surges. However, if a single person holds such influence over Dogecoin's pricing, it introduces uncertainty regarding its future trajectory.
#3 FOMO and public influence:
With Dogecoin generating buzz across the internet and everyone discussing investment opportunities every now and then, there is a risk of succumbing to the Fear Of Missing Out (FOMO) on a potentially lucrative investment. However, it is crucial to remember that not everyone achieves the same success as a few Redditors who became millionaires by investing their life savings in a trend.
#4 Understanding its intrinsic value:
Assessing the actual value of a digital asset like Dogecoin can be challenging and time-consuming, if not impossible. For most assets, you can examine metrics like the price-to-earnings ratio to determine the price investors are willing to pay for each dollar of earnings a business generates. However, such indicators are not available for Dogecoin, leaving investors in the dark when it comes to understanding its true value.
While these tips are important, they are also the main reasons you can consider investing in Dogecoin.
4 Things to Remember Before Choosing a Crypto Exchange in India for Dogecoin
You must do thorough research when choosing a crypto exchange to invest or for crypto trading in India. You must research the authenticity of the platform and the credibility of the team behind it before deciding on an exchange to invest in Dogecoin in India.
You should also ensure the platform provides the following before investing in Dogecoin:
The exchange's website/app has a simple user interface and is easy to use.
The exchange supports Dogecoin trading pairs.
The exchange employs state-of-the-art security measures and does not compromise when it comes to regularly upgrading it. Try to avoid exchanges that do not have a KYC protocol in place.
The exchange offers reasonable trading fees to buy crypto in India.
Now, let's see how you can buy Dogecoin in India from the most trusted exchanges in India in 2023.
Buying Dogecoin in India in 5 Easy Steps
Below are a few simple steps you can follow and buy the DOGE token in India with WazirX, India's most trusted and widely used crypto exchange.
The best way to buy DOGE tokens is by depositing INR in your WazirX wallet. Alternatively, you can also buy DOGE using P2P trade; to get answers to all your queries related to the P2P trade, click here!
Step 1 – Sign-Up on the WazirX platform
To begin buying and selling DOGE, you are required to create an account on the WazirX platform by signing up. Also, you can directly Log-in if you have an account already on the platform.
For your reference, here's how you can open an account on WazirX.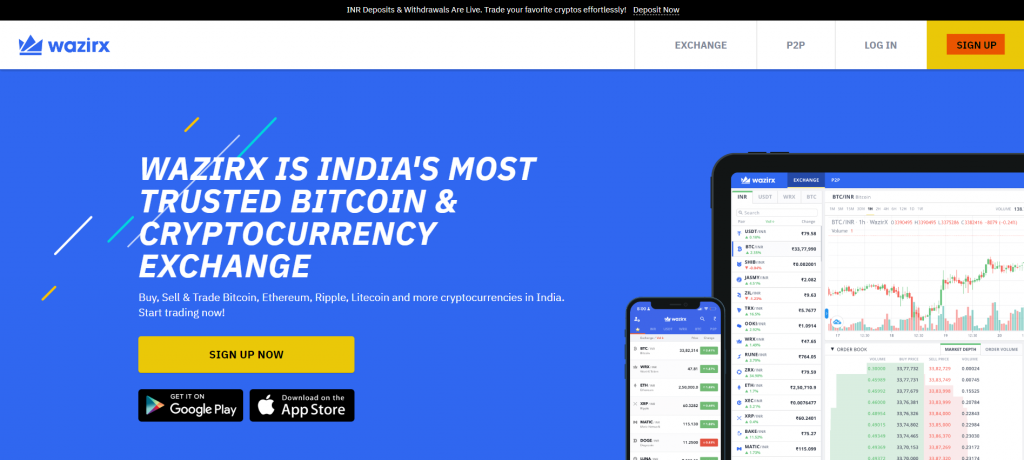 Step 2 – Set up your account security by verifying your email address.
This step is about verifying your email address. After you sign up on the WazirX platform, you'll get a verification link on your registered email. By clicking on that link, you'll get two options to ensure the security of your account – the authenticator app and mobile SMS.
Note: The authenticator app is a more secure way to stay safe when compared to mobile SMS because there's a risk of delayed reception or SIM card hacking.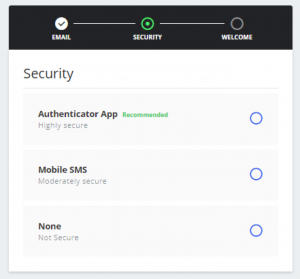 Step 3 – Complete the KYC process.
After choosing your country, you can proceed with completing the KYC process. Click here for a detailed overview.
Note: You must complete your KYC to be able to trade P2P or withdraw funds on the WazirX app.
Step 4 – Add funds to your WazirX wallet.
To add funds, simply go to your account on the WazirX app or web. Click on "Funds" and then on "Deposit INR."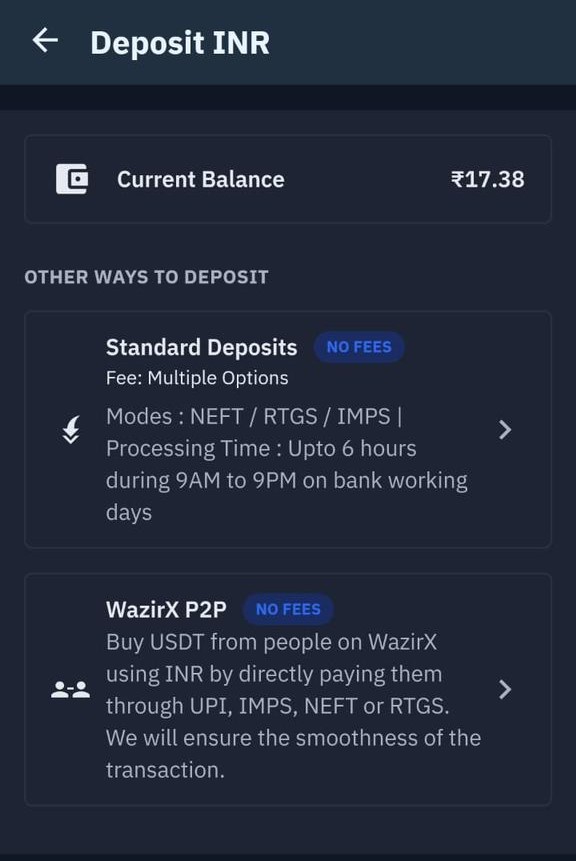 You can deposit INR using any mode (NEFT/ RTGS/ IMPS).
You can also buy USDT through P2P to the WazirX wallet. The USDT will act as funds to help you buy your favorite Cryptos.
Step 5 – Finally, buy DOGE on WazirX.
You can now easily purchase DOGE tokens using INR Deposits. In case of P2P trade, check the DOGE to INR rate from here and DOGE to USDT here.
After logging in to your WazirX account, you can choose INR from the "Exchange" tab. You can also check all the price charts, order book data, and an order input form on the right side of the screen.
Click "Buy" after entering the amount and checking the total INR amount to be paid.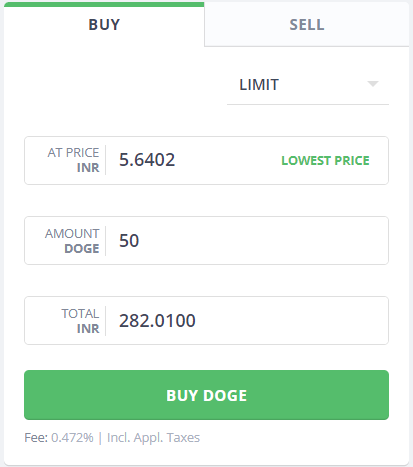 Your order will be placed according to the price you have input. And, in case of P2P trade, a seller willing to sell at a price will be notified, and then you can exchange the tokens using P2P.
It might take a few minutes for the order to be completed, but as soon as it is executed, you will receive the DOGE Coins you purchased in your WazirX wallet.
Happy Trading!

Disclaimer: Cryptocurrency is not a legal tender and is currently unregulated. Kindly ensure that you undertake sufficient risk assessment when trading cryptocurrencies as they are often subject to high price volatility. The information provided in this section doesn't represent any investment advice or WazirX's official position. WazirX reserves the right in its sole discretion to amend or change this blog post at any time and for any reasons without prior notice.