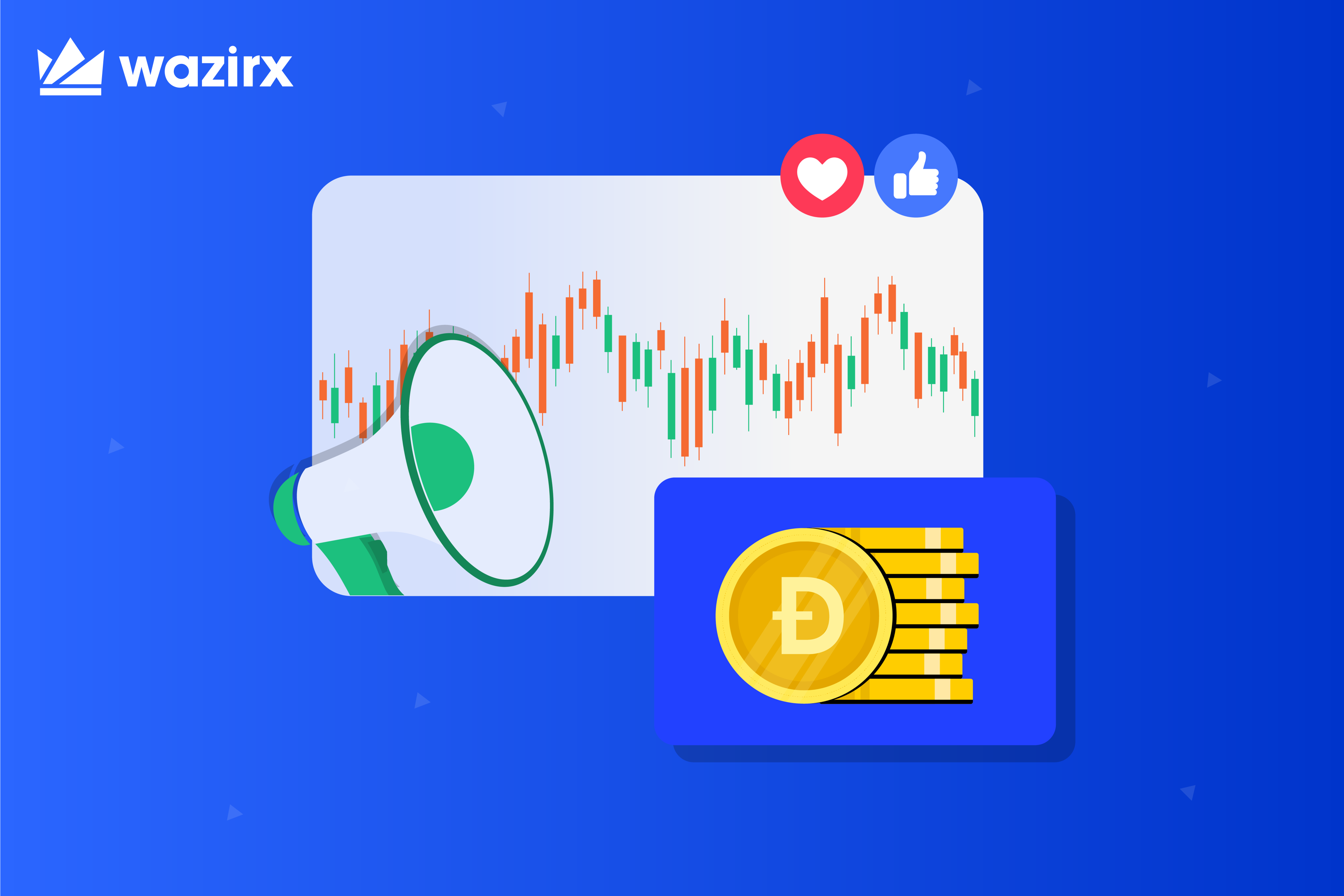 If you are acquainted with the world of cryptocurrencies and intend to buy cryptocurrency in India, there's no way you haven't seen the hype surrounding Dogecoin in the very recent time. As of May 2021, Dogecoin has a market cap of over $63 billion, which is bigger than almost three-quarters of the companies included in the S&P 500. The record levels at which Dogecoin has been trading in the recent past has been attributed mostly to Elon Musk, who has been quite vocal about supporting the cryptocurrency for a while now with his memes and tweets.
There's also Slim Jim – the very company that sells beef jerky snacks, which has recently made Dogecoin an integral part of its marketing and social media interactions. Lanie Friedman, a spokeswoman for Slim Jim's parent company Conagra Brands, has even confirmed that since the company's Twitter page started hyping up the coin back in February, its Twitter presence has grown by fivefold.
Dogecoin was created as a parody cryptocurrency by Adobe Product Marketing Manager Jackson Palmer and Billy Markus in 2013. Now, the question you are probably asking is how exactly a joke cryptocurrency manages to get such a huge global following. In this post, we take a look at the reasons and what the Dogecoin price 2021 could look like.
First Things First Though, Some Background on Dogecoin:
The two developers admittedly looked to make the Dogecoin project "as ridiculous as possible"; the crypto uses a popular meme as its logo after all. The original meme shows a Japanese Shiba Inu dog, with its inner monologue displayed around it in Comic Sans font.
Further, Dogecoin also had a total supply of 100 billion coins, for the co-founders had wanted to make Dogecoin "undesirable as a cryptocurrency so that it didn't become serious". However, as more and more traders began to take an interest in the crypto, the developers removed the supply limit so as to promote the use of the token and stop traders from 'hodling in the coin.
Dogecoin, or DOGE, originated as an open-source, P2P (peer-to-peer) cryptocurrency; it was essentially designed to be a faster, more cost-effective alternative to Bitcoin. Aa new block is generated on the Dogecoin blockchain in one minute only, unlike Bitcoin's ten minutes.
Dogecoin's code is based on Luckycoin, a fork of Litecoin. The Dogecoin developers also decided to use the same proof-of-work (PoW) consensus algorithm as Litecoin; it's called
Scrypt, and it is an ASIC (Application-Specific Integrated Circuits) resistant PoW algorithm. Moreover, Dogecoin uses a merged mining model to allow Litecoin miners to earn Dogecoin, to avoid competition, and lower any security threats to the Dogecoin network.
Why Does Dogecoin Keep Growing in Popularity?
The very thing that made Dogecoin a comical project also gave it the push necessary to become a legitimate crypto in the eyes of traders. The humor associated with Dogecoin made it more accessible to traders, both novice and experienced, and removed a large part of the anxiety that comes with the volatility of crypto prices. The fact that it cost very little also helped. Within two weeks of its launch, the Dogecoin price had gone up by 300%, that too amidst China banning payment companies from dealing with Bitcoin.
Since then, two other primary factors have helped Dogecoin become this popular- its real-world utility and its sprawling yet tight-knit, caring community. For instance, when the community faced its first major hacking attempt in the December of 2015 and about 11 million DOGE got stolen (the Dogecoin price translated to about $12,000 at the time), the Dogecoin community came up with a joint initiative named SaveDogmas to reimburse the victims of the hack. The community even managed to donate 15 million DOGE to the SaveDogmas wallet.
These unexpected acts of kindness followed in the years to come. To mention a few, in 2014, the community began raising funds through the DOGE donations to support various charities. The Dogecoin community raised $30,000 within hours to help the Jamaican Bobsled team get to Sochi, Russia, and join in the 2014 Winter Olympics. Not only that, but the community also provided Indian Luger Shiva Keshavan with some much-needed funding to make it to the same Sochi Olympics. This time the members of the Dogecoin Reddit community raised over $7,500 within a day.
Also, in February that year, the Dogecoin community managed to put together another $30,000 for the Doge4Kids initiative. The money went to the 4 Paws for Ability charity that pairs up service dogs with children with special needs. In March, the community sent across $50,000 to a US-based non-profit organization project that aimed to build clean water facilities in Kenya.
Aside from those factors, there's also the fact that many influential celebrities have also shown their support for Dogecoin. Aside from Tesla CEO Elon Musk, there's Carole Baskin, who starred in Netflix's "Tiger King," singer Gene Simmons, and the rappers Snoop Dogg and Lil Yachty, to name only a few.
Dogecoin Price 2021, and How to Buy Dogecoin in India?
According to Dogecoin price 2021 predictions, the value of the crypto will only go upward from here. The forecasts suggest the coin would enter 2021 with a Dogecoin price of almost $0.87, and in five years' time, it could go up to near $2. This, without a doubt, proves Dogecoin a good investment.
If you want to buy cryptocurrency in India – Dogecoin, in particular, WazirX is one of the few Indian exchanges that would allow you to do so. WazirX has come to be one of the safest and most trusted cryptocurrency exchanges in India. On WazirX, you can trade over 100 cryptocurrencies, including BTC, ETH, LTC, XRP, and DOGE, of course. On WazirX, you can make both DOGE to INR and DOGE to USDT trades!

If you'd like to know more about buying cryptocurrency in India through WazirX, don't forget to visit our website!
Further Reading:
Dogecoin Price Prediction 2021 : How much is it worth in 2021?
What is Dogecoin? How to buy Dogecoin in India?

Disclaimer: Cryptocurrency is not a legal tender and is currently unregulated. Kindly ensure that you undertake sufficient risk assessment when trading cryptocurrencies as they are often subject to high price volatility. The information provided in this section doesn't represent any investment advice or WazirX's official position. WazirX reserves the right in its sole discretion to amend or change this blog post at any time and for any reasons without prior notice.