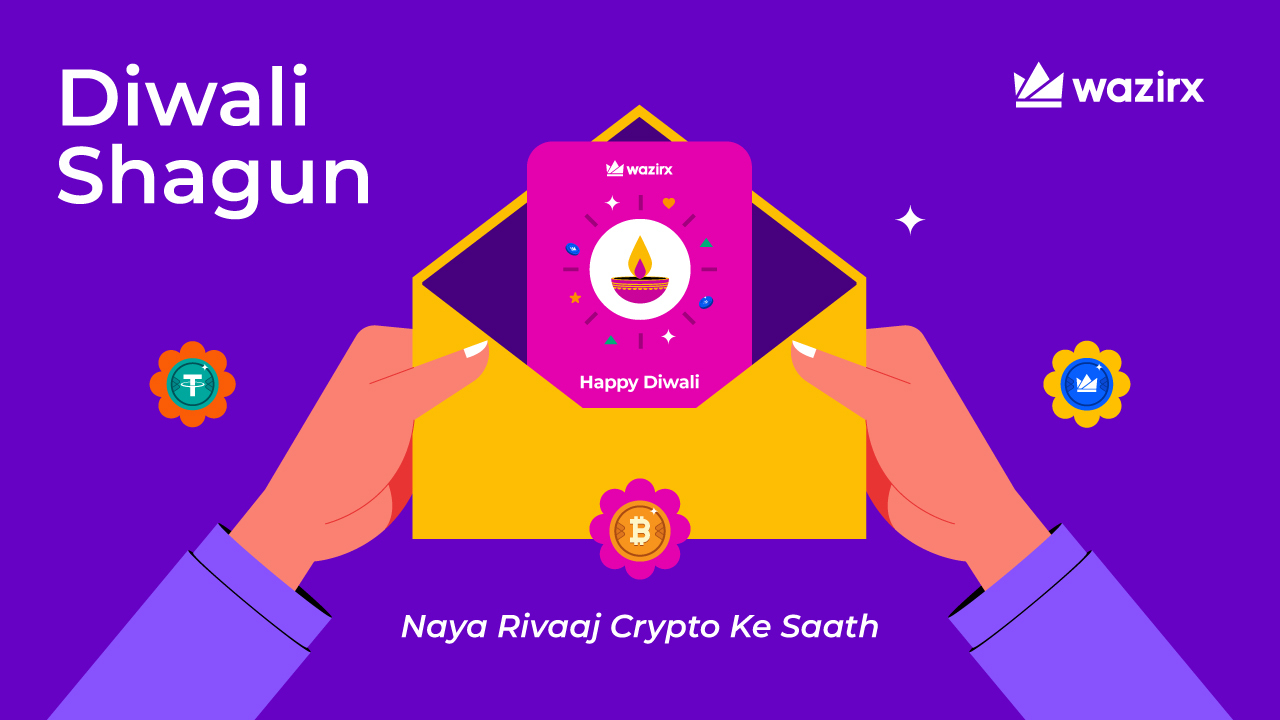 Namaste Tribe!
Diwali is around the corner, and what's better than having a new gifting idea for your friends and family? WazirX is taking a step forward this festive season to redefine the traditional way of gifting by making digital gifting the new normal.
We recently launched the Crypto Gift Card feature for you, our beloved users, to take the idea of Crypto mainstream. Now, that's not it!
Going by our deep-rooted traditions of giving 'Shagun' during Diwali/Deepawali, we will be distributing Shagun in WRX to the first 10,000 users who'll be sending gifts via WazirX. Read on to get your WRX Shagun because #YehDiwaliCryptoWali hai.
Crypto Gift Cards: A step towards getting your Shagun
During Diwali, giving your loved ones goodies and hampers are too mainstream. Isn't it? What do you think?
To redefine this traditional way, we have launched the new Crypto Gift Card feature, which makes gifting easy and innovative.
With this feature, you can gift Crypto to anybody within minutes from anywhere at any time! No delivery charges or calls. All you need to do is, go to the WazirX app and click on 'Gift Crypto.' Yes, it's that easy. For more information, you can read here!
Diwali Shagun from WazirX
We will be distributing Diwali Shagun in WRX (value will be decided on a lucky draw basis) to the first unique 10,000 users who send gifts via WazirX. Read the T&C given below for more details.
T&C for receiving Diwali Shagun from WazirX:
The Diwali Shagun campaign period is from 10 AM IST on 20 October 2022 to 10 PM IST on 26 October 2022.
Only Indian KYC-verified users are eligible to receive a reward (Shagun).
This gifting feature is available only for Indian KYC-verified users. You're not allowed to send gifts to foreign residents.
To be eligible to receive the Shagun, the minimum value of the gift should be INR 501/- (Rupees Five hundred and One only).
The first 10,000 users sending Gift Cards via WazirX will get a Shagun in WRX token(s). This Shagun will be distributed based on a lucky draw.
A user will receive Shagun only once during the offer period, even if they send multiple Gift Cards.
Senders will only receive the Shagun if the recipient accepts the Gift Card.
As a sender, you will receive notification emails when your gift is sent and claimed. Please check the sender's email address before clicking on any link.
For general terms and conditions related to Gift Cards, read here.
Prizes will be distributed by 11 November 2022.
WazirX has the right to reverse the funds in case any suspicious activity is detected/suspected without any prior notice.
Rewards are void if restricted or prohibited by law.
WazirX reserves the right in its sole discretion to amend or cancel the giveaway rules and announcement at any time and for any reason without prior notice.
Bonus for WazirX P2P traders
To make this Diwali bonanza more exciting and ensure more convenient trading, we have modified our P2P engine minimum buy limits during this festive season. From 20 October, 10 AM IST to 26 October, 10 PM IST, the minimum purchase value of USDT on the WazirX P2P platform will be reduced to 8 USDT (from the previous 14.5 USDT) for all users.
This festive season, gift the future to your near and dear ones with WazirX Crypto Gift Cards. Let's start a Naya Rivaaj Crypto Ke Saath!
Keep gifting, and we wish you a joyous and prosperous Shubh Deepawali!

Disclaimer: Cryptocurrency is not a legal tender and is currently unregulated. Kindly ensure that you undertake sufficient risk assessment when trading cryptocurrencies as they are often subject to high price volatility. The information provided in this section doesn't represent any investment advice or WazirX's official position. WazirX reserves the right in its sole discretion to amend or change this blog post at any time and for any reasons without prior notice.