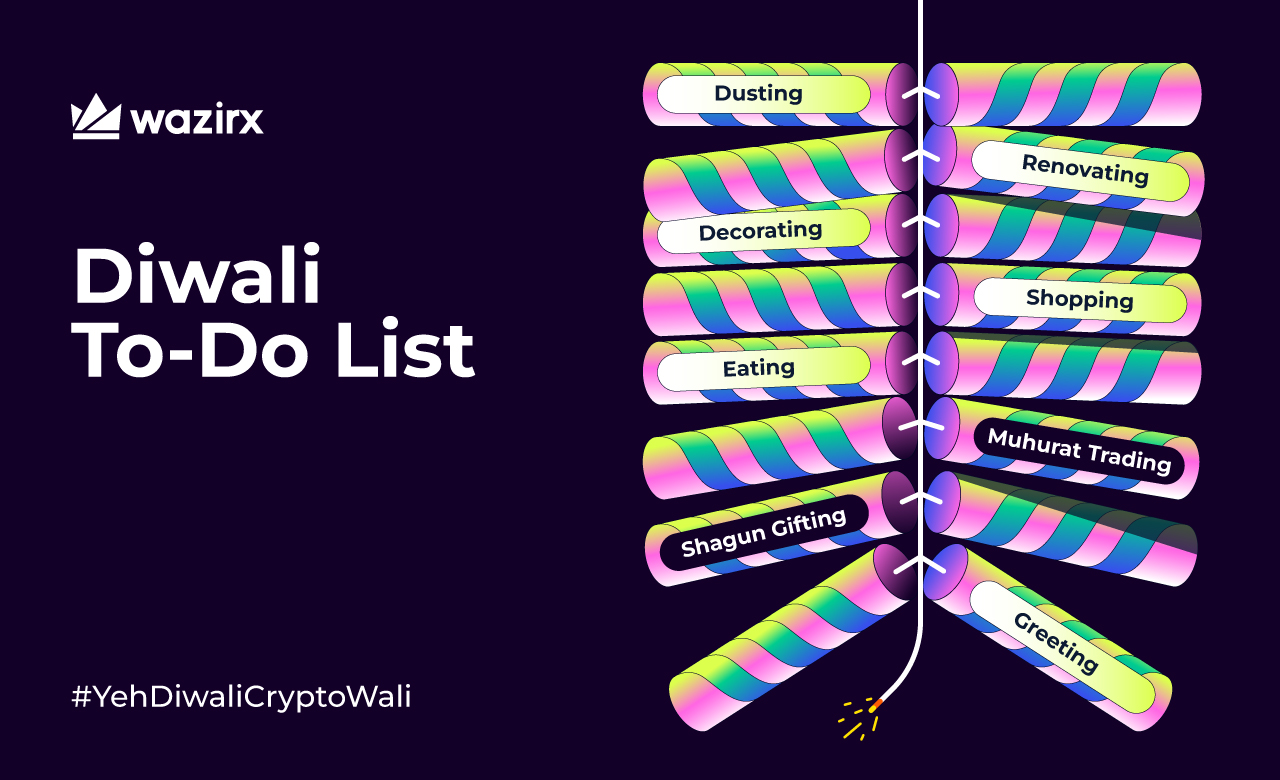 Dear Tribe! 🙏
It's time to celebrate the festival of lights. 
More than a billion people celebrate this festival and exchange sweets and gifts as a form of love and celebration. Team WazirX is also thinking along the same lines this festive season.
We are all set for a DOUBLE DHAMAKA!
This Diwali, team WazirX has upscaled and worked on blending traditions with innovations.
Crypto Gift Cards by WazirX (Diwali Shagun added 💌💰)
The season of gifting is here, and everyone is looking out for unique Diwali gifts. Keeping this in mind and understanding the love for Crypto that we all share, WazirX recently launched the 'Crypto Gift Card' feature on its platform (mobile and web). Registered WazirX users can 'Present the future' to their loved ones through this new addition. 
Now, here we have a "sone pe suhaga!" WazirX will distribute Diwali Shagun in WRX to the first 10,000 unique users who send Gift Cards via its platform. The Shagun value will be decided based on a lucky draw. Read more about Diwali Shagun by WazirX and its associated terms and conditions here.
Yes, we believe in continuing our traditions. But this time, it's a "Naya Rivaaj Crypto Ke Saath."
Muhurat Trading on WazirX
Get ready, as it is the "0% trading fee, 100% khushiyaan" wala time of the year. While Muhurat Trading has been specific to the Indian Stock Market, we at WazirX are happy to re-introduce 'Muhurat Trading' in the Crypto sphere.
During the Muhurat trading on WazirX, all users can trade at ZERO fees in any market of WazirX (INR/USDT/WRX) between 22 October and 24 October 2022 at no extra cost. To know more about this, read here!
Muhurat Trading schedule:
Saturday, 22 October 2022, 6 PM – 7 PM IST
Sunday, 23 October 2022, 6 PM – 7 PM IST
Monday, 24 October 2022, 6 PM – 11:59 PM IST
Bonus for WazirX P2P traders
To make this Diwali more dhamakedar and ensure convenient trading, we have modified our P2P engine minimum buy limits during this festive season. From 20 October, 10 AM IST to 26 October, 10 PM IST, the minimum purchase value of USDT on the WazirX P2P platform will be reduced to 8 USDT (from the previous 14.5 USDT) for all users.
WazirX has always believed in innovation, and we are continuously making efforts to redefine the way people perceive Crypto. We hope you make the most of these offers and get Maa Lakshmi's blessings. Let's adapt to this new normal together and celebrate this Diwali the Crypto way.
Let's Celebrate Diwali With "Naya Rivaaj Crypto Ke Saath."
On behalf of team WazirX, I wish you all a happy, safe, and prosperous Diwali 2022.

Disclaimer: Cryptocurrency is not a legal tender and is currently unregulated. Kindly ensure that you undertake sufficient risk assessment when trading cryptocurrencies as they are often subject to high price volatility. The information provided in this section doesn't represent any investment advice or WazirX's official position. WazirX reserves the right in its sole discretion to amend or change this blog post at any time and for any reasons without prior notice.