The phrase "Data is the new oil," has been prevalent in various industries, including Web3. The use of Big Data has undergone a revolution in various commercialization, and the implications have been remarkable for public welfare.
A blockchain-based platform called Ocean Protocol honors the value of data. It enables a marketplace that is decentralized for data assets and services that are required to be distributed between individuals and organizations based on the security offered by the Blockchain network.
The birth of the idea
Ocean believes "Big Data" significantly disadvantages users and network participants by sharing and selling users' data while they have little to no control over the process. To fix this, the Ocean team is working to develop a decentralized data-sharing protocol that would enable individuals, businesses, and everyone else to exchange data with symmetric control and transparency. Additionally, Ocean wants to monetize vast amounts of idle or inactive data by rewarding participants. This protocol's overarching objective is to support ongoing developments in artificial intelligence (AI), a field that strongly depends on reliable data markets and data inputs.
Ocean believes creating a safe environment for providers and custodians to share data is essential for a thriving, long-term data market. One of Ocean's solutions for data sharing is the integration of a peer-to-peer protocol.
A quick introduction to Ocean Protocol
Ocean Protocol is an open-source protocol that promises to simplify data sharing and monetization for organizations and individuals. The Protocol offers a dataset tokenization service, which converts data into 'datatokens' and stores them on the blockchain. The protocol runs on the Ethereum network. The process of data tokenization enables organizations, enterprises, and individuals to sell or exchange datasets on the data marketplace of Ocean. The use of blockchain technology ensures the security of each and every piece of data.
How does Ocean Protocol work?
Ocean Protocol has three sections: data publishers, data consumers, and Ocean Market as a marketplace. Let's take a look at each of them and how they constitute to the working of the protocol.
Data Publishers: Data owners who tokenize their data into Non-Fungible Tokens (NFTs) and make it available to other users. On the platform, there are two types of data sales:
Data ownership is being sold.
Sales of proprietary data in which the publisher retains complete ownership.
Data Consumers: Buyers who actively search the market for data and then utilize DataToken to access it.
Ocean Market: It is a data marketplace where data publishers and data consumers can interact. It also offers a data distribution tool via which users can monetize and stake their data for monetary gain.
In addition, all Ocean Protocol data will be minted as ERC-721 data NFTs, with access granted via ERC-20 data tokens.
Additionally, Ocean Protocol makes use of Automated Market Maker (AMM). Giving buyers and sellers the option to price their data individually or let the market do it automatically makes trading on DEX as simple as possible. Compute-to-Data, another feature of the platform, protects data privacy.
Highlights of Ocean Protocol
The following are the points that make Ocean Protocol unique:
Web 3.0 Development: Ocean Protocol is one of the teams that is building the web 3.0 framework for a more decentralized internet network.
️OCEAN marketplace: A Decentralized Exchange (DEX) for data that allows data providers to sell and grant access to their datasets.
Data tokenization: Data can be tokenized by companies and individual researchers. Datasets are converted into Ethereum ERC-20 network standards by tokenization, providing customers with access to their data.
Leaders in the data sector: The protocol takes pride in being the first organization to develop and introduce the data economy sector to blockchain networks.
Collaboration with organizations and countries: Through partnerships with organizations like Gaia-X and BMW, Ocean's different cooperation agreements boost the adoption of its network.
Pros and cons of Ocean Protocol
The issue of whether or not to commercialize data is no longer required in today's time. The dilemma is, though, how much of this data to commercialize. If left to the major tech firms, almost all personal data has potential, and it is now up to users to discover a way to safeguard their privacy. The Ocean Protocol strikes a balance between data commercialization and privacy protection.
This is made possible by a number of products that Ocean Protocol offers. First, it is the Data Ecosystem platform where users need to upload, store, and control access to their data while monetizing it. The next product is the Data marketplace. It connects buyers and sellers to facilitate the exchange of data assets.
On the platform, you can sell or purchase data assets from businesses, the government, or private individuals.
Speaking of drawbacks, as it is only supported by Ethereum, users on other networks cannot use it. Additionally, the platform is also impacted by Ethereum's scalability issue.
How to buy Ocean Protocol (OCEAN) tokens?
Following a few simple steps, you can buy OCEAN tokens in India via WazirX, India's most trusted and widely used Crypto exchange.
Now, you can buy OCEAN tokens using P2P trade. Here are all your questions answered about P2P.
Step 1: Sign-Up on WazirX
To start trading the OCEAN token, you should first create your account by signing up on the WazirX platform. Or you can directly Log-in if you already have an account with WazirX.
Here's a guide explaining how to open an account on WazirX.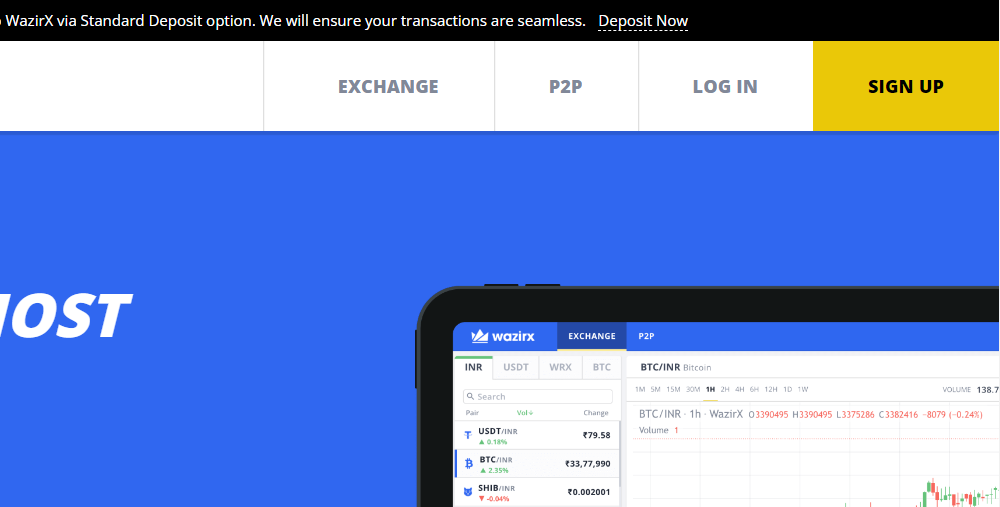 Step 2: Verify your email account and set up your account security.
The following step is to verify your email address. After signing up, you'll receive a verification link on the email address by which you've just created your account.
On clicking on the link, you'll have two options to assure the security of your account – the authenticator app and mobile SMS (as shown in the image below)
Note: The authenticator app is a more secure way to stay safe when compared to mobile SMS because there's a risk of delayed reception or SIM card hacking.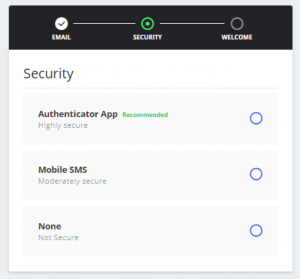 Step 3: Complete the KYC.
After selecting the appropriate country, complete the KYC process.
Note: Without completing your KYC, you will be unable to trade P2P or withdraw funds on the WazirX app.
Step 4: Add funds to your WazirX account through P2P.
After linking your bank account to your WazirX account, you can buy USDT through P2P to the WazirX wallet. The USDT will work as funds to buy other coins.
Step 5: Buy OCEAN on WazirX
You can purchase OCEAN tokens using P2P trade through WazirX. Check the OCEAN to USDT here.
After logging in to your WazirX account, you can select USDT from the "Exchange" tab. You can see all the price charts, order book data, and an order input form on the right side of the screen.
Click "Buy" after entering the amount and checking the total USDT amount to be paid.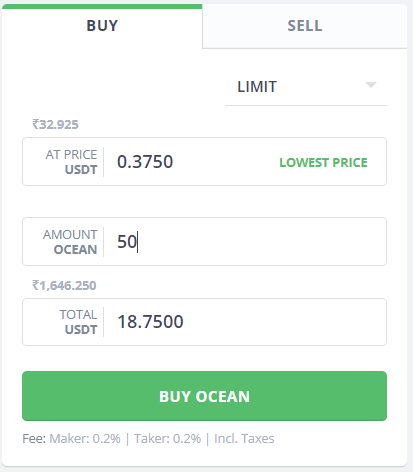 Your order will be placed according to the price you have input. A seller willing to sell at a price will be notified, and then you can exchange the tokens using P2P.
It might take a few minutes for the order to be completed, but as soon as it is executed, you will receive the OCEAN tokens you purchased in your WazirX wallet.
Happy Trading!

Disclaimer: Cryptocurrency is not a legal tender and is currently unregulated. Kindly ensure that you undertake sufficient risk assessment when trading cryptocurrencies as they are often subject to high price volatility. The information provided in this section doesn't represent any investment advice or WazirX's official position. WazirX reserves the right in its sole discretion to amend or change this blog post at any time and for any reasons without prior notice.