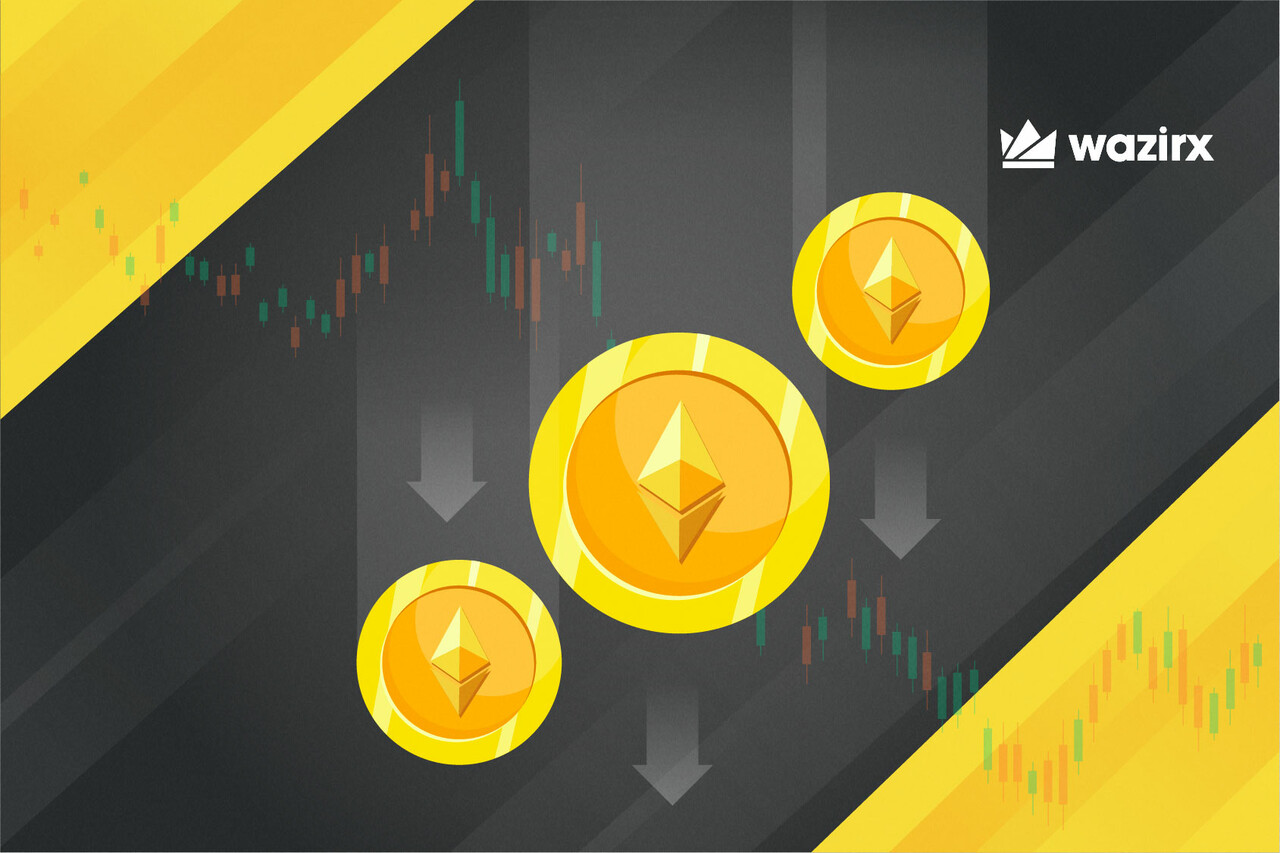 Anders Larsson, founder and investor at CTO Larsson, is also a regular YouTuber who posts crypto predictions. After serving in numerous CTO roles with billions of dollars in annual sales responsibilities over the previous few years, Larsson is now focused on bringing emerging technologies like blockchain to the same scale as telecom. A well-known tech adviser with multiple patents to his name, he is also the creator of the Larsson Line trend indicator, which numerous billionaires currently utilize for tech stocks and cryptocurrencies.
His cryptocurrency price forecasts are nearly always correct and have garnered him a relatively solid fan following. Today, let us look at what Larsson has to say about Ethereum prices. More specifically, we'll examine why Larsson gave Ethereum the "Sell now" call.
A brief history of ETH prices
In May 2020, Larsson gave a $175 entry on Ethereum with a protected downside. Ethereum is now trading above $4,204.68 more than a year later. Larsson also illustrated five possible scenarios for Ethereum in May 2021, one of which valued Ethereum at $30,000 each. And, according to Larsson, the $30,000 scenario is now looking quite promising.
Here's why.
If we consider the utility of Ethereum today, it is, without a doubt, 60 times more than that of Bitcoin. If the utility factor isn't enough to convince you, consider how much people pay to use it. As Larsson said in his video, fees paid on Ethereum have been as high as 40 million dollars in the previous month, while people only paid 600,000 dollars to use Bitcoin.
One might argue that, given how most people acquire Bitcoin to store it and then sell it at a better price later, there's almost no need to utilize it. But, in the end, what counts is which coin people are ready to pay for, and it appears that Ethereum is that coin.
The argument that Ethereum will beat Bitcoin is nothing new. For a long time now, several experts have predicted that ETH will most certainly beat BTC, and if you're looking at the facts and figures, it appears to be true. A couple of months ago, Nigel Green, the CEO of deVere Group, was reported saying to City AM that "Ethereum (ETH) is outperforming Bitcoin (BTC) and it can be expected to continue this trend for the rest of 2021." He also added, "Ether is up around 240% this year, while Bitcoin is up less than 38%. In fact, it has outperformed all other benchmark assets in the first half of this year."
Of course, when it comes to market share, Bitcoin still has a significant lead over Ethereum. However, the situation is not quite the same when looking at the year-over-year growth of each of these cryptos. While Ethereum has increased by over 900% over the last year, Bitcoin has only increased by 275%.
An almost flip that turned out to be a crash
In May 2020, the Larsson Line flipped gold on Ethereum, but there was a dip to a key support level which it held, and ETH bounced back. According to Larsson, it appears that the same thing is happening now. The Larsson Line flipped gold on Ethereum; there was a dip to a key support level, it held and bounced up again.
When the video came out, Larsson pointed to a cup and handle formation and commented that a clean break above $4,000 would pretty much confirm it. Well, it has happened. As of 22 October 2021, Ethereum is trading at $4,111.70 with a 24-hour trading volume of $22,393,165,531.
You can probably think that right now is a great time to go and buy some ETH. But Larsson has a different opinion. He says that he's ready to sell ETH, only pending one key event.
What could that key event be? And why is right now a good time to sell ETH? Let's find out.
Why do you need to SELL Ethereum and not BUY it?
If you closely observe the various things around us, you'll see that most objects in nature and physics can be described as a pendulum. Larsson says, "This applies to society and narratives too. Things swing back and forth. They get over-extended in either direction before they turn back. And nowhere is this as clear as in the charts for speculative assets like cryptocurrencies."
Phase 1
Larsson suggests that rather than looking at the ETH/USD chart, one should look at the ETH versus Bitcoin chart to understand Ethereum's price direction better. If you look at the power balance between the two coins, you'll notice that the price of Ethereum compared to the price of Bitcoin increased dramatically from 2015 to 2017. The narrative of this first phase was that, eventually, Ethereum would flip Bitcoin.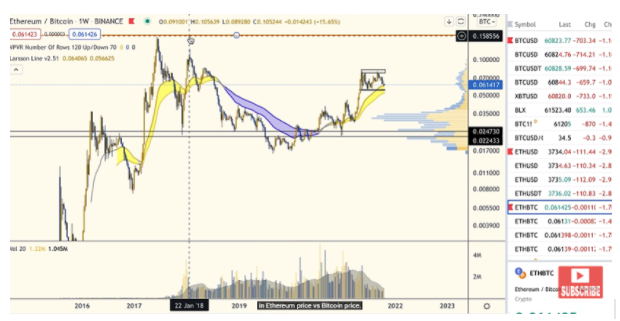 Source: Youtube
Phase 2
However, when ETH prices fell, the narrative shifted to Ethereum dying along with the ICO use case. Because there were so many projects with large sums of money that needed to be sold, many people anticipated that these projects would continue to dump the Ethereum they raised until Ethereum died, especially because there was a surplus of money and no actual business going on. Most people believed that Ethereum would eventually become another smart contract platform in the end. And this did happen. Ethereum fell from a peak of .16, where it was just a millimetre from flipping Bitcoin, to a low of .016, where it lost 90% of its value measured in Bitcoin.
But then, a third phase occurred.
Phase 3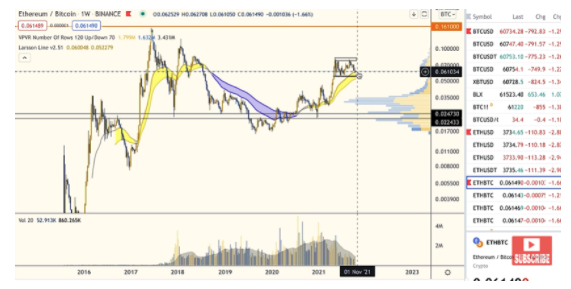 Source: Youtube
With stablecoins like USDT and USDC, as well as the explosion of DeFi (Decentralized Finance), Ethereum saw new real-world use cases in 2020. Today, stablecoins have a market capitalization of $133 billion, and DeFi has established itself as a viable alternative to centralized exchanges. While other concepts such as NFTs have also gained traction, ICOs have not disappeared. In fact, nearly all of today's biggest cryptocurrencies, including Cardano, Binance, and Ethereum itself, began as an ICO. As evidenced by the fee payments customers are ready to make on Ethereum, this third phase came as a key milestone for Ethereum that paved the path for its tremendous success.
With ETH prices continuing to rise, there appears to be no better time to invest in the crypto than now. There is, however, a catch. Returning to the pendulum as an example, Larsson believes that it is possible for the pendulum to turn and swing in the opposite direction one more time.
Phase 4
This would be the phase of Bitcoin FOMO (Fear of Missing Out). A similar phenomenon occurred in 2017 when Bitcoin prices went from $3,000 in June 2017 to $20,000 in December 2017. Everyone was talking about Bitcoin, while ETH witnessed an 85% drop in just a couple of months.
Larsson says, "If Bitcoin really starts running now, which it could, I'm not going to sit in Alts (altcoins) and wait if that drops 85% again." He adds, "But, it has not happened yet. What I will do, is that I will monitor this range very carefully. If it breaks down, I will cut my ETH and move it over to BTC. But if it breaks up, this scenario of Bitcoin FOMO has not started, at least not yet. Then maybe instead, we get another Phase 4 – Ethereum FOMO."
Phase 5
If the Ethereum FOMO phase happens, the narrative will once again change from BTC dominance back to the utility of Ethereum and how it will eventually beat Bitcoin.
The Bitcoin FOMO or Ethereum FOMO phase will certainly occur. "And personally, to decide which one of those two will play out, I will use this range, together with my trend indicator Larsson Line," says Larsson.
The bottom line
Larsson is of the strong opinion that now is the time to sell ETH and not buy it. As you might already be aware, crypto markets experience incredible levels of volatility. Despite Larsson providing an expert opinion that has on several occasions proved to be true, it's unhealthy to base your crypto investment strategy on one opinion alone. Hence, it is recommended that you always do your own research before investing in any crypto so that you don't end up losing all your savings.
That being said, if you, like Larsson, think it's best to sell ETH, then WazirX is the best place for you. One of India's top-rated and most trusted crypto exchanges, WazirX offers best-in-class security features, quick KYC procedures and transactions, accessibility across platforms, and more. To get started with WazirX, click here.

Disclaimer: Cryptocurrency is not a legal tender and is currently unregulated. Kindly ensure that you undertake sufficient risk assessment when trading cryptocurrencies as they are often subject to high price volatility. The information provided in this section doesn't represent any investment advice or WazirX's official position. WazirX reserves the right in its sole discretion to amend or change this blog post at any time and for any reasons without prior notice.