Ripple's cryptocurrency token XRP has performed quite well since the beginning of the year. As crypto markets swelled to gain back last year's highs, the XRPUSD pair posted almost a 70 percent growth YTD.
It is important to remember that XRP as a cryptocurrency works on the XRP Ledger. The digital asset and the blockchain is independent of Ripple's control.
However, XRP powers transactions on RippleNet, the firm's native cross-border payments network. Also, it is the primary fuel behind Ripple's On-Demand Liquidity Service.
Therefore, news and happenings around the San Francisco based company dictate XRP's price. Apart from that, the market value and exchange rate of Ripple's token depends on a host of other factors.
Overall Crypto Market Sentiment
Generally, bitcoin's price moves serve as the benchmark to gauge the market sentiment for cryptocurrency traders and investors. When BTC goes up, prices of other crypto assets also appreciate, and vice versa.
XRP's price correlation to BTC is no different, as can be seen from the charts below: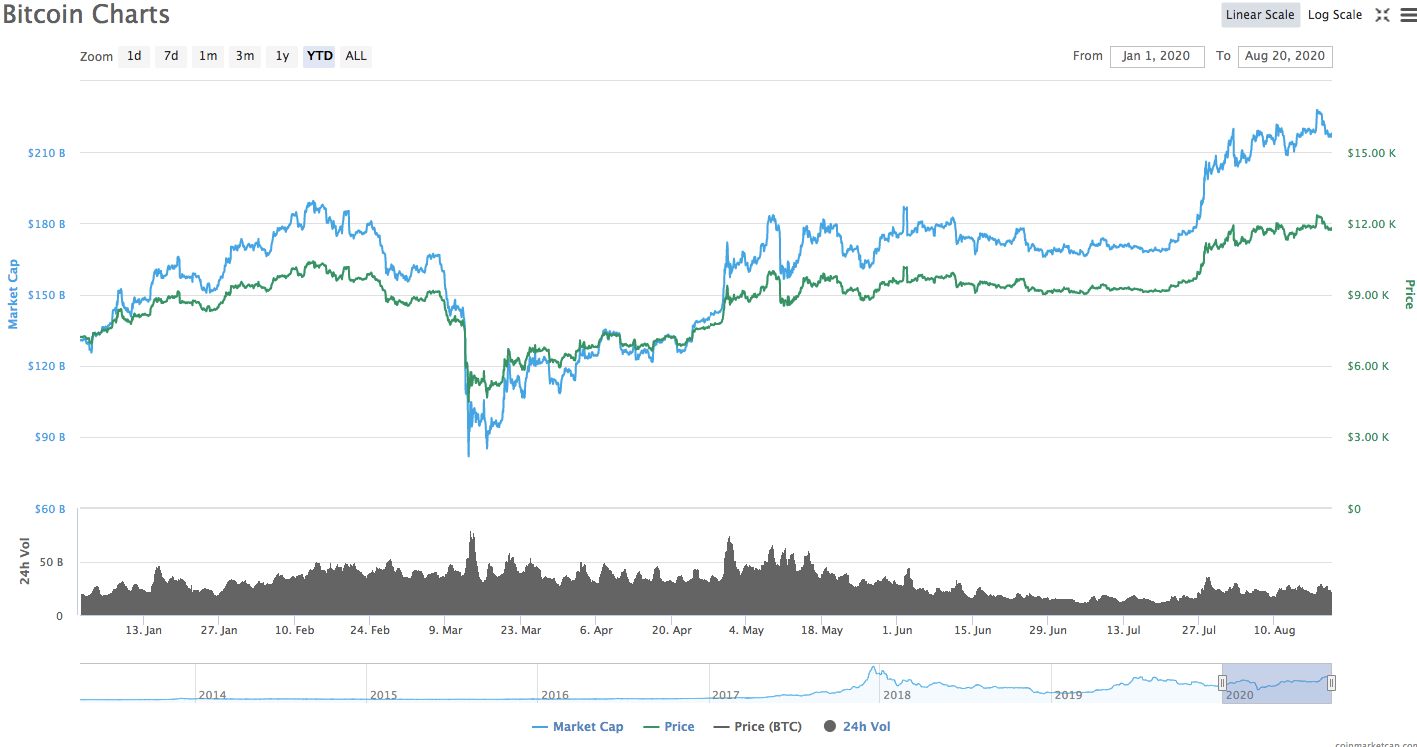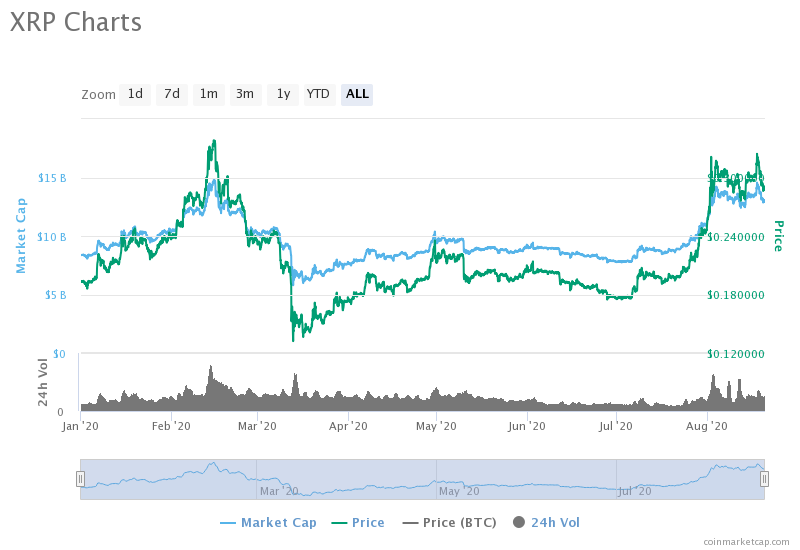 When the price of bitcoin goes up, people who think BTC is less affordable turn to XRP for exposing themselves to the cryptocurrency market action. This affects the token's price.
News
When Ripple showed up in Fortune's magazine's best places to work in the Bay Area in January this year, XRP price responded with an uptick.
Also when the news came out about Ripple entering the Inc magazine's list of the world's 5000 fastest-growing companies, XRPUSD price responded positively.
In another instance, Ripple (XRP) price trended upwards, when Asheesh Birla, SVP of Product & Corporate Development at Ripple took to Twitter to hint at an impending IPO for the company.
Apart from the above, general cryptocurrency market and industry news also has an impact on the price of XRP.
Take for example the news of banks in the United States allowed providing custody services for cryptocurrencies and a federal US Court declaring bitcoin as money. These two events took place on July 22 and July 24, and the effect on XRP's price can be seen in the chart below: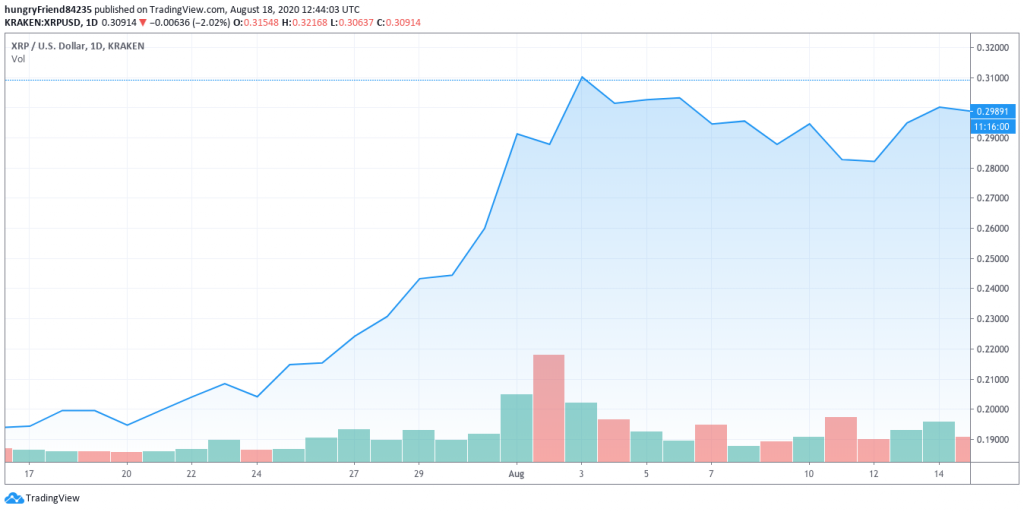 Custody and Listing Updates
Recently, the New York State Department of Financial Services (DFS) approved Ripple's XRP token for custody by companies but not for listings. This showed up on the price charts as the token dipped following the news.
On the contrary, the listing of XRP options contracts on the world's biggest cryptocurrency exchange Binance sent it flying over the next consecutive days.
Increased Whale Activity
As per on-chain analysis and metrics provider Santiment, XRP whales increased by 3.7 percent as of July 31, 2020. Whales are folks who hold large amounts of cryptocurrency to make deep profits from the asset's volatile price movements.

Statistics show that bigshot investors hold anywhere between 1 million to 10 million coins, and this in turn has pushed XRP's price upwards since then, as can be seen from the chart above.
After trading in a sideways trend for this whale activity boosted XRP's price by around 30 percent. And this not the first time. Whales have always played a significant role in XRP's price movements across charts. According to a report most of them are based in South Korea and Malta.
Adoption: OTC XRP Sales
As mentioned above, XRP is meant to function as an auxiliary asset for Ripple's On-Demand Liquidity (ODL) service. ODL helps financial institutions and payment companies process cross-border transfers much faster than the usual conventional approach.
Ripple's quarterly reports (especially this year) point to a rising trend in ODL adoption. For instance, in Q2 2020, over-the-counter (OTC) institutional sales of XRP jumped 1700% as compared to Q1 2020.
What this means is that commercial firms bought more XRP to process their global monetary transactions. This is one of the primary objectives of Ripple as a company.
Even if this didn't contribute to significant price movements for Ripple's token, it did instill the market's confidence in XRP.
These were some of the factors that have a direct influence on the price of Ripple' native cryptocurrency token XRP. If you know any more such factors the have an effect on XRP's price, let us know in the comments below!
To know how to buy XRP from WazirX check out our official blog article describing the process of the same.
To keep you updated, you can also download the cryptocurrency exchange app
Further Reading:
Bitcoin Cash Price Prediction: How much is it worth in 2021?
Ethereum price prediction: Will it hit $5000 in 2021?
Dogecoin Price Prediction 2021 : How much is it worth in 2021?
5 Critical Bitcoin Price Prediction For 2021
Digibyte Price Prediction : What's in store for us?
TRON Price Prediction: How much is it worth in 2021?
Zilliqa Price Prediction: How will it perform in 2021?

Disclaimer: Cryptocurrency is not a legal tender and is currently unregulated. Kindly ensure that you undertake sufficient risk assessment when trading cryptocurrencies as they are often subject to high price volatility. The information provided in this section doesn't represent any investment advice or WazirX's official position. WazirX reserves the right in its sole discretion to amend or change this blog post at any time and for any reasons without prior notice.