XRP is a digital token that acts as a bridge currency on RippleNet, Ripple's proprietary cross-border financial settlement network.
Created in 2013, it has become an immensely popular digital asset amongst crypto investors. Especially, after a 12-month rally, in which the Ripple coin's price appreciated 49,500% during the massive 2017 cryptocurrency market bull run.
As per CoinMarketCap data, XRP is the 4th largest cryptocurrency in the world (wrt market cap). But you have probably done your homework and landed here looking for ways to buy Ripple's native crypto asset.
We will get to that in a short while. Before that first, let's take a brief look at how XRP works and fits itself in the 'cryptocurrency scheme of things'. After all, this platform is open to everyone to educate themselves about crypto. And more education will lead to increased adoption.
How Ripple's XRP Works?
Jed McCaleb, founder of the Stellar cryptocurrency system created XRP. David Schwartz, current Ripple CTO, Arthur Britto, and Stephan Thomas, Ripple's ex-CTO were other notable contributors.
Like all other cryptocurrencies, XRP exists on an open-source distributed ledger called the XRP Ledger. The Bitcoin protocol played an influential role in it's design.
But unlike Bitcoin, the XRP ledger doesn't employ proof-of-work mining to verify transactions. A network of 'independent validators' maintains the ledger.
Validators/nodes follow the XRP Ledger Consensus Protocol to achieve consensus amongst themselves for validating and verifying transactions.
Some nodes have special status and belong in something called the 'Unique Node List'. They have a significant say in ledger consensus. The consensus when reached then becomes proof of an 'irreversible settlement'.
It takes around 3-5 seconds to verify a transaction on the XRP ledger.

To get an in-depth understanding of how the XRP ledger works, hear it from the Ripple CTO himself:
The current circulating supply of XRP is a little more than 44 billion. Ripple has a smart contract operated escrow system in place, that releases 1 billion coins every month in the market.
The escrow takes back all unused XRPs after the month to avoid oversupply or misuse. The explainer is done, now let's get to buying XRP!
How to Buy Ripple (XRP)?
WazirX offers a convenient way to buy Ripple's token, (with a seamless dashboard to check minute-to-minute price updates) in India.
To buy XRP through WazirX, you need to register on the platform first, then finish a super quick KYC process and finally deposit funds for the purchase. Here's how it goes:
Step 1: Account Creation
Download the WazirX app or visit the website. Then hit the Sign Up button
Fill in your email address (one that you use frequently), and your desired password
Click on the Terms of Service checkbox, but go through it once before checking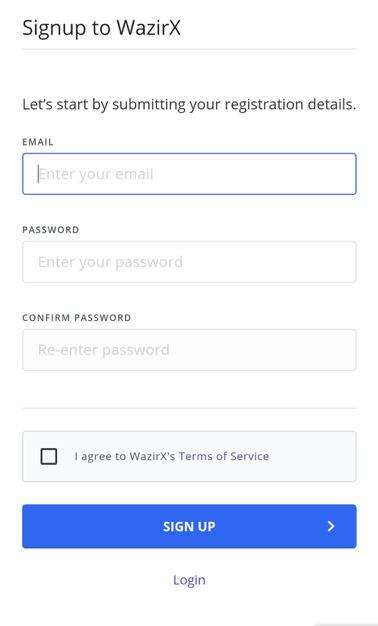 Then press the Sign Up button
You will be sent a verification email after hitting the sign-up button. If you have received it, click on Verify Email to complete the process.. If you haven't, check your spam folder. Or hit Resend Here. On successful verification, you should see this message: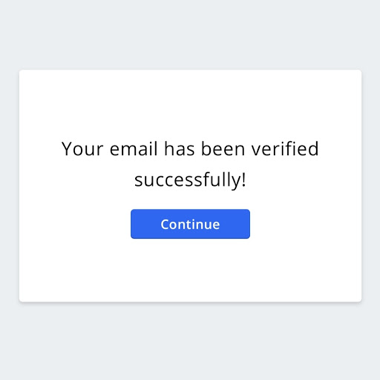 Securing Your Account
For security purposes, we highly recommend enabling 2-factor authentication (2FA). You can do so by downloading the Google Authenticator app and connecting it to your account.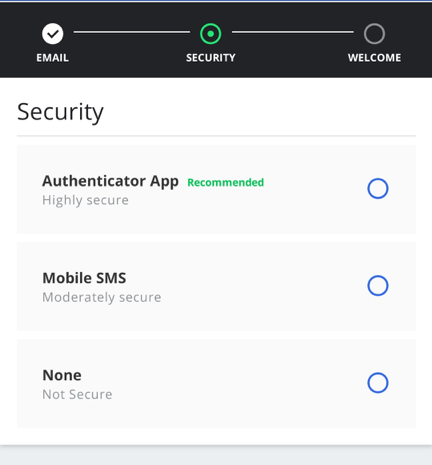 KYC Verification
The last stage in the account set up process is KYC verification. Select your country from the list: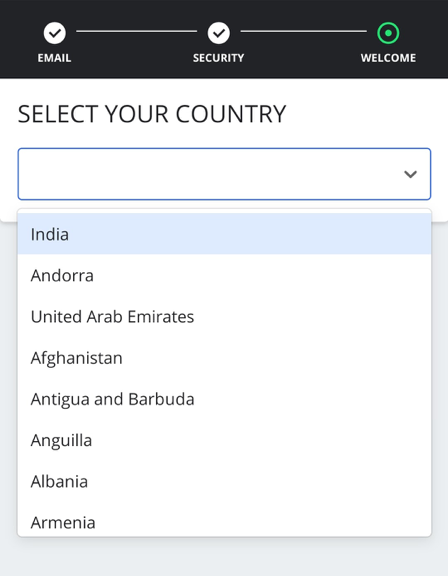 Then verify your KYC and finish the process. After that, you are all set to buy XRP from WazirX!
Step 2: Depositing Funds
Depositing INR
You can deposit INR funds from your bank account to your WazirX account via UPI/IMPS/NEFT/RTGS.
Just submit details like bank name, account number, IFSC code, etc of the bank account with which you wish to transact, and then you are good to go.
In case the INR deposit is rejected, check out the WazirX support page for such issues.
Depositing Cryptocurrency
Depositing cryptocurrencies into your WazirX account, either from your wallet or another exchange is an effortless process. It's also free – with no fees charged on any deposit!
Start by obtaining your deposit address from your WazirX wallet. Then, share this address on the 'Send Address' section of your other wallet for transferring your cryptocurrencies.
For more details, check out the WazirX Support page on depositing cryptocurrencies.
Step 3: Buy XRP
With all the necessary steps covered, you are now ready to buy XRP with your deposited funds. Here's the process:
Log on to the WazirX app or website to view the latest XRP/INR prices.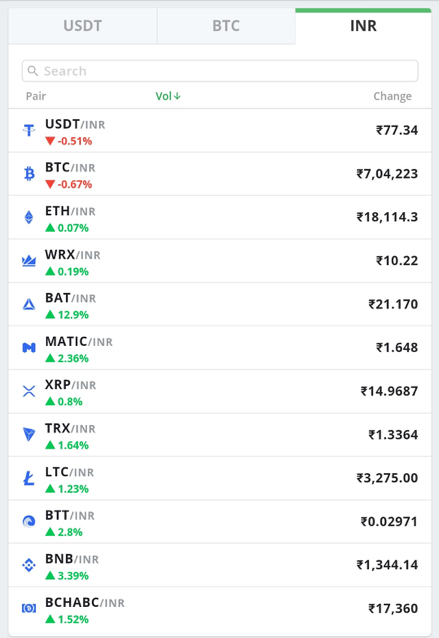 On the app, press the XRP/INR price ticker. After that, scroll down a bit, and you will find the BUY/SELL button amongst the 'Charts', 'Orders', 'Trades', and 'My Orders' options at the bottom.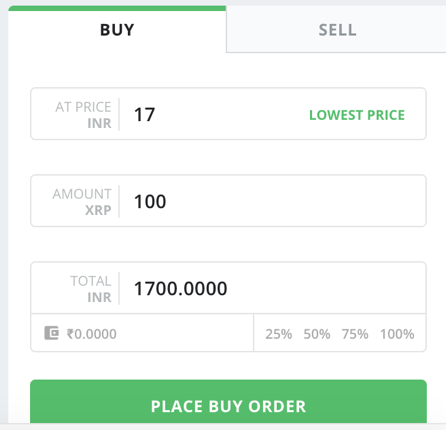 Enter the INR amount with which you want to buy XRP. Note that this amount should be less than or equal to the INR funds deposited in your WazirX account.
Hit BUY, and wait for the order to execute.
Once the transaction is executed, you should find the XRP bought added to your WazirX wallet.
Why You Should Buy XRP from WazirX?
Acquired by World's Largest Cryptocurrency Exchange
In November 2019, WazirX was acquired by Binance, currently the world's largest cryptocurrency exchange.
This has made WazirX an international cryptocurrency market player which means that crypto traders and investors from across the world will be able to use WazirX's seamless digital asset platform.
Best In Class Security
WazirX has left no stone unturned to become India's most secure exchange. We're investing in regular security audits to ensure a highly secured trading platform for India.
Lightning Speed Transactions
WazirX can handle 'millions' of fiat-to-crypto, crypto-to-fiat and crypto-crypto transactions. Our system infrastructure is capable enough to scale up in a few seconds to match surging demand.
Simple and Efficient Design
Cryptocurrency trading on the WazirX platform is a super-fast experience. The creators have already built technologies that are used by millions globally. That experience has helped made WazirX a feature-rich but efficient crypto exchange.
Built by Blockchain Believers
WazirX is powered by a team of hardcore traders & passionate blockchain believers. We understand exactly what your crypto needs are. Powerful graphs, mobile apps, etc are integrated features of WazirX right from the start.
Available Across 5 Different Platforms
WazirX offers a seamless and powerful crypto trading experience across all platforms – Web, Android, iOS, Windows, and Mac apps.

Disclaimer: Cryptocurrency is not a legal tender and is currently unregulated. Kindly ensure that you undertake sufficient risk assessment when trading cryptocurrencies as they are often subject to high price volatility. The information provided in this section doesn't represent any investment advice or WazirX's official position. WazirX reserves the right in its sole discretion to amend or change this blog post at any time and for any reasons without prior notice.