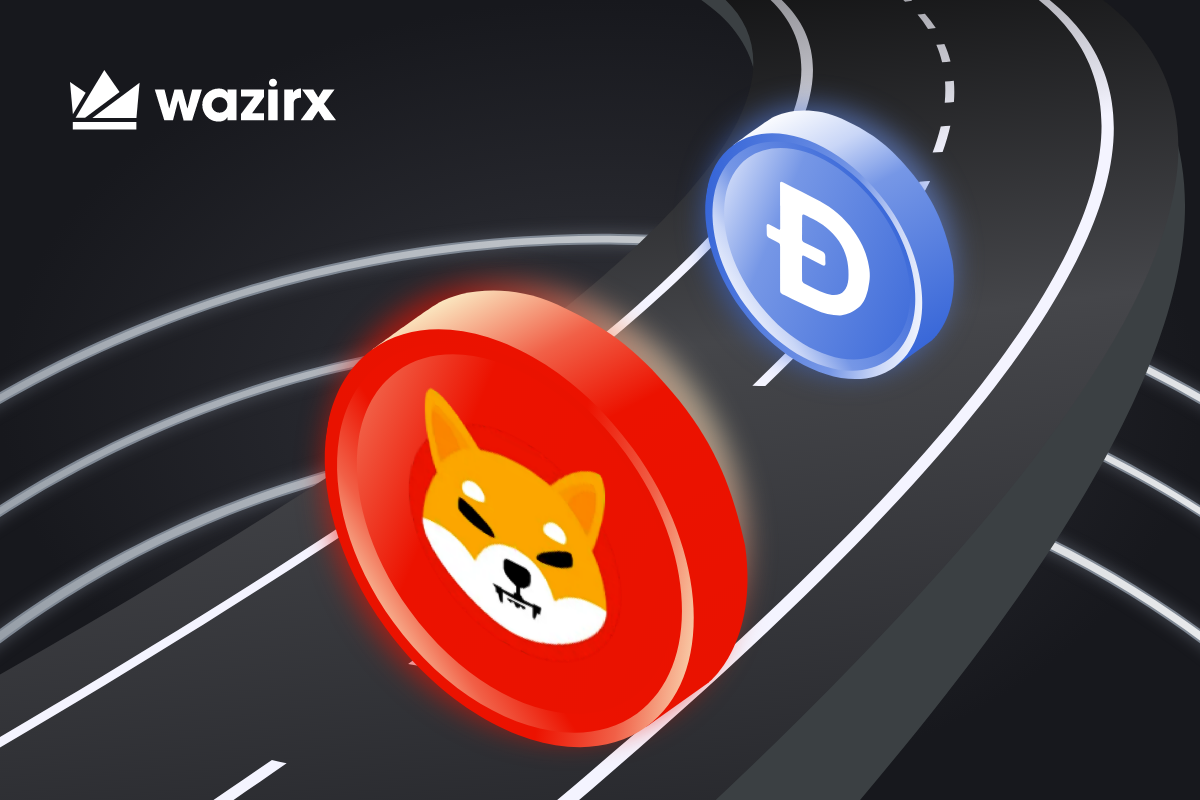 The two biggest meme cryptocurrencies, Shiba Inu and Dogecoin, have often switched places in rankings throughout the last year.
It took just over a year for Shiba Inu to enter the ranks of the top 20 cryptocurrencies in the crypto world and have a market value of over $12 billion. In contrast, Dogecoin took almost 6 times more time to reach the same milestone.
Shiba Inu has achieved these milestones in just 14 months after its inception in August 2020. The most recent and biggest catalyst for the "Shiba Inu fever" appears to be the crypto enthusiast and Tesla CEO Elon Musk whose tweets seem to regularly trigger the rallies of meme cryptos like Shiba Inu and Dogecoin.
Origins of Dogecoin and Shiba Inu
Billy Markus and Jackson Palmer started Dogecoin as a joke back in 2013, but it quickly skyrocketed in popularity because of its main catalyst, Elon Musk. His tweets combined with Dogecoin's deployment on its own blockchain with more than 1000 per node made all the difference.
On the other hand, Shiba Inu (SHIB) was created by an enigmatic developer named Ryoshi in August 2020, who referred to himself as a person of no consequence and entirely replaceable.
Shiba Inu, unlike Dogecoin, has no blockchain of its own and is rather deployed as an ERC20 token on the Ethereum blockchain.
This is the reason why the capital flowing into Shiba has increased the value of Ether, and Shiba Inu has profited from its advanced smart-contract developing capabilities that are inherent in the Ethereum network.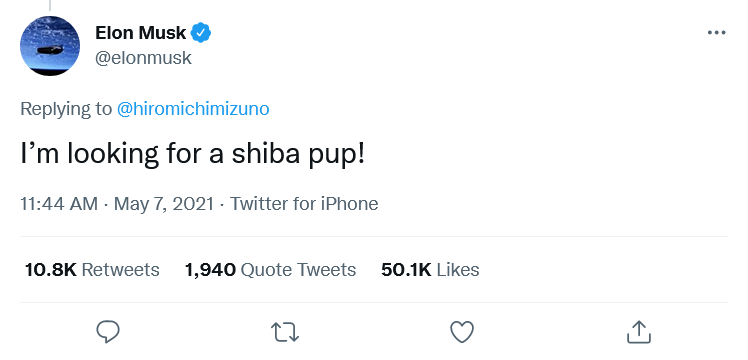 The meme coin's price value remained dormant for many months until February 2021, when it piggybacked on a resurgent Dogecoin, assisted by none other than Elon Musk's tweets. Later the price of Shiba Inu pumped by over 300% in May 2021 after Musk mentioned he was considering getting a Shiba Inu puppy.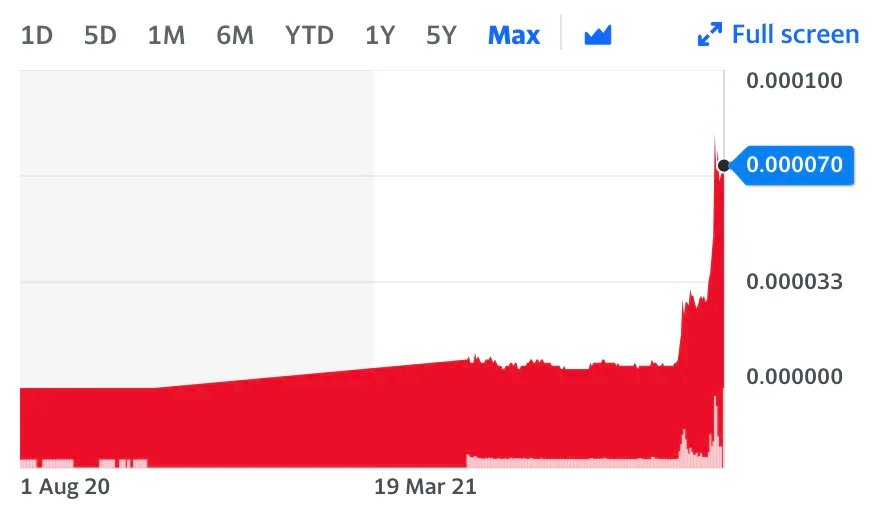 The Shiba Inu network welcomed its own decentralized exchange called Shibaswap in July 2021, whereas Dogecoin has no future plans for decentralized exchanges, hedges, or stablecoins.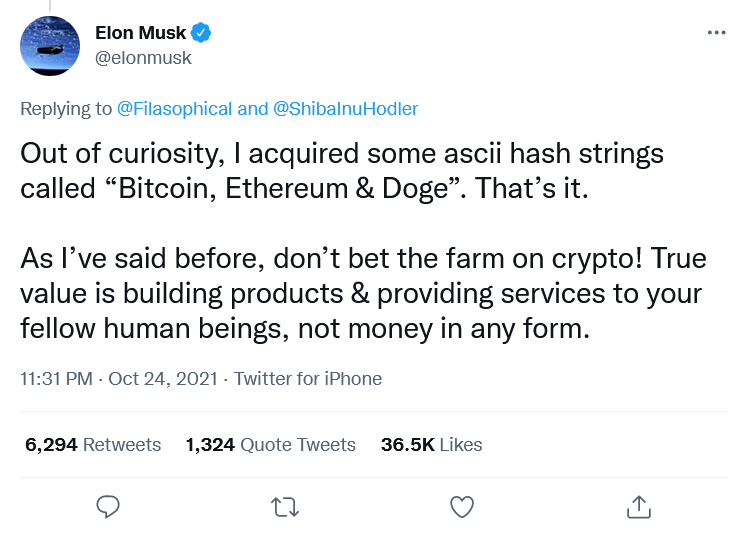 For a long time, Dogecoin has relied upon SpaceX and Tesla CEO Elon Musk's endorsements, who once tweeted in October that he only holds three cryptocurrencies that are, Bitcoin, Ethereum, and Dogecoin.
While Dogecoin always has the support of people like Mark Cuban and Elon Musk, Shiba Inu's growth heavily relies on its so-called "Shib Army," which is a growing fanbase of enthusiasts and small retail investors who keep supporting the Shib Army on Reddit that the coin will definitely one day reach the price of a dollar.
However, due to Shiba Inu having quadrillion coins in supply, the price of one SHIB in dollars is very unlikely.
Shiba Inu taking over Dogecoin
Shiba Inu showed its fragility to Musk's Tweets when a sudden sell-off occurred, causing the coin to drop in market cap in less than an hour. However, the loyal supporters of Shiba Inu have rallied to the cause and made more capital flow in to make it secure its place again at the top 15 right now.
Ever since the beginnings of Shiba Inu, there has been a constant dog fight taking place between the two big meme cryptos, Dogecoin and Shiba Inu, and this feud has led to more meme cryptocurrencies popping up into the picture.
Previously, Dogecoin used to be the definitive meme cryptocurrency, but ever since the Californian crypto exchange Coinbase elevated the demands and reputation of Shiba Inu by listing the coin in early September 2021, this has rocked the world of dogecoin and its community.
The rabid battle between the two meme tokens reached a climax on 28th October 2021 when Shiba Inu, officially regarded as the "dogecoin killer", surpassed Dogecoin's position as the crypto world's leading meme coin.
The Shiba-Doge position flip arrived in late October 2021 amidst the speculation that Shiba Inu would be listed on the US investing application called Robinhood.
This speculation of being listed on the app brought in a large number of retail investors into buying the coin and poured a consistent flow of capital into Shiba Inu.
Additionally, the news remains that one investor who bought $8,000 worth of SHIB in August 2020 has now made $5.4 billion, which has reinforced the belief that SHIB may convert a tiny portion of capital into a fortune.
Future Plans
For the long term, Shiba Inu possesses a loftier vision than Dogecoin, where the anonymous Ryoshi describes his plans for destroying Dogecoin.
This includes a layer 2 solution for Ethereum called the Shibarium, a stablecoin named Shi that is pegged to one cent, and the development of an annual cryptocurrency conference for all the Shiba Inu enthusiasts called Shibicoin.
Ryoshi wishes his stablecoin Shi to gradually and surely become the immutable globalized value of exchange and encourages the "Shib Army". He describes his mission statement as one "organic organism" that will set the proper financial grounds for the future.
On the flipside, Dogecoin takes itself much less seriously and still refers to its beginnings as a "joke currency" with one primary goal of maintaining an ease-of-use and straightforward online payment system.
What these meme coins have in common
Both the cryptocurrencies are built on blockchain, just like Bitcoin and Ethereum. Blockchain technology acts as the underlying basis for the functionalities of these meme coins and helps them stay decentralized and secure.
Blockchain is a digital database of every transfer of currency from one individual to another. It usually comprises a huge network of computers called nodes that track and manage digital currency transactions.
All the blocks of data get validated and verified by the network of computers, which helps to prevent fraud and illicit transactions from happening and ensures that the coin is moved correctly and accounted for.
Major Differences between Dogecoin and Shiba Inu
Both the meme coins were created for different purposes and come with their own price and supply of coins. Here are some of the key differences between them:
Dogecoin (DOGE) was created in 2013 as a joke spoof of Bitcoin and was based on the doge meme. On the other hand, Shiba Inu (SHIB) was built in 2020 as a medium of exchange with a self-governing community.

Dogecoin has considerably fewer coins in circulation compared to Shiba Inu, with the prior having around 132 billion in circulation and the latter having a whopping 549 trillion.

The supply cap of Dogecoin is virtually unlimited, but its yearly issuance is limited to 5 billion coins. Shiba Inu has 1 quadrillion as total supply, but over 40% have been irrevocably eliminated.

Bottom Line
Both coins present a lot of unique characteristics and appeal to people, be it their casual and fun take on crypto as seen with Dogecoin or their massive and loyal community, as noticed with Shiba Inu's "Shib Army."
Some features of one coin may make it more popular than the other, and what was once a really popular cryptocurrency may end up becoming yesterday's news.
Therefore, it's important to know that the crypto world is mostly driven by trader sentiment, and you should always keep an eye out for upcoming updates and news about the crypto you're investing in.

Disclaimer: Cryptocurrency is not a legal tender and is currently unregulated. Kindly ensure that you undertake sufficient risk assessment when trading cryptocurrencies as they are often subject to high price volatility. The information provided in this section doesn't represent any investment advice or WazirX's official position. WazirX reserves the right in its sole discretion to amend or change this blog post at any time and for any reasons without prior notice.