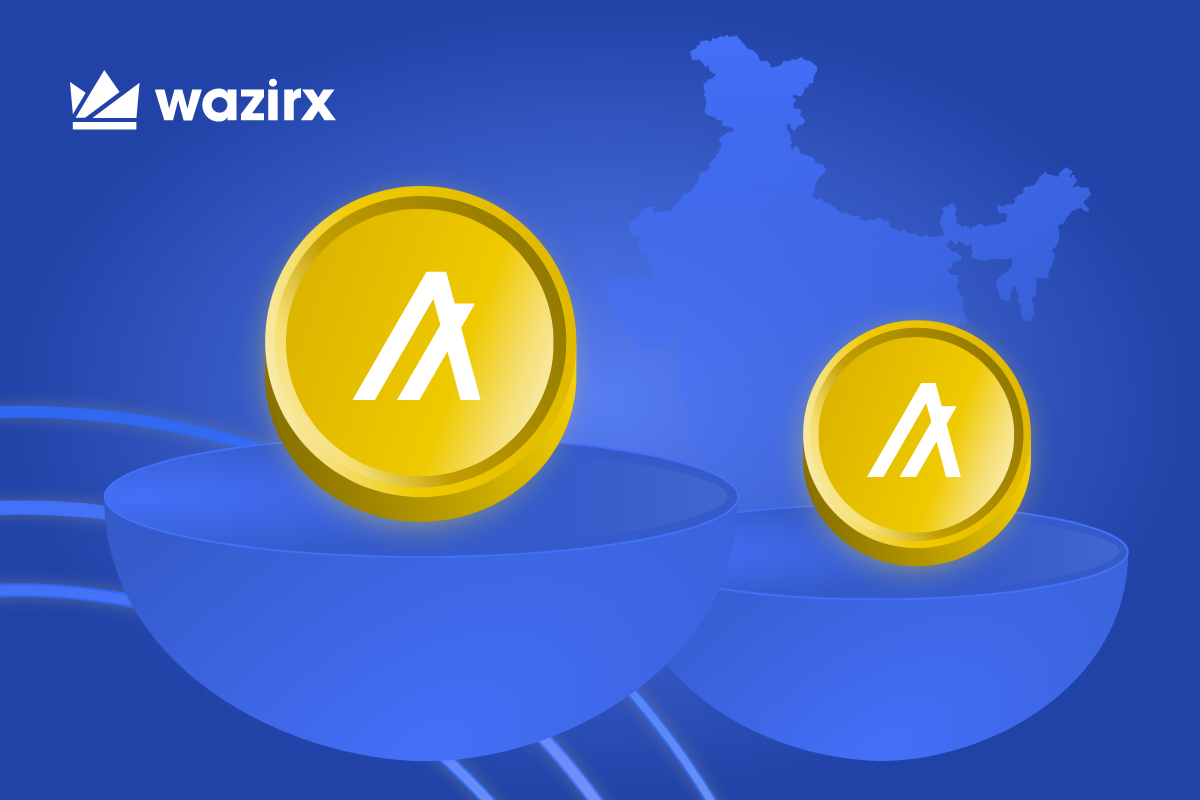 This article is available in the following languages:
If you're regularly into crypto news, you'd know by now that ALGO (Algorand) is one of the hottest cryptocurrencies these days. While the project behind ALGO is not as prominent as Bitcoin and Ethereum, it's still one of the few cryptos that investors are bullish about. In fact, crypto calls itself the "future of finance" on its website with an aim to converge traditional finance and decentralized finance.
What exactly is Algorand, and how does it work? Is ALGO really worth investing in? What's all the hype around it? How to buy ALGO in India? We're sure these are some of the questions you have in mind.
Let's find out.
What is Algorand?
A blockchain cryptocurrency that aims to be as scalable as possible, Algorand is one of a slew of recent projects attempting to expand the potential use cases of cryptocurrency by solving the blockchain trilemma – speed, scalability, and security. ALGO is the native cryptocurrency of the Algorand blockchain. The public version of the Algorand blockchain, founded in 2017 by computer scientist and MIT professor Silvio Micali and officially launched in 2019, is primarily meant to allow other developers to construct new types of cryptocurrency-fueled apps.
One of the most unique aspects of this blockchain cryptocurrency is that it employs the 'pure-proof-of-stake' (PPOs) consensus mechanism, which rewards a small number of miners for contributing their computational resources to complete transactions. Cardano and Solana are currently using the same mechanism, while Ethereum is moving towards it.
Algorand is also deflationary, with a cap on the total number of ALGO tokens available on the network. Below is a distribution schedule that's anticipated to be completed within five years after the protocol's launch.
The total supply of ALGO tokens is set at 10 billion, with 3 billion being distributed in the first five years.
1.75 billion will be paid as incentives to miners over time, while 2.5 billion will be used to fund relay nodes.
The Algorand Foundation and Algorand Inc, which manage and maintain the network, have each been allocated 2.5 billion dollars.
The remaining 0.25 billion will go to end-user grants.
Is investing in Algorand worth it?
ALGO, which traded around $0.5 at the beginning of the year, is now a top 25 crypto, with a market capitalization of $8,808,172,335. The market cap of cryptocurrency Algorand nearly tripled between August and September 2021. Currently, ALGO trades at $1.39. ALGO price in India at the time of writing is ₹117.00.
With ALGO gradually gaining prominence and value, an increasing number of investors have turned to cryptocurrency to diversify their portfolios. Here are a few good reasons that make ALGO a worthy investment.
Interoperability
Algorand allows developers to create digital assets or smart contracts that work well across multiple blockchains on the protocol's Layer-1 network by offering the ability to work across various blockchain networks. With external collaboration being the future of where blockchain networks are headed, such levels of interoperability certainly give Algorand a significant competitive advantage.
Smart contracts
A smart contract is a computer program or transaction protocol that is kept on the blockchain and executes automatically when relevant events and actions according to the conditions of a contract or agreement are satisfied. To ensure that transactions are facilitated without a centralized third party, the Algorand network employs two types of smart contracts: stateless smart contracts and stateful smart contracts. When specific agreed-upon requirements are satisfied, stateless smart contracts enable multiple transactions to be permitted. On the other hand, stateful smart contracts allow data to be retained indefinitely and facilitate more use cases such as Stablecoins, NFTs, DeFi, etc. Indeed, the smart contract functionality offered by Algorand and the various use cases based on it is incredibly attractive to crypto investors.
Immense growth potential
Algorand has recorded a positive price momentum over the last few months, which has made investors bullish on the crypto's future. One of the key drivers of this momentum over the past year has been Algo's listing on prominent exchanges and the introduction of exchange-traded products. This will undoubtedly give investors more liquidity and allow capital flows into Algorand to pick up. In terms of energy intensity and user experience, Algorand is also one of the most efficient networks. All of these make ALGO one of the hottest cryptos to watch out for.
How to Buy ALGO in India?
For the Indian investors looking to buy Polygon, Ethereum, Bitcoin, or other cryptocurrencies, now's the time to move away from mainstream cryptocurrencies and diversify your portfolios with crypto like Algorand. Certainly, if you're a novice investor, your first instinct will be to look up Bitcoin price in India, or google "how to buy BTC in India," "how to buy USDT in India," etc. But with the diversity of the crypto market these days and the potential that other altcoins offer, it's always a good idea to not settle solely on prominent cryptos like BTC and ETH.
If you're looking to buy ALGO in India, there's no better exchange than WazirX, India's best and most trusted crypto exchange. On WazirX, you can buy and sell more than 100 cryptocurrencies, including ALGO.
#1 Sign Up on WazirX
Click here to start creating a free account.
#2 Fill Details to Start Creating Account
Start by filling up your current user mail id, so you don't miss out on any verification steps.
Generate a secure password with alpha-numeric characters.
#3 Email Verification and Account Security Setup
Proceed with account creation after verifying the email address added (by clicking on the verification link sent to the email address).
You must configure your account security. WazirX provides two choices for account security.
You have the option of selecting either option. However, the authenticator app is more secure than mobile SMS, subject to delayed reception and the danger of SIM card hacking.
#4 Choose a Country
Choose India (country) and either "skip now" or "complete KYC" based on your investment needs.
If you have not completed the KYC process, you can only deposit and trade through your WazirX account. However, to be able to withdraw and trade P2P, you must first complete KYC.
To complete KYC, you must submit a few details:
Full name as it appears on the KYC paperwork
The birth date
Address as it appears on the KYC paperwork
Scanned copy of your KYC documents and a selfie to finish the procedure.
PS: Within 24 to 48 hours, the account is usually validated.
#5 Transfer funds to your WazirX account
WazirX wallet accepts deposits in INR using IMPS, UPI, RTGS, and NEFT. You can deposit a minimum of Rs. 100 in your WazirX account, and there is no maximum limit.
Log in and select "Funds" to deposit INR into your account. Select "Rupee INR" and then click "Deposit." For this, you must link your bank account to your WazirX account.
#6 The Final Step – Buy ALGO
Log in to your WazirX account and select INR from the "Exchange" option to purchase ALGO. The exchange is a spot market for all cryptocurrencies matched against the Indian rupee. On the right side of the screen, you will see all price charts, order book data, and an order input form.
Fill out the buy order form and click "Buy ALGO". It will take some time for the order to be carried out. As soon as the order is exchanged, you will receive the ALGO coins.
What makes WazirX the best is that it offers faster KYC procedures, best-in-class security, lightning speed transactions, and accessibility across five platforms compared to other exchanges. Built by a team of hardcore traders and blockchain enthusiasts, WazirX also features a simple, efficient, and accessible interface that makes it possible for anyone to get started with crypto trading on the platform quickly.
Click here to sign up for trading on WazirX. You can also stay connected with the latest updates and offerings by following WazirX on Telegram, Twitter, Facebook, and Youtube.

Disclaimer: Cryptocurrency is not a legal tender and is currently unregulated. Kindly ensure that you undertake sufficient risk assessment when trading cryptocurrencies as they are often subject to high price volatility. The information provided in this section doesn't represent any investment advice or WazirX's official position. WazirX reserves the right in its sole discretion to amend or change this blog post at any time and for any reasons without prior notice.