Note: This blog is written by an external blogger. The views and opinions expressed within this post belong solely to the author.
In recent times in the crypto space, meme tokens have been on the rise and have garnered a lot of traction from both crypto lovers and seasoned investors. One of the popular meme coins that has caught the limelight is the BOB Token. In this article, let's learn why Elon Musk loves BOB and how you can buy BOB Tokens in India.
The meme wave in the crypto space
Later on the meme-themed tokens!
But first, let's talk about Elon Musk and his eternal love for meme coins. One tweet about a particular meme token from him, and the next thing we know, the price of that token has already skyrocketed.
Following the initial wave of Dogecoin (DOGE) and succeeding dog-themed meme tokens like SHIB and FLOKI, each of which has amassed a loyal following after Elon tweeted about them. The most recent meme token featuring PEPE the Frog had set off a fresh meme storm centered around frogs.

The quick increase in the price of BOB in such a short period after Elon's tweet is evidence of the enormous potential and influence of these meme-driven phenomena in the crypto ecosystem.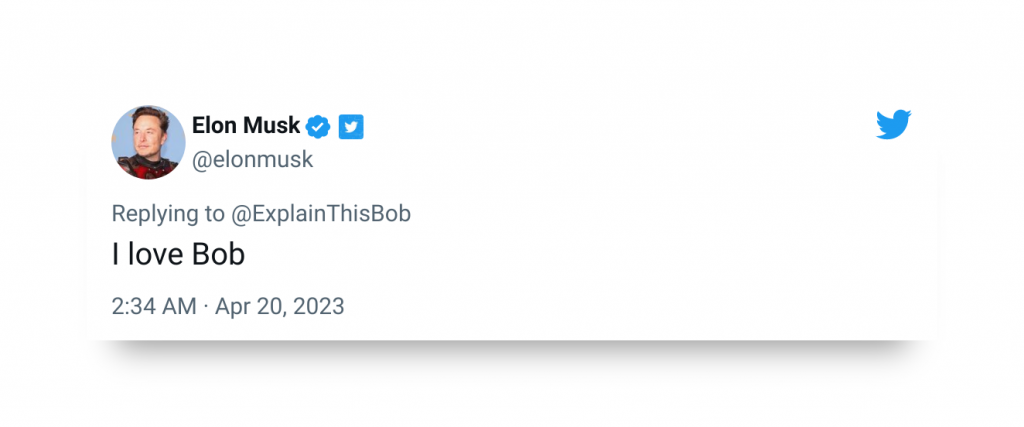 About the BOB Token
A more intricate mechanism lies behind the seemingly generic meme token called BOB Token. While it may appear to be riding the popularity of PEPE without any distinct purpose, BOB Token actually serves as the foundation for the "Bob Is Here To Explain" Twitter account, which features an AI bot. This bot, tagged as @ExplainThisBob, is designed to respond to specific tweets and prides itself on having a highly intelligent brain capable of explaining any topic. Notably, BOB Token garnered attention from the business tycoon Elon Musk, who expressed his admiration for BOB in one of his eight replies on Twitter.
The BOB Token has a fixed total supply of 690 billion tokens and imposes no taxes on transactions.
Now, let's see how you can buy BOB Token in India.
How to buy Bob (BOB) Tokens in India?
Below are a few simple steps you can follow and buy the BOB Token in India with WazirX, India's most trusted and widely used Crypto exchange.
The best way to buy BOB Tokens is using P2P trade. To get answers to all your queries related to the P2P trade, click here!
Bonus point: INR Deposits are also live on the WazirX platform. Now, you can buy BOB Tokens using INR.
Step 1 – Sign-Up on the WazirX platform
To begin buying and selling BOB Crypto, you are required to create an account on the WazirX platform by signing up. Also, you can directly Log-in if you have an account already on the platform.
For your reference, here's how you can open an account on WazirX.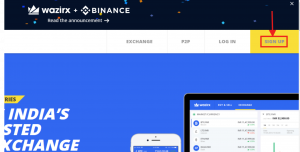 Step 2 – Set up your account security by verifying your email address.
This step is about verifying your email address. After you sign up on the WazirX platform, you'll get a verification link on your registered email. By clicking on that link, you'll get two options to ensure the security of your account – the authenticator app and mobile SMS.
Note: The authenticator app is a more secure way to stay safe when compared to mobile SMS because there's a risk of delayed reception or SIM card hacking.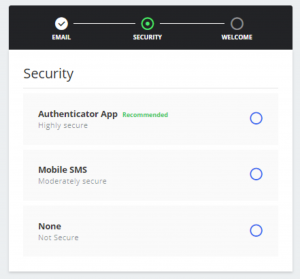 Step 3 – Complete the KYC process.
After choosing your country, you can proceed with completing the KYC process. Click here for a detailed overview.
Note: You must complete your KYC to be able to trade P2P or withdraw funds on the WazirX app.
Step 4 – Add funds to your WazirX account using P2P.
After integrating your bank account into your WazirX account, you can buy USDT through P2P to the WazirX wallet. The USDT will act as funds to help you buy your favorite Cryptos.
Step 5 – Finally, buy BOB on WazirX.
You can now easily purchase BOB Tokens using P2P trade on the platform. Check the BOB to INR rate from here and BOB to USDT here.
After logging in to your WazirX account, you can choose USDT from the "Exchange" tab. You can also check all the price charts, order book data, and an order input form on the right side of the screen.
Click "Buy" after entering the amount and checking the total USDT amount to be paid.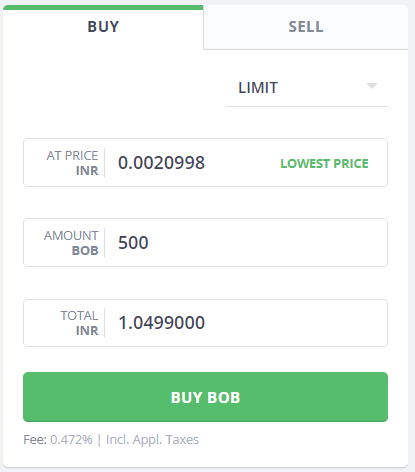 Your order will be placed according to the price you have input. A seller willing to sell at a price will be notified, and then you can exchange the tokens using P2P.
It might take a few minutes for the order to be completed, but as soon as it is executed, you will receive the BOB Coins you purchased in your WazirX wallet.
Happy Trading!

Disclaimer: Cryptocurrency is not a legal tender and is currently unregulated. Kindly ensure that you undertake sufficient risk assessment when trading cryptocurrencies as they are often subject to high price volatility. The information provided in this section doesn't represent any investment advice or WazirX's official position. WazirX reserves the right in its sole discretion to amend or change this blog post at any time and for any reasons without prior notice.