Note: This blog is written by an external blogger. The views and opinions expressed within this post belong solely to the author.
And the meme tokens are back in the game. They have been in the spotlight in 2023, and the most recent one that has garnered a lot of traction in the crypto space is the PEPE token. This meme coin has grabbed the top position in terms of meme coins in the crypto market. In this article, we'll briefly overview this interesting token and how you can buy PEPE tokens in India.
Let's begin!
But STOP!
Do you know what exactly meme coins are? No? Here's a quick definition. Read on.
Introduction to meme coins
Meme coins are a special kind of crypto inspired by online memes to appeal to fans of memes on social media and how we can forget about Elon Musk's eternal love for them. These coins often have dramatic price swings and are notoriously volatile. They have become extremely well-known in the crypto space as a result of their relation to social media and internet culture, 
Investing in these coins involves a high amount of risk, but the possibility for big rewards also comes along. As a result, they have drawn a lot of investors who are eager to take a chance and accept the market's unpredictability.
About PEPE Token
PEPE token is a crypto that was recently developed as a tribute to the Pepe the Frog internet craze. It is a decentralized crypto that may be used for transactions and as a governance token for the PEPE community that's built on the Ethereum network.
The PEPE token has garnered support from meme fans who view it as a humorous addition to the crypto space as a meme coin. Consequently, it also has the potential for practical usage, as it can be utilized as a medium of exchange for products and services within the decentralized ecosystem.
The PEPE token leverages smart contracts to facilitate safe and transparent transactions on the blockchain, with a total supply of 420 trillion.
We have been talking about the PEPE token and how a meme of PEPE the Frog has inspired it. So let's know about it as well.
Who is PEPE the Frog?
Pepe the Frog started as a cartoon character created by Matt Furie and gained popularity as an internet meme through various online communities. However, the meme was later associated with negativity and the "alt-right" movement during the 2016 presidential elections. The Anti-Defamation League included Pepe the Frog in its hate symbol database, although they acknowledged that most instances of Pepe were not used in a hate-related context.
Despite this controversy, the PEPE token, a meme coin inspired by Pepe the Frog, aims to carry on the legacy of the original character and promote positivity, as Furie intended. It is important to note that the PEPE token has no official association with Matt Furie or his creation and is simply a tribute to the beloved meme.
What are the benefits of the PEPE coin?
Pepe Coin is an ERC-20 token created on the Ethereum network; therefore, it can be considered trustworthy and secure in general. Additionally, it makes several Decentralized Applications (dApps) and wallets compatible.
The token's deflationary mechanism is another advantage. This suggests that a small portion of the tokens is burned with each transaction, gradually reducing the total quantity. Additionally, the coin's value may rise as a result of its scarcity, making it even more desirable to investors.
Pepe Coin uses a redistribution system in addition to all of these other methods. This implies that existing token holders receive a part of each transaction. Long-term holding and investment plans are also incentivized.
Ultimately, Pepe Coin's additional advantage is that it emphasizes community engagement and development. As they interact with people often via social media channels, the entire team works to foster and grow a vibrant and very supportive community.
Additionally, Pepe Coin stands out from its competitors' thanks to its active community development and total dedication to the users.
Tokenomics of PEPE Coin
PEPE has a total quantity of 420,690,000,000,000,000 tokens. The number itself pays homage to the well-known meme numbers 4:20 and 69.
93.1% of the supply was transferred to the liquidity pool, the LP tokens were burnt, and the contract was annulled.
A multi-sig wallet is now holding the remaining 6.9% of the total supply, which will be used for upcoming listings on liquidity pools, bridges, and centralized exchanges. That's the least what the official website claims. Additionally, you can track this wallet using its ENS name, "pepecexwallet.eth."
After having a brief overview of PEPE Tokens, you must be wondering how you can buy them and from where. Don't worry; read the following section to know the right and the most trusted platform for you to buy PEPE coins.
How to buy PEPE Tokens in India?
Below are a few simple steps you can follow and buy the PEPE Token in India with WazirX, India's most trusted and widely used Crypto exchange.
The best way to buy PEPE Tokens is using P2P trade. To get answers to all your queries related to the P2P trade, click here!
Bonus point: INR Deposits are also LIVE on the WazirX platform. Now, you can buy PEPE Tokens using INR.
Step 1 – Sign-Up on the WazirX platform
To begin buying and selling PEPE Crypto, you are required to create an account on the WazirX platform by signing up. Also, you can directly Log-in if you have an account already on the platform.
For your reference, here's how you can open an account on WazirX.

Step 2 – Set up your account security by verifying your email address.
This step is about verifying your email address. After you sign up on the WazirX platform, you'll get a verification link on your registered email. By clicking on that link, you'll get two options to ensure the security of your account – the authenticator app and mobile SMS.
Note: The authenticator app is a more secure way to stay safe when compared to mobile SMS because there's a risk of delayed reception or SIM card hacking.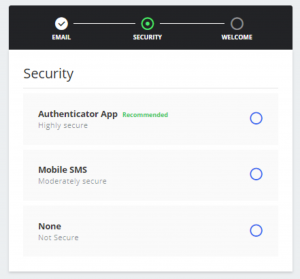 Step 3 – Complete the KYC process.
After choosing your country, you can proceed with completing the KYC process. Click here for a detailed overview.
Note: You must complete your KYC to be able to trade P2P or withdraw funds on the WazirX app.
Step 4 – Add funds to your WazirX account using P2P.
After integrating your bank account into your WazirX account, you can buy USDT through P2P to the WazirX wallet. The USDT will act as funds to help you buy your favorite Cryptos.
Step 5 – Finally, buy PEPE on WazirX.
You can now easily purchase PEPE Tokens using P2P trade on the platform. Check the PEPE to INR rate from here and PEPE to USDT here.
After logging in to your WazirX account, you can choose USDT from the "Exchange" tab. You can also check all the price charts, order book data, and an order input form on the right side of the screen.
Click "Buy" after entering the amount and checking the total USDT amount to be paid.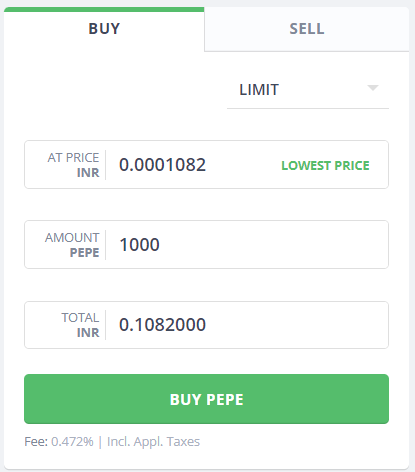 Your order will be placed according to the price you have input. A seller willing to sell at a price will be notified, and then you can exchange the tokens using P2P.
It might take a few minutes for the order to be completed, but as soon as it is executed, you will receive the PEPE Coins you purchased in your WazirX wallet.
Happy Trading!

Disclaimer: Cryptocurrency is not a legal tender and is currently unregulated. Kindly ensure that you undertake sufficient risk assessment when trading cryptocurrencies as they are often subject to high price volatility. The information provided in this section doesn't represent any investment advice or WazirX's official position. WazirX reserves the right in its sole discretion to amend or change this blog post at any time and for any reasons without prior notice.