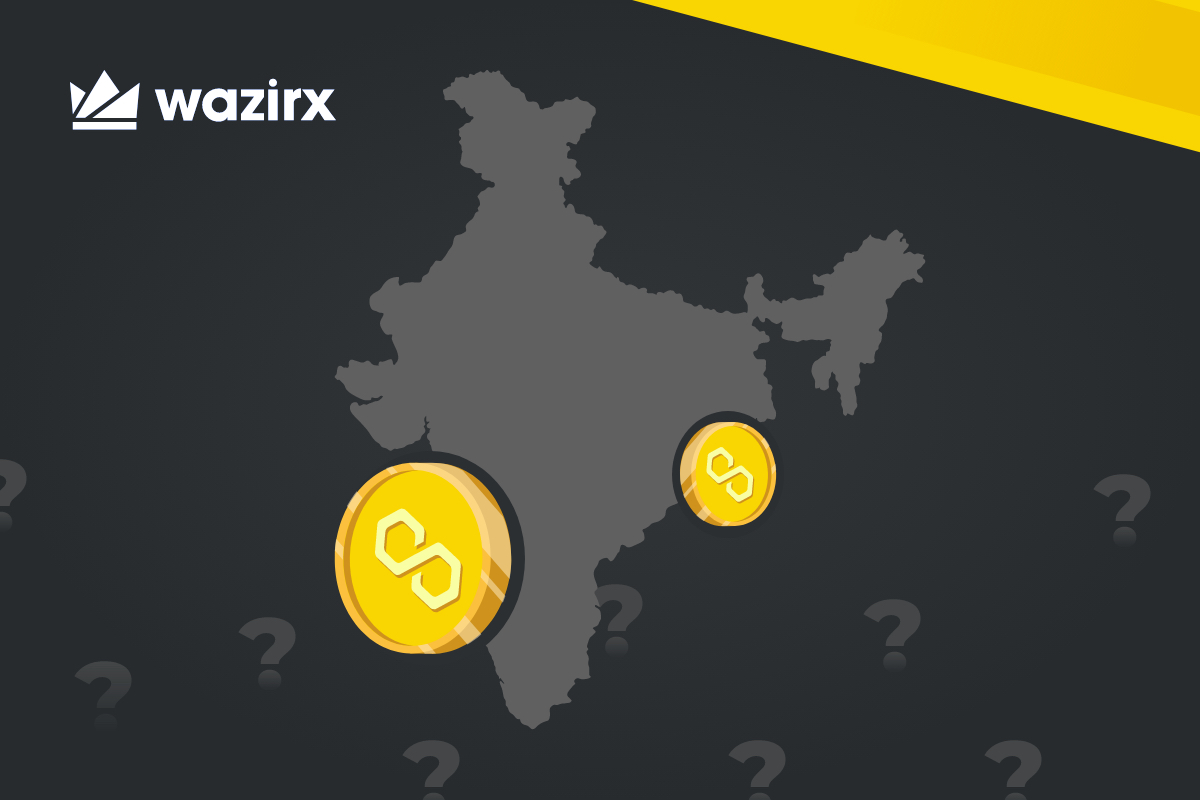 This article is available in the following languages:
Polygon (MATIC), the cryptocurrency of the India-born network Polygon is one of the top cryptocurrencies and can be easily bought in INR at trusted exchanges such as WazirX in India. Before we tell you how to know Polygon cryptocurrency's price and fundamentals, Let's know about the crypto first.
What is Polygon Crypto?
Earlier known as MATIC Network, Polygon is a layer-2 blockchain protocol that provides infrastructure for the development of blockchain networks that can interface with each other. The platform is Polygon, and the cryptocurrency ticker is still MATIC, remember!
Polygon facilitates interchain scalability and adaptability that are the characteristics of alt chains while assuring the security, interoperability, and liquidity offered by Ethereum to the projects hosted on its network. It has become highly popular within a short span of time because of the low gas fees and high transaction throughput it offers the developers and clients on its platform.
The native token of the platform is Polygon (MATIC) cryptocurrency, and it ranks at the 14th position on the cryptocurrency charts. The token has a maximum supply of 10 billion, of which over 67% is already in circulation. Polygon crypto price in INR as of today (29 December 2021) is around ₹204.607. Besides being the underlying resource behind the ecosystem, Polygon's crypto – MATIC – can be used for staking tokens under the PoS (Proof of Stake) consensus mechanism to safeguard the Polygon network. Polygon cryptocurrency has a current market capitalization of more than $18.09 billion.
How does it Work?
'Ethereum's internet of blockchains,' Polygon aims to solve the scalability issues of the Ethereum network via a system of block developers, creators, clients, and stakeholders utilizing the MATIC sidechain to execute operations and cooperate with different Ethereum-based decentralized apps.
Polygon is a less expensive and quicker option than other networks. Its side chain can produce and settle new blocks within seconds against Ethereum's average block creation time period of 12 seconds. Two advancements are already in the pipeline for further boosting the viability of the network – the first one will help in distributing loads of off-chain exchanges together into a solitary trade, while the second roll-up would involve speeding up transactions on the Ethereum network.
It was introduced in 2017 by developers Jayanti Kanani, Sandeep Nailwal, Anurag Arjun, and Mihailo Bjelic. MATIC, later on, proceeded to projects like Maker (MKR) and Decentraland (MANA). While working with platforms like Binance and Coinbase, they received sufficient financing. In 2021, the introduction of AAVE on the Polygon network further enhanced its significance as a scaling solution.
How to Choose a Cryptocurrency Exchange for Buying Polygon Crypto?
You can buy Polygon crypto in INR via several methods in India. The most popular method is through a well-trusted crypto exchange or via peer-to-peer lending platforms. A crypto exchange is a virtual exchange very similar to a stock exchange, except that the crypto exchanges are self-regulated and operate 24*7 throughout the year.
While choosing a crypto exchange, you must keep in mind a few pointers:
Firstly, the user interface of the application or website of the crypto exchange should be easy to use.
Next, make sure the exchange supports MATIC-INR trading pairs.
The trading fees on the platform should be low. You can easily compare the trading fees of different platforms to lock your preference.
Security is another factor that cannot be compromised while trading in cryptocurrencies via exchanges. Make sure the exchange has a KYC protocol in place.
WazirX is India's largest and most trusted platform for trading cryptocurrencies. It provides you with excellent security features, superfast KYC approvals, and lightning-fast transactions. The platform can also be accessed at any time via an app efficiently built to deliver an amazing user experience.
Another additional requirement, besides the choice of crypto exchange, is the provision of a crypto wallet for storing your cryptocurrencies. You can either use a well-secured offline (hardware) wallet or choose the WazirX crypto wallet for storing your cryptocurrencies.
How to Buy Polygon Crypto on WazirX?
Follow this easy tutorial to buy Polygon cryptocurrency on WazirX:
#1 Setting up the WazirX App:
Go to the Play Store and download the WazirX app. Open the App and click on the profile settings icon on the top left corner of the screen.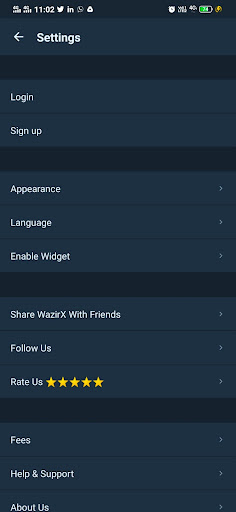 Next, click on the signup option.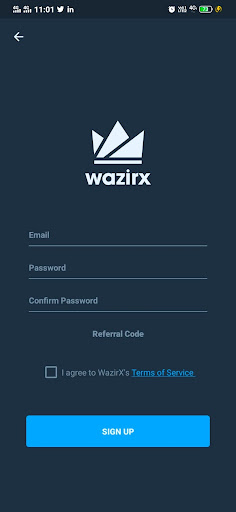 Fill up your details and click in the checkbox next to the declaration "I agree to Wazirx's Terms of service." (After you have gone through them by clicking on the link). If you have any referral codes, don't forget to add that, too.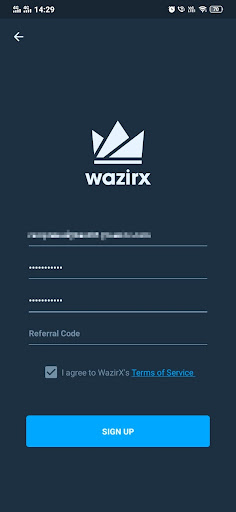 You will see a verification window once you submit your details for signup on the WazirX App. First you need to verify your email.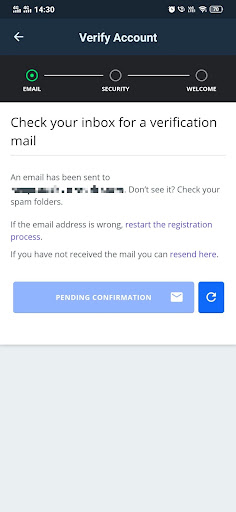 Check your inbox for a verification email. Open the email and click on the verify email button to verify your emailtwo-factor.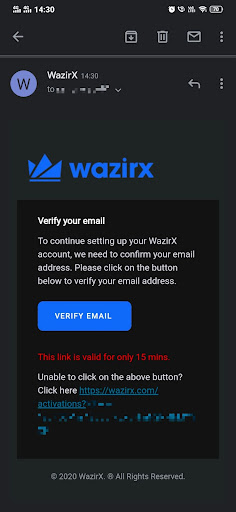 Once your email is verified, you will then see an 'email verified' screen. Click on Continue.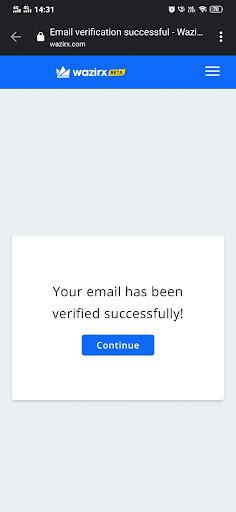 Once your email gets verified, the next step is to get your phone number verified via OTP received on mobile via SMS and email. Once you have successfully verified your number, you will get a screen like this.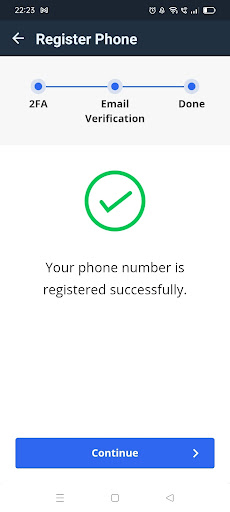 9. Next, set up two-factor authentication for additional safety. For that, you will receive an OTP via SMS on your registered mobile number and an email to verify your request for setting up two-factor authentication. Click on the
'Approve 2FA Request' Icon.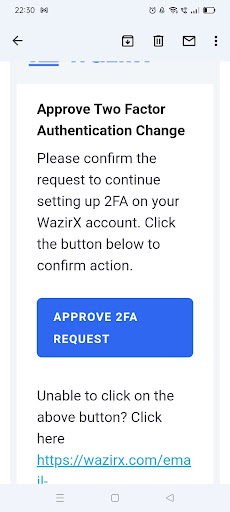 10. Once you get your 2-factor home screen authentication request verified, you will receive a screen like this.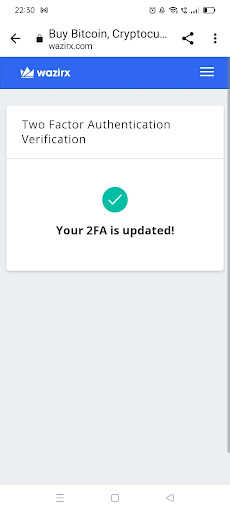 11. You are done with setting up your WazirX trading app! Next, you will see a welcome screen like this. Click on the 'Complete KYC' tab.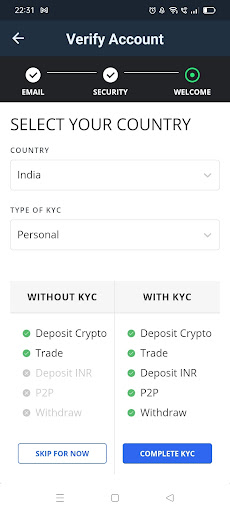 12. Next, Fill in all the required personal details such as your name, date of birth, address, PAN details and attach a virtual copy of the same, Aadhar details and a virtual copy of the same, and a photo of yours (a selfie) to complete the KYC requirements. Click on 'Submit for Verification'.
13. Once you fill the KYC form, you will get a screen like this.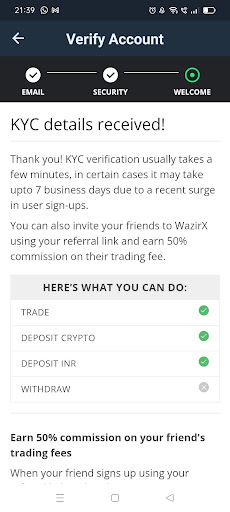 14. You will receive a mail next notifying you about your KYC getting verified successfully.
15. Your home screen on the app will appear like the screenshot attached below once you are done verifying your KYC details. This is a one-time process. It takes very little time to get started on the app.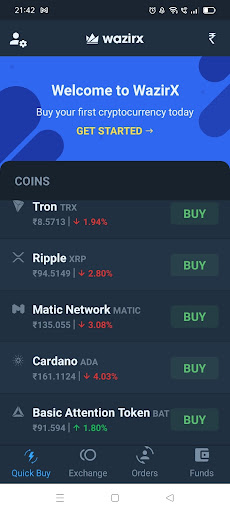 #2 Depositing funds on the App:
16. You can deposit funds on the WazirX App using any preferred payment modes and begin trading on the app.
#3 Buying Polygon cryptocurrency:
17. Click on the quick buy option at the bottom of the screen in the app to find the latest Polygon price in INR. Click on MATIC currency next.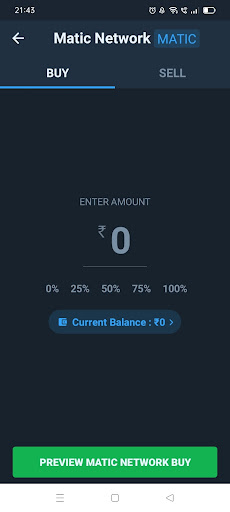 18. Enter the amount in INR for which you want to buy Polygon crypto on the app and click on the 'Preview Matic Network Buy' option to start your transaction.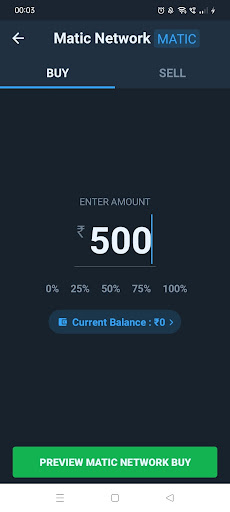 Setting up the WazirX app is a one-time process. Once you become a member of the community, you get to experience the best-in-class trading features that help you sail through the buying and selling of cryptocurrencies with ease.

Disclaimer: Cryptocurrency is not a legal tender and is currently unregulated. Kindly ensure that you undertake sufficient risk assessment when trading cryptocurrencies as they are often subject to high price volatility. The information provided in this section doesn't represent any investment advice or WazirX's official position. WazirX reserves the right in its sole discretion to amend or change this blog post at any time and for any reasons without prior notice.