This article is available in the following languages:
Since its inception in 2015, the altcoin spearhead – Ethereum has garnered a lot of attention in the crypto world. If you're a beginner in the crypto space, questions like what Ethereum is and why it is so popular are extremely common. What makes it valuable, and what is its potential as a long-term investment? And how do you go about buying it?
Here are some things to think about when it comes to Ethereum, and if you want to make a decision if it's the cryptocurrency you want to invest in. Here's a beginner's guide to what Ethereum is and how you can get your hands on some in India. Also, check out the price of ethereum in india.
What is Ethereum?
Ethereum is a blockchain platform with its cryptocurrency, Ether (ETH), and its programming language, Solidity.
Ether (ETH) is the fuel that keeps the network running. It is used to pay for computing resources as well as transaction fees (called gas fees) for each Ethereum network transaction. Ether is a peer-to-peer cryptocurrency, similar to Bitcoin. Aside from paying for transactions, ether is also used to purchase gas, which is needed to pay for the calculation of any transaction on the Ethereum network. Ether's supply is not capped as bitcoin's, and its supply schedule, which is commonly regarded as the minimum level required to secure the network, is set by Ethereum's community.
How Ethereum Works
Ethereum, like every other cryptocurrency, is based on a blockchain network. A blockchain is a decentralized, distributed public ledger that verifies and records all transactions.
Cryptography is used in blockchain transactions to keep the network safe and verify transactions. Users use the computers to "mine," or calculate complicated mathematical equations that verify every transaction on the network and add the latest blocks to the system's blockchain. This verification process is called the consensus algorithm, specifically the Proof of Work consensus algorithm.
Participants are given cryptocurrency tokens as an incentive. These tokens are known as Ether (ETH) in the Ethereum system. Ether is a virtual currency that may be used for financial transactions, investments, as well as a store of value. Ether is held and exchanged on the Ethereum blockchain network. Outside of ETH, this network provides a range of other services.
Data can be stored, and decentralized apps can be executed over the Ethereum network. People can host software on the Ethereum blockchain rather than on a server owned and controlled by Google or Amazon, where just one business controls the data. Because there is no single authority regulating anything, users have complete control over their data and full access to the app.
Self-executing contracts, popularly known as smart contracts in the crypto world, are perhaps one of the most compelling use cases for Ether and Ethereum. Unlike traditional contracts, lawyers aren't required: the contract is coded on the Ethereum blockchain, and it self-executes and delivers Ether to the proper party once the contract's conditions are met.
Ethereum smart contracts are the building blocks of NFTs and can automate hundreds of financial products and supply chain processes. Decentralized exchanges (DEXs) and automated market makers (AMM) can be built using smart contracts.
How is Ethereum a good investment:
Ethereum's flourishing performance has brought attention to both traditional and institutional investors. Compared to traditional investing, Ethereum has the following benefits:
Volatility: While this was once viewed as a negative, astute investors have recognized market cycle patterns and can profit from market bubbles' parabolic gains.
Liquidity: Due to the global establishment of trading platforms, exchanges, and online brokerages, Ethereum is probably one of the most liquid investment assets. With relatively low charges, you may trade Ethereum for fiat or other crypto assets.
Lower inflation risk: Ethereum's decentralization and Ethereum's maximum annual limit of 18 million ETH make it less inflationary than fiat.
Decentralized Finance: Heralded as the greatest achievement brought on by Ethereum, DeFi has revolutionized the financial world like none other. Albeit being a relatively new concept, the DeFi space has grown tremendously over the last few years, and highly innovative ecosystems were pioneered because of Ethereum's capability to support dApps.
Apart from these, some of the real-world (present and possible future) use cases of Ethereum are:
Voting Systems
Ethereum is being used in voting systems. Poll results are made public, ensuring a transparent and fair democratic process by removing vote irregularities.
Banking Systems
Ethereum could very well soon be embraced in banking systems due to its decentralized nature, making it difficult for hackers to get illegal access. It also permits payments to be made on an Ethereum-based network. Thus banks would be considering Ethereum to send remittances and make payments in the future.
Shipping
Ethereum's use in shipping aids cargo tracking and prevents commodities from being misplaced or counterfeited. Ethereum provides a provenance and tracking framework for any item used in a supply chain.
Agreements
Agreements can be kept and implemented without any amendments using Ethereum smart contracts. Ethereum can be used as a system for establishing smart contracts and digitally preserving the agreements and transactions based on them in a sector that has dispersed participants, is vulnerable to disputes, and requires the presence of digital contracts.
Investors are flocking to Ethereum for various reasons, including its expanding popularity, rising valuation, and the growing number of exchanges that accept it. Ethereum has a great potential to flourish higher in the crypto industry, thus becoming a great investment choice.
We've previously published blogs on consumer applications of Ethereum here, if you'd like to know more.
However, consider discussing with a financial advisor about the dangers before you invest in Ethereum in India. Even if you believe in Ethereum's future, make sure it's money you can afford to lose, given the extreme risk and volatility in this market.
How to buy Ethereum in India
If you're an Indian and want to buy Ethereum in India, you'll need to use an exchange that handles the INR pair. Check out WazirX for a simple, dependable, and fantastic way to trade and convert cryptocurrencies like Ethereum and INR at low cost and with excellent security. You can buy Ethereum in India via WazirX via the following steps:
Sign up on WazirX via web or mobile app or log in if you have signed up already.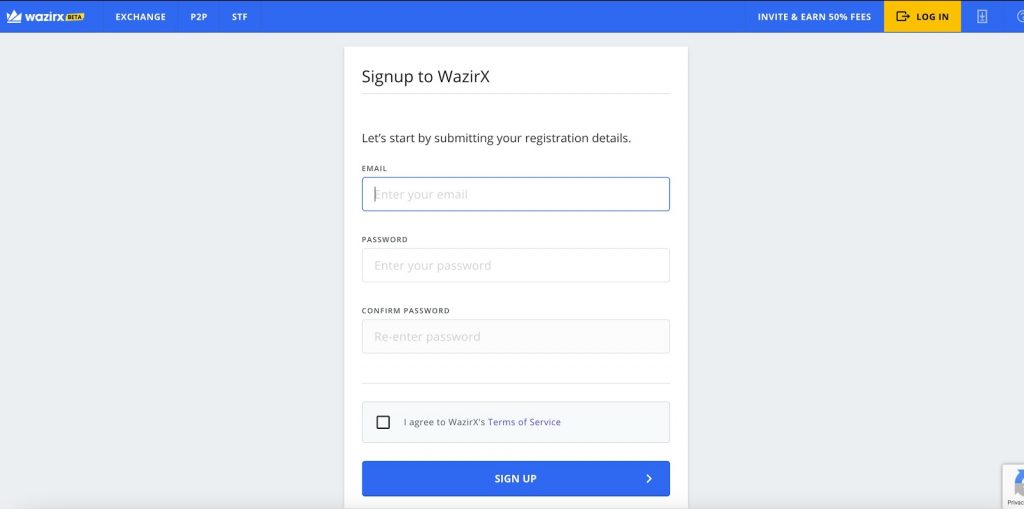 A verification email would be sent to the email address you mentioned.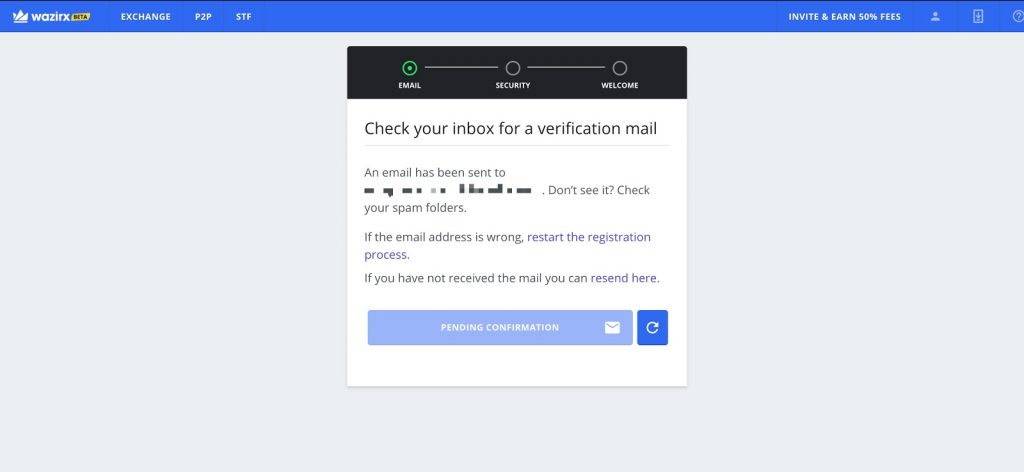 The link given by verification mail will only be active for a few minutes, so make sure to click it as soon as possible.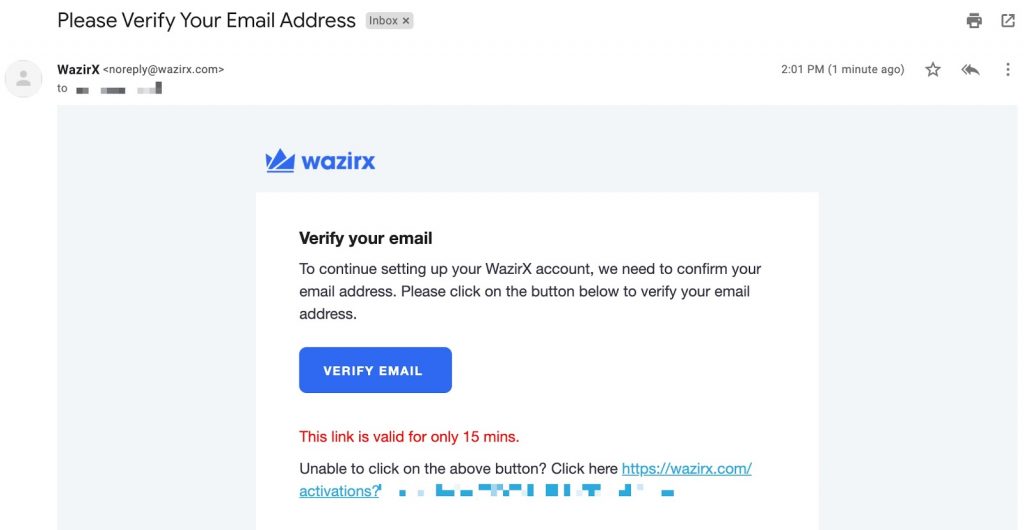 The link will successfully verify your email address.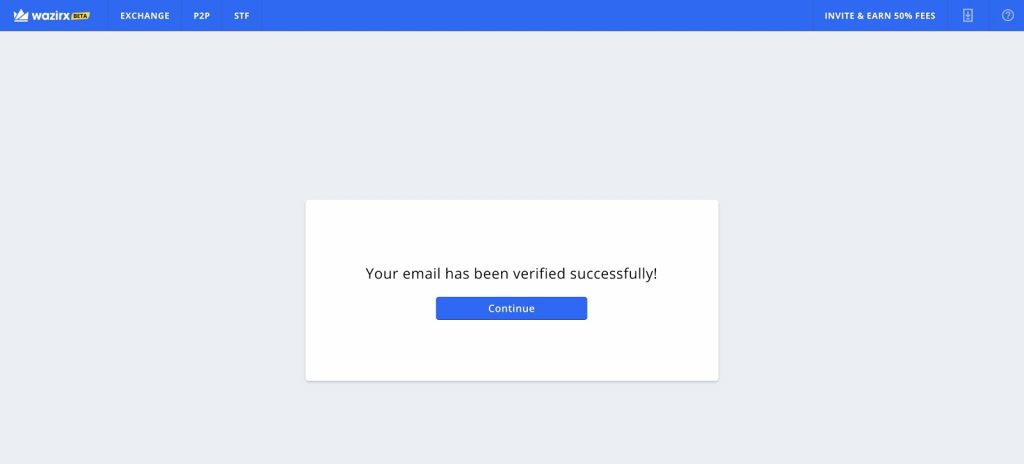 The next step is to set up security, so choose the option that best fits your requirements.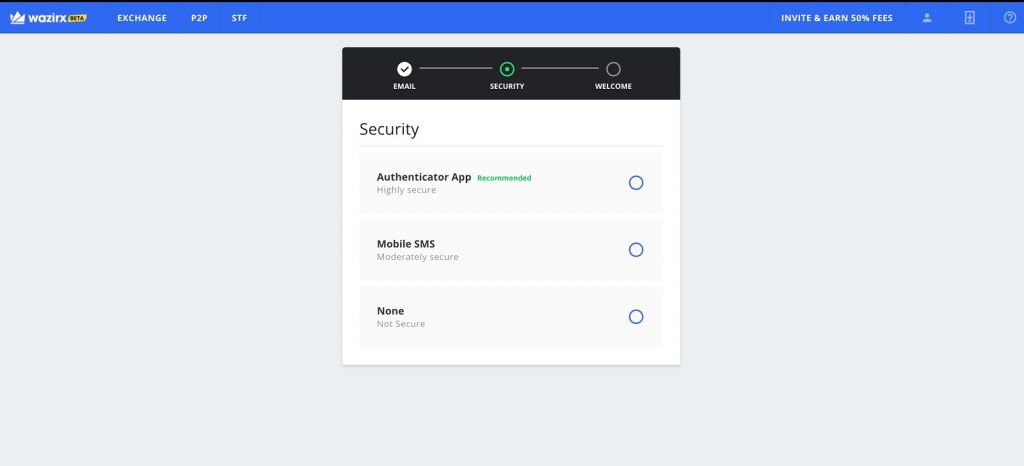 After you've set up security, you'll be given the option of completing the KYC procedure or not.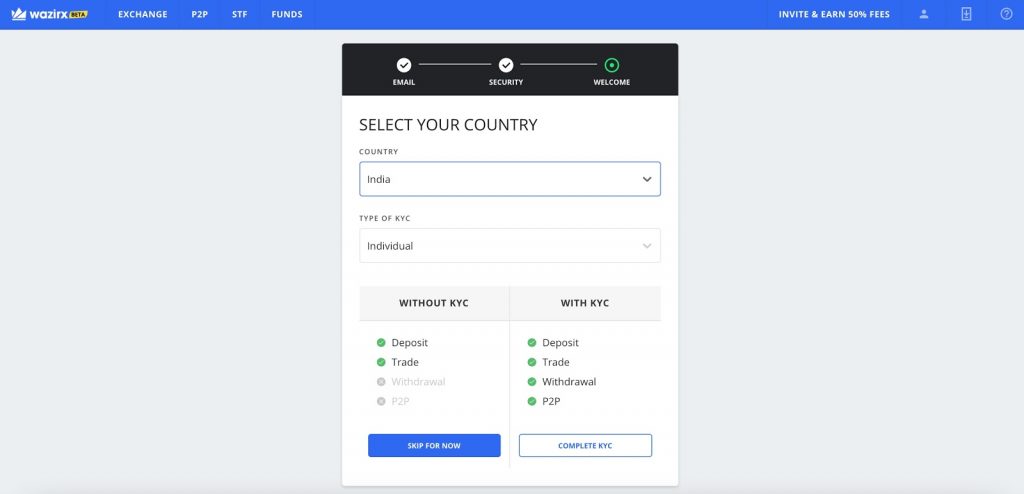 Following that, you'll be sent to the Funds and Transfers page.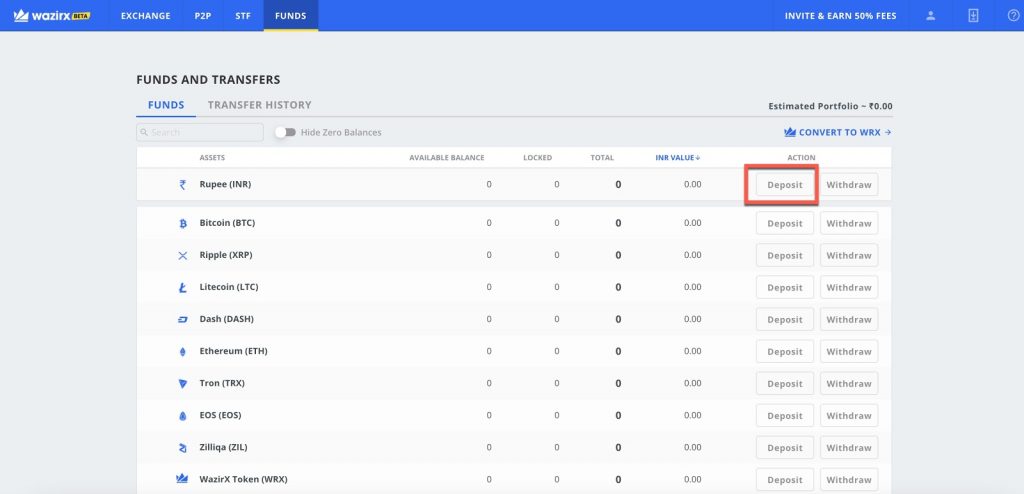 Choose "Funds" and then "Deposit INR." Make a deposit into your account.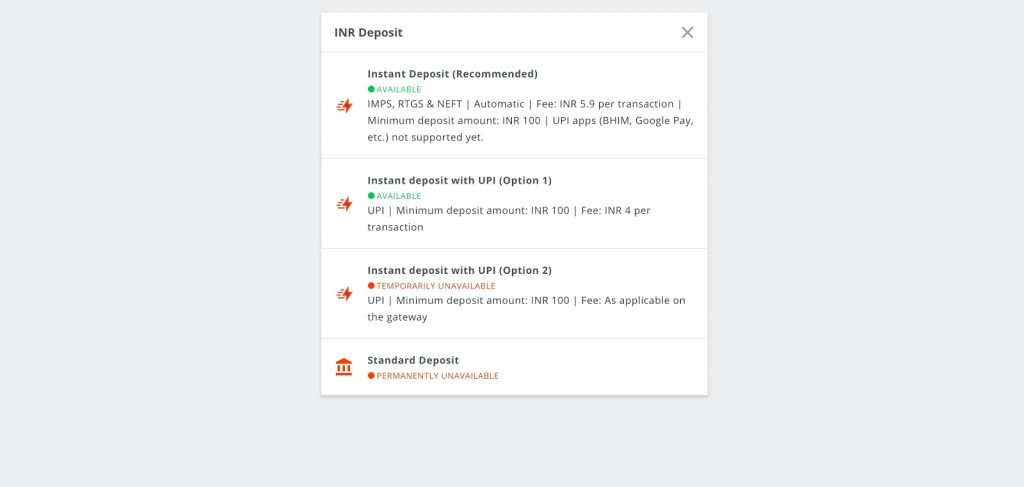 At the top of the screen, select "Exchange."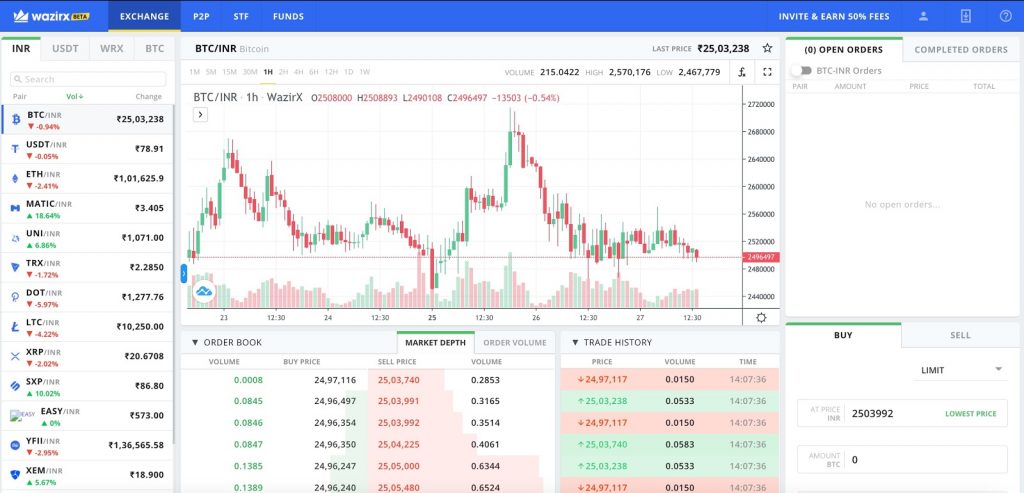 Select the "Buy" tab on the ETH/INR market.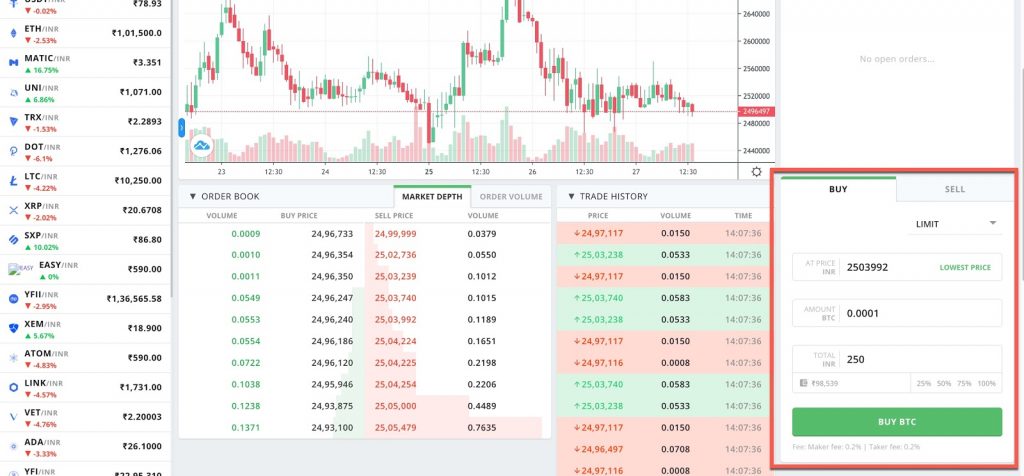 Enter the amount you want to spend in INR or the amount you want to buy.
Examine the transaction's specifics and Select "Buy ETH"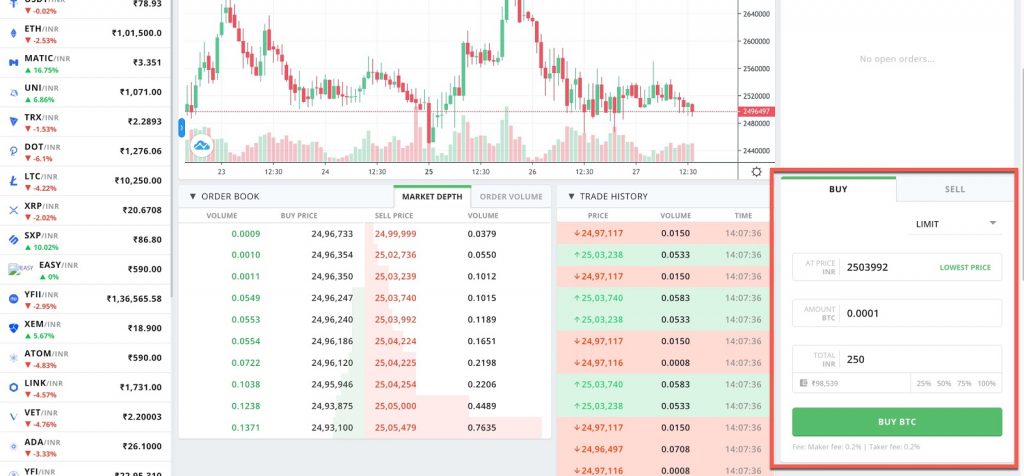 Conclusion
With this, we hope to have imparted everything you need to know about purchasing Ethereum in India. If you'd like to know more about cryptocurrencies, and catch up on the latest news in the crypto sphere, do make sure to read through our blog. Keep in mind that cryptocurrencies like Ethereum are extremely volatile and are considered highly risky. This article does not constitute investment advice but merely a guide on what Ethereum offers and how you can purchase Ethereum in India. We would strongly recommend you to conduct thorough research before making any monetary/investment decision.
Further Reading:
How to Buy Cryptocurrencies in India?
How to Buy Bitcoin in India in 2021
Can you buy shares in Bitcoin?
What is Dogecoin? How to buy Dogecoin in India?
5 Things to Keep in Mind While Buying or Selling Ethereum

Disclaimer: Cryptocurrency is not a legal tender and is currently unregulated. Kindly ensure that you undertake sufficient risk assessment when trading cryptocurrencies as they are often subject to high price volatility. The information provided in this section doesn't represent any investment advice or WazirX's official position. WazirX reserves the right in its sole discretion to amend or change this blog post at any time and for any reasons without prior notice.