In today's world, from watching something online or simply browsing, your access to any service or utility is limited by centralized platforms. These platforms are subject to state whims, are prone to data manipulation and misinformation, and use their users' personal data for selfish purposes. In 2021 millions of Facebook and Linkedin profiles were exposed online. The exposed data included personal details like names, addresses, and even phone numbers of users. The average total cost of data breaches is a whopping $4.24 billion per annum. So what is the solution?
Tron is the solution. Tron offers an infrastructure of a decentralized internet free of geographical boundaries, censorship, and other such constraints while giving users complete control over their data and a stake in the platform's governance. Let's have a deeper look!
What is a Tron Coin?
Before we explore the architecture of Tron, it is important to know what a Tron coin is and how it started. Justin Sun founded TRON in 2017. The TRON Foundation was founded in Singapore in July 2017. The TRON Foundation raised $70 million in an initial coin offering in 2017, just before China banned digital tokens. Tron was created to compete directly with the media industry, including web-based behemoths like Amazon and Netflix. Its slogan is "Decentralize the Web." It aims to remove the corporate middleman from the media consumption process. By removing the "middleman," viewers can directly reward content creators via the Tron network. As a result, the media is owned entirely by the creator rather than in part by a large corporation.
Justin Sun announced in 2021 that the Tron Foundation would be dissolved and that Tron would be maintained by the community, though he would remain as ambassador.
Tron was unique in not seeking to publicize any advances in cryptography or network design. Rather, Tron's fundamental building blocks – decentralized applications, smart contracts, tokens, and delegated proof-of-stake consensus – were pioneered by other projects prior to its launch. Tron gained mainstream attention in 2018 when the Tron Foundation acquired peer-to-peer networking pioneer BitTorrent. This acquisition came ahead of the 2019 launch of a BitTorrent token on the Tron blockchain. This allowed Tron to market a new cryptocurrency to millions of existing users.
Tron's native token, Tronix or TRX, began as an Ethereum-based token. It migrated to its own network in 2018.
How does Tron (TRX) work?
The Tron network structure has been compared to the Ethereum platform. It employs some of the same fundamental building blocks, such as decentralized applications (dApps), smart contracts, and tokens. Tron uses blockchain and peer-to-peer (P2P) network technology to cut out the middleman and allow content creators to sell directly to consumers. Solidity is a programming language used by software developers to create apps that run on the Tron platform.
Tron's architecture is divided into 3 layers:
The Tron protocol uses Google protocol buffers, which support multi-language extension by default. With internal pricing mechanisms such as bandwidth and energy, the Tron protocol distributes computing resources equally among TRX holders. Tron provides a decentralized TVM (TRON Virtual Machine) that can run a program by utilizing an international network of public nodes. The network has no transaction fees and processes about 2,000 transactions per second.
As a reward for their work, content creators can receive digital assets. These assets can either be the TRX token or other tokens backed by TRX. Creators can create their own coins or tokens that can be used within their own dApps on the network. The main Tron token serves as the foundation for these newly created tokens. Tron offers the following 3 benefits to its users:
High availability
High throughput
High scalability
Tron uses a system in which a rotating cast of 27 "super representatives" are entrusted with validating transactions and maintaining the system's history to reach a consensus on its ledger. Every 6 hours, super representatives are chosen. After being chosen, they gain the ability to collect new TRX generated by the protocol. Every 3 seconds, a new block is added to the blockchain, and those who create a valid block are rewarded with 32 TRX. Each year 336,384,000 TRX are distributed.
Tron users require a network resource known as "Tron Power" to vote on super representatives. Users receive one Tron Power for every TRX they "lock" in an account that prevents them from spending the associated cryptocurrency. When the cryptocurrency is unfrozen, users lose their Tron power and the ability to vote. Tron Power, like TRX and other tokens issued on top of the Tron blockchain, cannot be traded.
TRON, like EOS, requires users to acquire resources in order to interact with smart contracts, which are divided into four types:
To obtain the desired bandwidth and energy, users must temporarily lock in their TRX tokens. Now let's have a look at how to buy Tron coin in India.
How to Buy Tron Coins in India?
If you are wondering how to buy Tron coin in India, then WazirX can be your best choice. You can buy Tron coin (TRX) in India via WazirX, India's most trusted cryptocurrency exchange, by following the few simple steps listed below:
#1 Sign Up on WazirX
To begin with, create an account on WazirX by clicking here.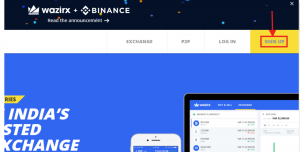 #2 Fill in the Required Details
Put in your email address and choose a secure password.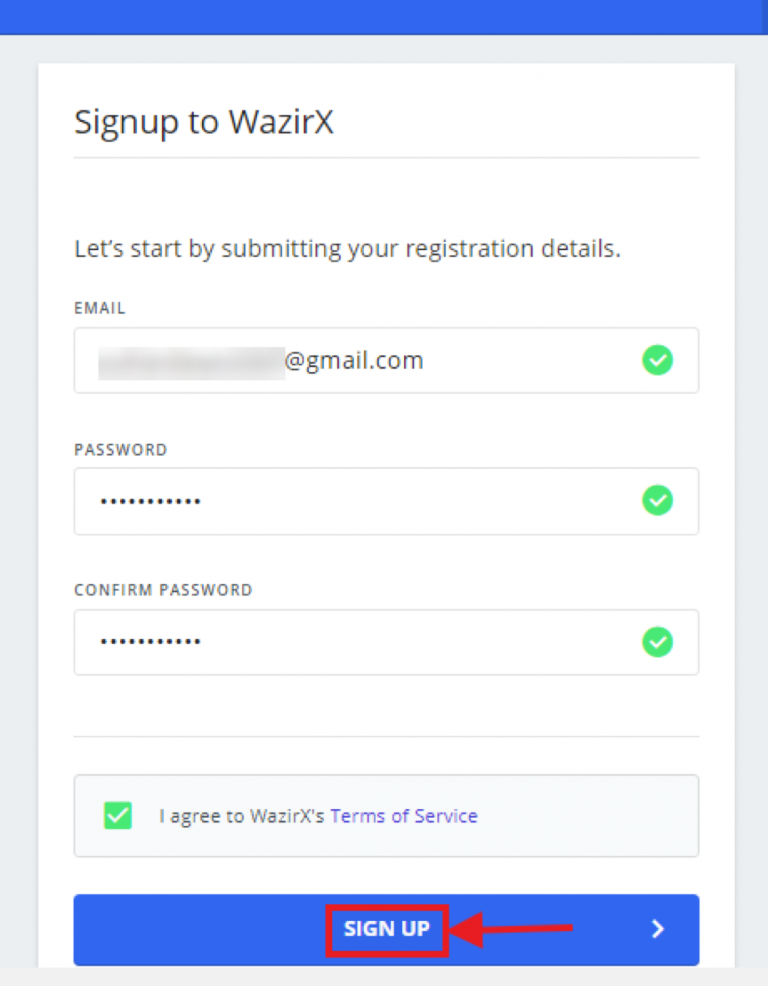 #3 Email Verification and Account Security Setup
Next, verify the email address by clicking on the verification link you received in your inbox. Following that, you have two options to ensure the security of your account – the authenticator app and mobile SMS.
Remember that the authenticator app is more secure than mobile SMS because there is a risk of delayed reception or SIM card hacking.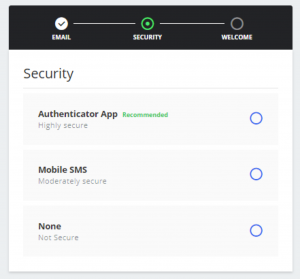 #4 Choose Your Country and Complete KYC
After selecting your country, complete the KYC process. Without completing your KYC, you can not trade peer-to-peer or withdraw funds on the WazirX app.
To complete your KYC, you need to submit the following details:
Your full name as it appears on your Aadhaar or any other ID proof
Your birth date as stated on your Aadhaar or any other ID proof
Your address as it appears on your Aadhaar any other ID proof
A scanned copy of the document
A selfie of yours to finish the procedure
And you are done creating your account! Within 24 to 48 hours, the account is usually validated.
Buy Tron on WazirX
WazirX allows you to check the Tron coin price in India before you proceed to buy Tron crypto via WazirX. Check Tron coin price in INR on WazirX here. You can buy Tron using USDT.
To buy USDT, you can use the WazirX P2P route. This is fast, secure, and free. Follow these simple steps to buy USDT and then your Tron crypto:
Log in to your WazirX account on the web/mobile app and select "P2P" from the "exchange" option.
Next, click on the 'Convert INR into USDT' option.
Add the INR price at which you want to purchase USDT. Next, add the number of USDT tokens you want to purchase and click on "BUY". Here, the minimum purchase should be 14.5 USDT.
Once you click on the buy button, WazirX will match you with sellers. However, if you wish to purchase the USDT from a specific seller, you can add the XID of that person and complete the transaction.
You need to select a preferred mode of payment next. UPI and IMPS mode are the two options available. Please note that IMPS linking is mandatory on the WazirX platform; however, UPI linking is optional.
Once you confirm and click on the message "YES, I WILL PAY', you will get 60 additional minutes to complete your payment. In case of non-payment, once confirmed, a minimum penalty of 10 USDT or 1.2% of trade will be levied. False confirmations can also cause your account to get locked.
Complete the payment as per the payment details on the screen (seller's bank/UPI details). Once the payment is complete, upload the payment proof and click on the checkbox "I HAVE PAID".
Once the seller confirms the receipt of payment, your order will be marked complete, and the USDT purchase will be reflected in your "funds".
Now you can use this newly acquired USDT balance to purchase Tron crypto on WazirX exchange. Go to the "exchange" option on the web/mobile app and select Tron crypto from the list of the tokens available in the USDT market. All price charts, order book data, and an order input form are visible on the right side of the screen.
Fill out the buy order form and click on buy Tron. Wait for some time. It will only be a short while before your order is executed. Once it's done, you will receive the Tron coins you purchased in your WazirX wallet.
Learn how to buy crypto safely and securely via WazirX P2P:
What is the Future of Tron Coin (TRX)?
To answer the question in one word, "What is the future of the Tron coin?" it would be "bright." TRX has collaborated with well-known companies such as Samsung, Poloniex, BitTorrent, Swisscom, and Opera. The Sun Network is a DAppChain that is a side project by the Tron network. It is built with the sole purpose of assisting dApps in operating on the network with less energy consumption, faster speed, and enhanced safety.

Tron is one of the fastest-growing blockchains, with over 73 million accounts and 2.8 billion transactions. TRX can be used as a store of value, an investment, or to trade for other cryptocurrencies. However, the token's primary use is on the network in the creation and interaction with dApps. TRX stands 15 at the time of writing, with a market capitalization of $5.58 billion. Experts predict that by 2025, the price of TRX is expected to reach $0.25.

Disclaimer: Cryptocurrency is not a legal tender and is currently unregulated. Kindly ensure that you undertake sufficient risk assessment when trading cryptocurrencies as they are often subject to high price volatility. The information provided in this section doesn't represent any investment advice or WazirX's official position. WazirX reserves the right in its sole discretion to amend or change this blog post at any time and for any reasons without prior notice.