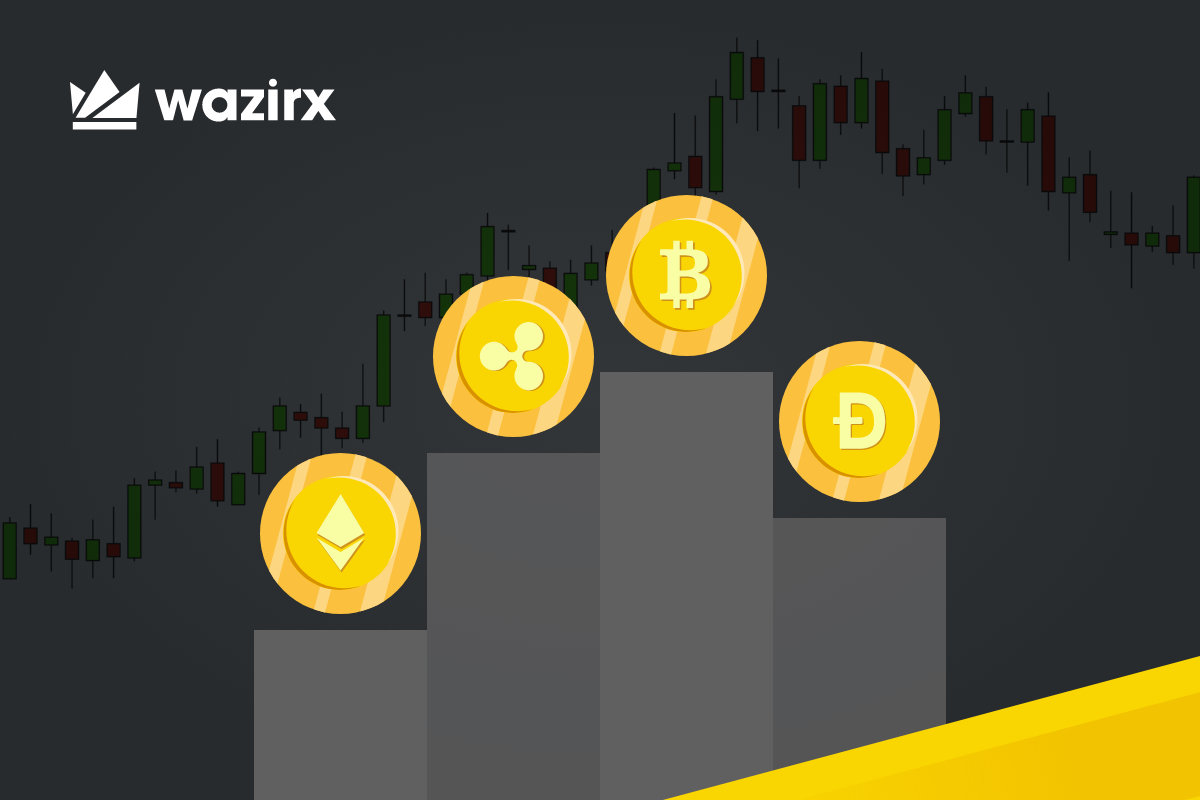 The increasing relevance of cryptocurrencies serving a variety of use cases and utilities across sectors has sparked a spike in the broader market, attracting new crypto investors from all over the world. The market continues to enjoy an ongoing boom period. In November – the global crypto market stood at a market cap of $2.78 trillion (as of 14 November 2021).
Despite the market's high volatility, it looks like investors are still fairly willing to hold them in November. Given the unique use case each coin serves, it can be difficult for investors to choose between several options, from Bitcoin and Ethereum to Solana and Dogecoin. However, market capitalization can be a parameter to rank one's cryptocurrency preferences while one seeks to invest in them.`
Let's take a look at the top 8 cryptocurrencies to invest in November 2021. All values are as of 17 November 2021.
#1 BITCOIN
Market Cap: $1.27 trillion
Founded in 2009, Bitcoin (BTC) is one of the oldest and most popular cryptocurrencies. Satoshi Nakamoto, the creator of Bitcoin, used the power of blockchain tech to bring the notion of decentralized, virtual currency to life for the first time with Bitcoin.
Bitcoin uses the Proof of Work (PoW) consensus mechanism to keep its network secure and moving. Proof of Work consensus relies on a process where all periodic updates to the distributed ledgers are confirmed by solving a cryptographic problem. This guarantees the security of Bitcoin from fraudsters.
With increasing popularity, the value of Bitcoin has risen over the years to unprecedented highs. Just five years ago, you could purchase Bitcoin for around $500. The price of a single Bitcoin reached above $65,000 on 29 October 2021. This equates to a 12,300% increase.
Bitcoin currently stands at $64,500 with a total supply of $18.88 million in the crypto market, as of 15 November.
#2 ETHEREUM
Market Cap: $496 billion
Ethereum (ETH), the largest altcoin by market capitalization, is a popular cryptocurrency among programmers. Its features, such as smart contracts that execute automatically when conditions are met, and its programmability, are opening new avenues for applications such as dApps, DeFi, and non-fungible tokens (NFTs), making it an attractive choice among investors. It is a blockchain platform as well as a cryptocurrency.
In October 2021, the price of Ethereum soared to new heights, reaching an all-time high of $4800+ on 4 November 2021. In this volatile market, it is still the second-largest cryptocurrency.
Ethereum's value has increased by about 40,000% in just five years, from around $11 to $4,800. Ethereum currently stands at $4,500, with a total supply of $117.45 million in the crypto market.
#3 BINANCE COIN
Market Cap: $94 billion
Binance Coin (BNB), a cryptocurrency that runs on the Ethereum blockchain and has 200 million BNB tokens, is one of the top 8 cryptocurrency choices to invest in November 2021. This coin is designed to help the Binance Exchange run more smoothly with smart functions.
You can use BNB to trade and pay fees on Binance – a popular crypto exchange platform across the globe.
Since its launch, Binance Coin has evolved beyond its role as the native token of the Binance ecosystem. It may now be used to trade, process payments, and even make travel arrangements.
It was priced at just $0.10 in 2017. On 29 October 2021, it climbed to approximately $530, recording a gain of almost 530,000%.
Binance Coin currently stands at $624.17, with a total supply of $1.04 billion in the crypto market.
#4 SOLANA
Market Cap: $65,446,922,980
Solana is a cryptocurrency created to fuel decentralized finance (DeFi), decentralized applications (DApps), and smart contracts. It employs a hybrid proof-of-stake and proof-of-history mechanism to conduct transactions rapidly and securely.
With a block time of 400ms, it can support up to 50,000 transactions per second.
SOL was launched at an initial price of $0.77 in 2020. In 2021, the price of Solana increased by more than 17,500%. Solana has climbed from a low of $1.5 at the start of the year to an all-time high of $260, with a total supply of $508.97 million in the market as of 11 November 2021.
#5 CARDANO
Market Cap : $61,439,821,789
Cardano's open-source, public blockchain, which uses the proof-of-stake algorithm, has made it to being one of the top cryptocurrency choices for investment in the crypto community. It effectively delivers top-notch security to DApps and digital wallets.
Cardano's ADA token has grown slowly over time. The cryptocurrency is projected to rise further in the cryptocurrency market in November 2021. Notably, the price of ADA was $0.02 in 2017, while Its current price stands at $2.25. This is an almost 10,000% gain.
Cardano has a total supply of $32.97 billion in the market as of 11 November 2021.
#6 XRP
Market Cap : $51,207,286,161
XRP is the cryptocurrency developed by Ripple, a digital technology and payment processing firm. XRP positions itself as the fastest and most reliable option for sourcing liquidity on demand for financial institutions. It is an open-source permissionless decentralized network offering fast digital payment solutions to settle transactions in 3-5 seconds.
The price of XRP was $0.006 in 2017. XRP currently stands at $1.32, with a total supply of $99.99 billion in the market.
#7 POLKADOT
Market Cap : $39,688,577,869
Polkadot is a platform that enables many blockchains to interact with each other by sending messages as well as value in a trustless manner while sharing their unique features and pooling in their security. Polkadot is a scalable, heterogeneous, multi-chain technology in a nutshell.
Its price increased by almost 1,400% from $2.93 in September 2020 to the current $50.93.
Polkadot stands at a total supply of $1.11 billion in the market as of 11 November 2021.
#8 DOGECOIN
Market Cap: $31,335,994,438
DogeCoin has been an increasingly popular topic, courtesy the celebrities and billionaires like Elon Musk. Dogecoin was famously established as a joke in 2013, but it quickly became a popular cryptocurrency choice because of a committed community and inventive memes. Unlike many other cryptos, such as Bitcoin, there is no limit on the number of dogecoins that can be issued, making the currency vulnerable to depreciation as the supply grows.
Initially, the price of Dogecoin was $0.0002. It now stands at $0.269732, recording a gain of 14500%, with a total supply of $131.92 billion in the market as of 11 November 2021.
Conclusion
A volatile market of cryptocurrencies is not for the faint-hearted. Investors should weigh the risks before diving in, as all the prices can fluctuate in a passing moment. If you are considering investing in these blue-chip cryptocurrencies, hop into India's most trusted crypto exchange platform WazirX!

Disclaimer: Cryptocurrency is not a legal tender and is currently unregulated. Kindly ensure that you undertake sufficient risk assessment when trading cryptocurrencies as they are often subject to high price volatility. The information provided in this section doesn't represent any investment advice or WazirX's official position. WazirX reserves the right in its sole discretion to amend or change this blog post at any time and for any reasons without prior notice.