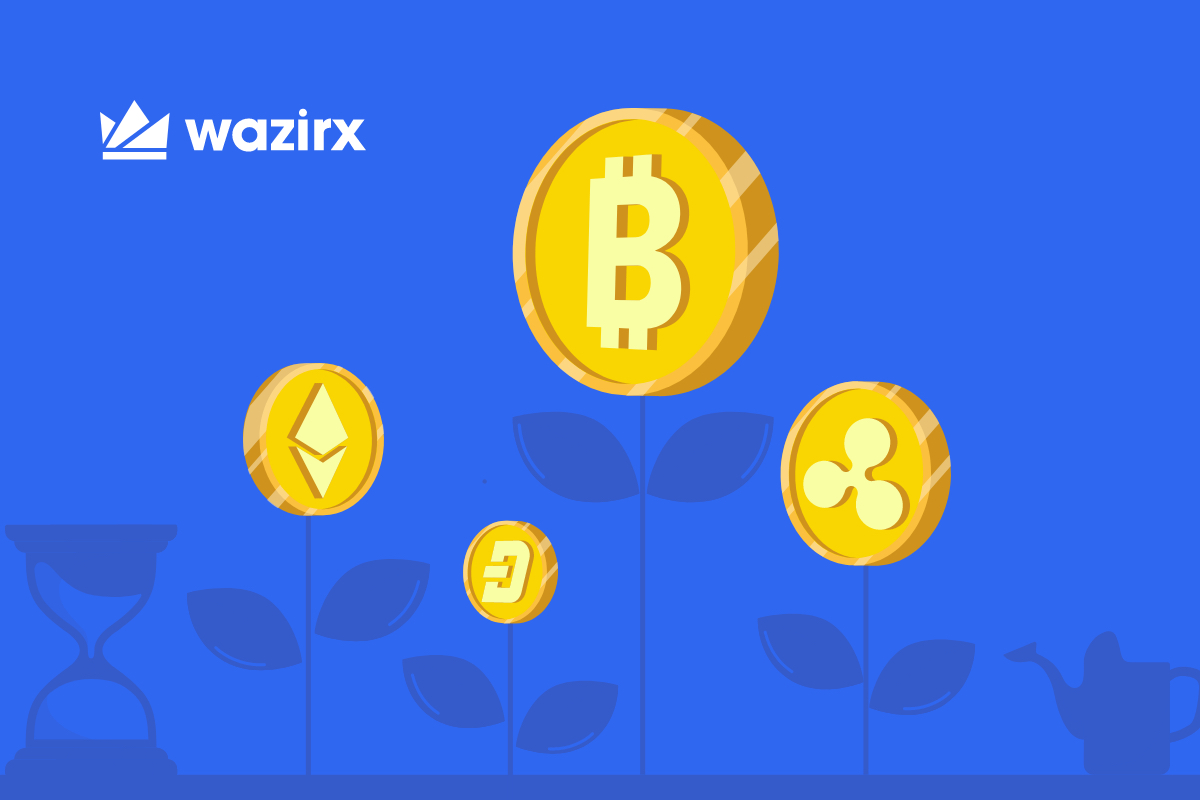 Note: This blog is written by an external blogger. The views and opinions expressed within this post belong solely to the author.
This article is available in the following languages:
Cryptocurrencies have surely taken India by storm, and there's no stopping them. Everyone is jumping on the crypto wagon for short-term profits or long-term holding, further driving it to mainstream adoption. Added to it, with the introduction of tax laws in the cryptocurrency market, the ambiguity regarding the future of crypto in the country is a little clear. Cryptos are here to stay and are a great investment option.
While short-term crypto traders have made quick profits, a long-term cryptocurrency investment strategy is considered to be much better. This is because crypto assets typically follow cycles and compound over time, thereby appreciating in value. And despite the extreme bouts of volatility that crypto markets offer, the potential for massive returns has lured several investors to the space.
We've got you covered if you have been considering investing in cryptocurrency for the long term and are confused about which top cryptocurrency you should invest in for the best long-term crypto portfolio. So for those who are wondering about which crypto to buy in India for a long-term investment strategy, here are the top 4 picks:
1. Bitcoin (BTC)
Bitcoin, the first and most well-known cryptocurrency, is without a doubt the top selection for long-term crypto investment. The main reason behind Bitcoin's popularity is that investors believe the cryptocurrency will appreciate in value over time due to its limited supply of 21 million. This is strikingly opposite to fiat currencies like the dollar or the pound, which do not have a limit on their supply. Most investors also believe that as fiat currencies weaken, Bitcoin will continue to appreciate in value.
Created in 2009 by an individual or group of individuals using the pseudonym Satoshi Nakamoto, Bitcoin (BTC) is the first cryptocurrency and is often referred to as digital gold. BTC is also the dominant crypto, and not without reason: being the trailblazer of the crypto sector – its price, market capitalization, and volume are all significantly higher than any other crypto. Although thousands of different cryptocurrencies are available in the market, Bitcoin still accounts for nearly 40% of the total cryptocurrency market capitalization. This makes it a lucrative fit for the best long-term crypto investments of 2022.
From around $0.0008 to $0.08 per coin more than a decade ago, Bitcoin's price touched an all-time high of nearly $69,000 in November 2021. While Bitcoin's volatility is one of its most prominent risk factors, the potential for massive profits as a result of this volatility is also what has made it so popular. Several analysts estimate that BTC's price will rise through 2022, reaching as high as $80,000 or $100,000, then to $250,000 by 2025 and a massive $5 million per bitcoin by the end of this decade.
2. Ethereum (ETH)
Second only to Bitcoin, both in price and market cap, Ethereum is another highly preferred crypto investment for many. Along with being a popularly circulated crypto asset, Ethereum is also famous for its revolutionary network that lets developers build their cryptocurrency through its ERC-20 compatibility standard. In addition to providing a platform for creating various cryptocurrencies, Ethereum also provides for the execution of decentralized smart contracts. DeFi (Decentralized Finance) and NFTs (Non-Fungible Tokens) are yet other concepts that have increased the value of Ethereum over the years.
Ethereum touched an all-time high of over $4800 in late 2021 and started 2022 at the $3600 bracket. Ethereum recorded a growth of 160% last year and is expected to hit $6,500 this year. This makes it a mandatory asset to curate the best long-term crypto portfolio.
As discussed earlier, Ethereum worked as a key medium of transaction in the NFT boom in 2021. This has already made it a go-to investment option for investors worldwide. Along with this, 2022 holds a special spot in the Ethereum community. This is the year when Ethereum is expected to launch its most anticipated ETH-2 upgrade. This will enhance its speed, and efficiency and will solve the scalability challenges faced by the network. Analysts predict that Ethereum prices will further shoot up post a successful upgrade.
3. Cardano (ADA)
Developed in 2015 by Ethereum co-founder Charles Hoskinson, Cardano is an open-source and decentralized public blockchain platform noted for its early adoption of proof-of-stake validation. Thanks to its substantial market gain in recent times and its energy-efficient processes that are considered more eco-friendly than Bitcoin, Cardano (ADA) has attracted a wide variety of investors.
ADA is the internal cryptocurrency of Cardano, which facilitates peer-to-peer transactions. While ADA may not be able to compete with Bitcoin and Ethereum, ADA grew phenomenally in 2021. ADA grew by 14,000% to touch an all-time high in September 2021. So, if you are speculative about which crypto to buy in India for the long term in 2022, ADA is the answer to your query.
Cardano is one of the popular cryptos in the NFT space and is expected to further strengthen its roots in the industry in 2022. This will take place parallel with the maturation of major partnerships that the ADA network signed last year. According to the Economy Forecast Agency, ADA is expected to reach $7.70 in 2022, $8.93 in 2023, and $15 by the end of 2025.
4. Binance coin (BNB)
Binance coin is the native crypto token of one of the most popular crypto exchanges, Binance. BNB is used to pay fees and trade by Binance customers on the platform. Since last year, BNB has clenched a permanent spot in the ranks of the top 5 cryptocurrencies by market capitalization. It has been dominantly sitting in the third/fourth position by market cap for the past few months. This makes it one of the best long-term crypto investments of 2022.
BNB was established in 2017 and currently runs on ERC20, Ethereum. The coin framework is skillfully designed and is backed by powerful and precise algorithms. Along with paying fees on the platform, BNB can be used to access various popular services and products by Binance, such as Binance Smart Chain (BSC), Trust Wallet, Binance Research, and Binance Academy. The popularity of these services points to a bright future for BNB in the coming years.
BNB touched its all-time high at nearly $690 in 2021. According to Capital.com, the coin will be $820 by 2024, $2,300 by 2026, and $11,000 by 2030.
Invest in cryptocurrencies with WazirX
Whether you're a beginner to crypto or a seasoned investor, if you're wondering about the best long-term crypto investments in 2022, then WazirX is the right place for you. One of India's best and most trusted crypto exchanges, WazirX features over 250+ cryptocurrencies, including top cryptocurrencies like BTC, ETH, ADA, and BNB, and facilitates lightning speed transactions with highly impressive security features and KYC procedures.
To start trading with WazirX, visit the exchange by clicking here.

Disclaimer: Cryptocurrency is not a legal tender and is currently unregulated. Kindly ensure that you undertake sufficient risk assessment when trading cryptocurrencies as they are often subject to high price volatility. The information provided in this section doesn't represent any investment advice or WazirX's official position. WazirX reserves the right in its sole discretion to amend or change this blog post at any time and for any reasons without prior notice.