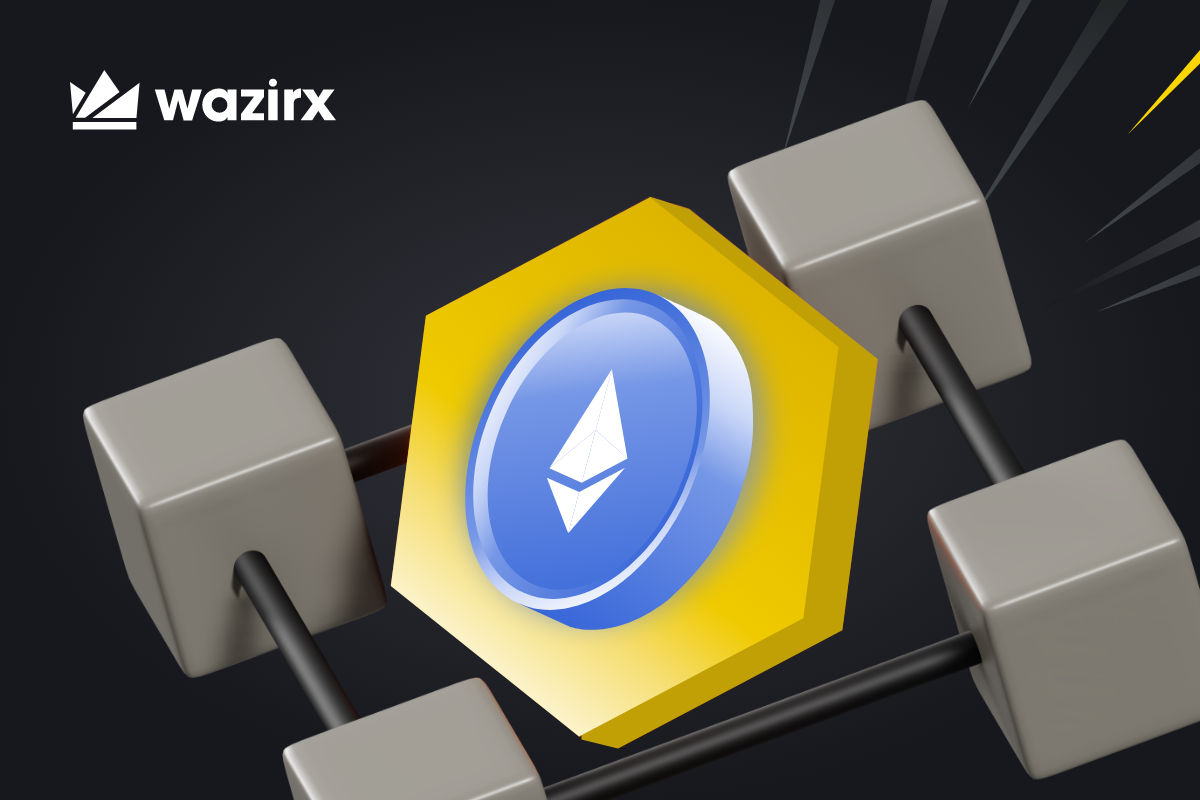 Mark Yusko, CEO and Founder of Morgan Creek Capital, says that the web 3.0 internet will have its own protocol stack consisting of several blockchain networks, just like the web 2.0 protocol stack. The "trust net" that blockchain and Crypto interweave will generate much more wealth than Web 1.0 and Web 2.0 taken together.
The growth of decentralized networks that slowly picked up post the Defi summer of 2020 has reached exponential levels as web3 is steps away from becoming a reality. Defi-based protocols and those supporting web3 applications are witnessing a surge in prices and market capitalization, and there can be no better time to start placing your bets on these Cryptos than in 2023.
Here's a list of the top web3 Cryptos in 2023 from the top Crypto list that might explode or see exponential gains in 2023:
#1 Ethereum (ETH)
Ethereum remains at the top of the Defi game, with the largest number of web3-based platforms, NFTs, and dApps hosted over its network. Moreover, it has the highest number of smart contracts ever created on any decentralized network and hence, tops our list of top web 3.0 Cryptos in India in 2023. Previously, Ethereum suffered from high gas fees and low transaction throughput; however, things turned out after the ETH 2.0 upgrade went live.
Ethereum seeks to combat its scalability issues via a slew of L1 and L2 scaling solutions. Furthermore, post-ETH 2.0 upgrade, Ethereum transcended from the Proof-of-Work consensus to the Proof-of-Stake consensus mechanism. Ethereum is the largest altcoin and the number 2 Crypto, with a market capitalization of $190.43 billion as of 25 January 2023.
#2 Helium (HNT)
The decentralized network was launched in 2019 as a blockchain for IoT devices. The helium network consists of hotspots or network nodes that combine a wireless gateway and a blockchain mining device. The users who participate in the network by setting up hotspots get rewarded with the HNT token. The hotspots are 200x more powerful than conventional wifi.
Helium seeks to improve IoT communication while eliminating the inadequacies in the current internet infrastructure. Many mainstream companies, such as Lime and Mousetrap, use the network to keep a tab on their connected devices. There are over 500,000 helium hotspots worldwide, and the numbers are increasing by thousands daily. At #93 rank in the top Crypto list, Helium is positioned as a viable part of the web3 stack in the coming years. Its market capitalization is $401.95 million as of 25 January 2023.
#3 Polkadot (DOT)
The 11th coin in the top Crypto list, Polkadot, was founded in 2016 as an open-source sharded multi-chain network enabling the cross-blockchain transfer of any type of data or asset type. Polkadot is paramount to the web3 internet and has been designed specifically to add the interoperability factor to the multi-chain world of web3. It is a layer-0 metaprotocol that operates on a network of layer-1 blockchains called parachains.
Five parachains were running simultaneously on the metaprotocol in December when Pokadot's price reached an all-time high. As more parachains are added to its relay chain, we can expect Polkadot prices to explode in 2023. Polkadot has a market capitalization of $7.48 billion as of 25 January 2023.
#4 BitTorrent
BitTorrent, as a P2P file-sharing platform, holds great relevance in the upcoming decentralized era of web3, especially because it seeks the subversion of traditional centralized file storage systems that are costly and often suffer from censorship. With a network of 170 million monthly users, BitTorrent is one of the top web3 Cryptos in India.
TRON acquired BitTorrent in 2018. It is both a protocol and network implementation that allows P2P utilities to store and share digital content with the users. The BTT network serves clients such as uTorrent Web, BitTorrent Web, and uTorrent classic. Users can access premium services such as VPN capabilities and ad-free browsing as paid options. BitTorrent is ranked at the 63rd position in the top Crypto list and has a market capitalization of $681 million as of 25 January 2023.
#5 The Graph (GRT)
As the web3 internet scales with time, The Graph usage will gather more steam as a significant part of the web3 protocol stack. The Graph is an indexing protocol for organizing and querying data for Ethereum, IPFS, POA, and other decentralized networks that host Defi and web3-based applications. Talking about the 2020 Defi summer, The Graph has witnessed phenomenal growth at over 50% MoM and is an apt choice for top web3 Cryptos in 2023 in India.
Over 3,000 subgraphs are already deployed on the network for dApps like Synrhetix, AAVE, Aragon, Livepeer, DAOstack, etc. Users can earn indexing rewards and query fees by staking their GRT tokens. The Graph ranks #57 in the top Crypto list and has a market cap of $790 million as of 25 January 2023.
#6 Chainlink (LINK)
Launched in 2017, ChainLink has seen considerable growth as a decentralized network allowing integration of off-chain data into smart contracts. Chainlink lets blockchain access real-world data via the use of decentralized oracles. The network finds use cases in a wide spectrum of industries ranging from insurance and securities to payments and supply chain management – particularly where proof of events and data stamps are needed.
With Defi and the web3 boom adding more fuel to the altcoin market, Chainlink can surely be considered one of the top web3 Cryptos in India in 2023. Many conventional players in the data processing field today have adopted Chainlink. Data providers monetize their content by selling access to their data directly to the network. The layer-2 protocol also allows holders to earn staking rewards. Chainlink has a market capitalization of $2.5 billion and is ranked #21 in the top Crypto list as of 25 January 2023.
#7 Theta (THETA)
Another competent candidate for the web 3.0 Crypto list, Theta, is a decentralized network that facilitates bandwidth and computer power-sharing via a peer-to-peer network. Theta was founded in 2017 as a decentralized video streaming platform. It allows users to access and stream excellent video quality over a network of hundreds of computers worldwide.
The blockchain has struck partnerships with several big firms, including MGM, NASA, and Lionsgate. The network is conducting airdrops and is launching an NFT-based video platform in 2022. Theta is gaining traction as one of India's top web 3.0 Cryptos in 2023, with a market capitalization of $1 billion. It is ranked 49th on the top Crypto list as of 25 January 2023.
As a trader seeking fortunes in Cryptos, it is pertinent that we do our research before we begin investing in Cryptos. While several Crypto trading platforms serve the trading purpose, WazirX, with its powerful matching engine, deep liquidity, and high security, assures the trader of a great trading experience. If you are considering investing in any of the top Cryptos on the web 3.0 Crypto list, hop over to WazirX and start your Crypto trading journey!

Disclaimer: Cryptocurrency is not a legal tender and is currently unregulated. Kindly ensure that you undertake sufficient risk assessment when trading cryptocurrencies as they are often subject to high price volatility. The information provided in this section doesn't represent any investment advice or WazirX's official position. WazirX reserves the right in its sole discretion to amend or change this blog post at any time and for any reasons without prior notice.