WazirX has always stressed the importance of research, and to help all in their research journey, WazirX has launched and maintained multiple assets and programs. To name a few:
WazirX Blog
https://wazirx.com/blog/
This section is a powerhouse of information. From the basics of blockchain and crypto to the advanced decoding of factors associated with the crypto market, the WazirX blog covers it all. The team keeps publishing relevant reading material frequently. Some of these blogs can be read in 10 other languages (Hindi, Gujarati, Marathi, Tamil, Telugu, Malayalam, Kannada, Punjani, Bangla, and Assamese).
Coin Reports
https://wazirx.com/blog/coin-reports/
Taking further the concept of Do Your Own Research (DYOR) and simplifying the research process for investors, WazirX, in association with CREBACO and IntoTheBlock, recently launched crypto coin reports on its website. The website has data-driven reports powered by CREBACO and IntoTheBlock for over 200+ coins that are listed on its exchange. Many of these reports can be read in 10 other languages as well.
Crypto Guide
https://wazirx.com/guide/
WazirX's crypto guide is a one-stop repository comprising videos and text where anyone can learn the basics of crypto. This guide is designed to demystify crypto concepts and make learning material easily accessible to everyone. It covers everything from how to use crypto jargon to how to interpret complex trading charts.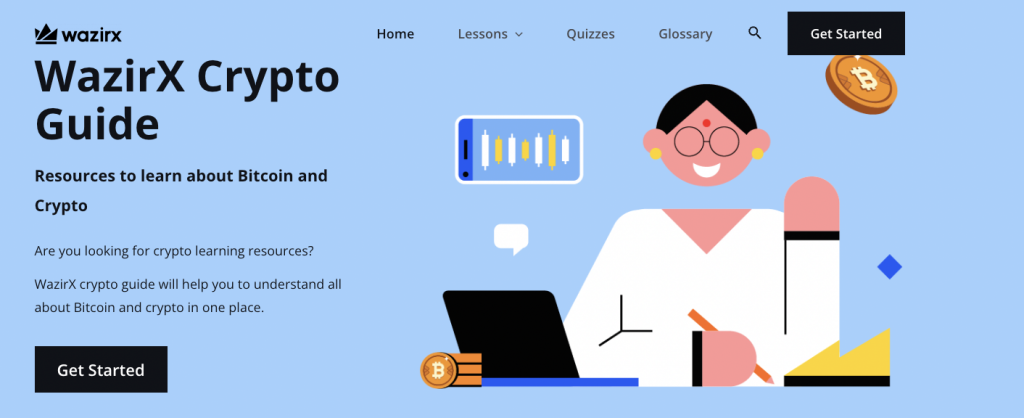 Video Tutorials, Crypto Facts, and More
https://www.youtube.com/c/WazirX
The WazirX YouTube channel hosts crisp and informative videos about the industry. Be it about how to use WazirX or what a term like 'Stop Limit Order' means, the videos have it all for everyone. The Crypto Facts playlist also has some creative content on various myths and their realities.
Training sessions
WazirX has conducted multiple crypto training sessions for various Cyber Crimes cells, Police departments, Government offices, and more.
These sessions covered:
A brief history of money and Crypto
Why Blockchain matters in today's cyber economy
How does tokenomics work, and how to value a coin?
Application of Blockchain in Cyber Security
Use cases of Blockchain and a
Live Demo of On-chain Transaction via TRM Labs & Blockchain Explorers.
These training sessions have been extremely successful, and WazirX has received acknowledgments for the same.
Free certificate course on Blockchain
The Transparency Report states that the majority of crypto scams are due to misinformation. They occur due to a lack of awareness amongst users and indicate a requirement for large-scale education and awareness programs to safeguard user interests. Along these lines, WazirX partnered with Gurukula Kangri (Deemed to be University) to provide a free course in blockchain technology. This bi-lingual blockchain course was a part of their #PadhegaDeshBadhegaDesh initiative aimed to create job opportunities in the crypto sector for the Indian youth.
Transparency report
WazirX is always committed to investors' safety and security. Championing this mission of user protection and creating transparency, WazirX has already launched two editions of its Transparency report. These reports provide insights into the company's initiatives and partnerships undertaken to safeguard investors.
Disclaimer: Cryptocurrency is not a legal tender and is currently unregulated. Kindly ensure that you undertake sufficient risk assessment when trading cryptocurrencies as they are often subject to high price volatility. The information provided in this section doesn't represent any investment advice or WazirX's official position. WazirX reserves the right in its sole discretion to amend or change this blog post at any time and for any reasons without prior notice.