The Indian crypto community has grown exponentially ever since the Supreme Court lifted the banking ban on digital currencies and the ongoing Bitcoin bull run. The gap between 1 BTC to INR continues to increase in value.
In the process of educating ourselves about Bitcoin and other cryptocurrencies, we have all asked how the Indian rupee (a fiat currency) is different from Bitcoins. To understand this, one needs to understand what Bitcoin is and what it brings to the table.
What is Bitcoin?
A Bitcoin is a digital currency that is not issued by any government organization or a private institution. It is backed by powerful technology known as the "blockchain," which makes the process trustless and prevents a single party from taking control over the process. Relative to fiat, Bitcoins provide a more secure, privacy-oriented, and cheaper way of transaction.
The markets decide the value of the Indian rupee, Bitcoin, or any other asset. The constant rise of Bitcoin price in India over the years shows strong adoption trends of Bitcoins and other cryptocurrencies.
INR vs. BTC – a comparison
INR vs. BTC: Governance
The biggest difference between the Indian rupee and Bitcoin is their governance. INR is issued by the Reserved Bank of India (RBI), India's central bank and regulatory body. Like other fiat currencies, INR is centralized, and the supply could be changed according to the market demands.
On the other hand, Bitcoin is governed by the community, i.e., every decision regarding the blockchain and network will be taken by the miners. The voting process in the community follows the rule of 1 GPU: 1 vote. The supply of Bitcoin is predetermined by the algorithm, and so is the number of coins.
INR vs. BTC: usability
Billions of Indians use the Indian rupee for multiple decades; like other fiat currencies, INR is mostly used in cash for day-to-day monetary needs. People can also transfer money from bank account to bank account via IMPS, NEFT, UPI, or by debit or credit cards. The cross-border transaction, where INR is converted to any other fiat, can be proved to be very costly and hence not a good option.
Bitcoin, on the other hand, is a cheaper and dependable alternative for cross-border transactions. But the algorithm of Bitcoins restricts it for commercial purposes only; the transaction speed of Bitcoins is way lower than fiat. For instance, a MasterCard can carry out thousands of transactions per second, but Bitcoin can only carry out seven transactions per second, and if the network is busy, the price could shoot up. This leaves Bitcoin room to improve usability in day-to-day life.
INR vs. BTC: How are new currencies made?
In the case of INR, as mentioned above, RBI mints new currencies. The supply is variable according to the economic conditions of India.
Bitcoin's transactions are supported by the community, the validators of Bitcoin transactions are known as miners, and they have to solve complex mathematical problems with the help of the computation power of their hardware. In return for their computation efforts, the algorithm rewards the miners with new Bitcoins, thus adding new Bitcoins to the supply. To further increase the demand, the supply of Bitcoin is fixed to 21 million. This process determines the Bitcoin price in INR, or any other currency for that matter.
INR vs. BTC: volatility
Since the whole country uses INR, it is important that it not be volatile. Due to this stable nature, you will find pairs like BTC to INR on Indian crypto exchanges. Traders can still trade INR on forex markets but less profitable than Bitcoin and other cryptocurrencies.
Bitcoin is volatile in nature, so volatile that it sometimes makes moves worth lakhs of rupees in a matter of hours. But this volatile nature of Bitcoin helped it increase its value from less than INR 50 to more than INR 40 Lakhs.
INR vs. BTC: currency model
The value of INR depends on inflation, forex demand, economic conditions, and many other factors. Even though the RBI can't directly influence INR's forex value, it can alter the supply by minting more or less amount, potentially influencing the buying and selling power.
Bitcoin comes into the category of the deflationary model of cryptocurrencies; this is because the mining reward is halved after every 210,000 blocks are mining. Also, the supply of Bitcoins has an upper market cap of 21 million. Due to these demand and supply rules, the price of BTC to INR is always on the rise.
INR vs. BTC: investment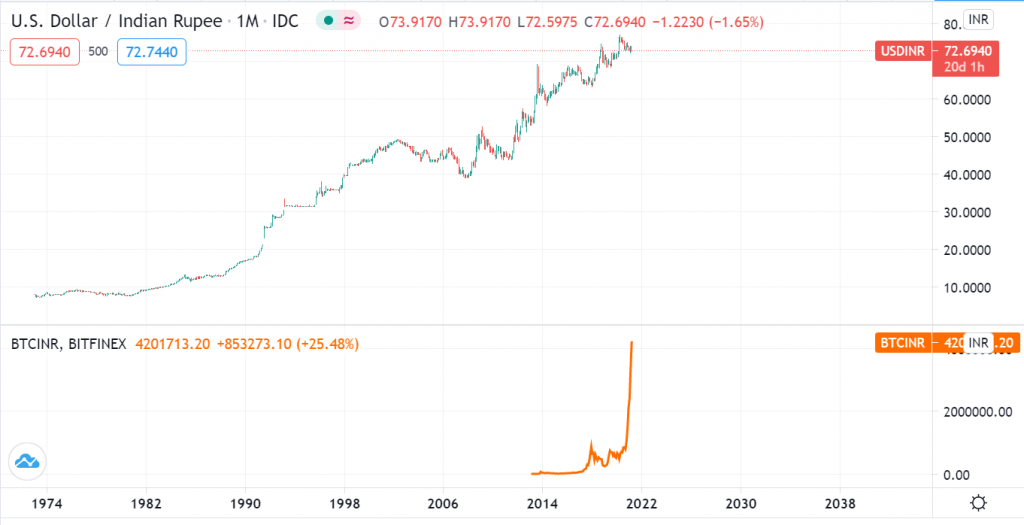 INR and other fiats are generally safer than cryptocurrencies and require skills for good returns. Forex markets are generally not volatile and are made for scalping. They are certainly not profitable as the BTC markets.
Even though cryptocurrencies are volatile, they can bring you significant returns if you play your cards right. The above chart shows the exponential growth of BTC over the years in the monthly time frame.
Want to invest in Bitcoins from India? WazirX has got you covered with hundreds of cryptocurrencies from BTC to INR pairs. Sign up on WazirX right now.
Further Reading:
How to trade in cryptocurrency in INR?
6 Things to Consider Before Investing in Bitcoin
4 Things to Consider Before Investing in Cryptocurrencies

Disclaimer: Cryptocurrency is not a legal tender and is currently unregulated. Kindly ensure that you undertake sufficient risk assessment when trading cryptocurrencies as they are often subject to high price volatility. The information provided in this section doesn't represent any investment advice or WazirX's official position. WazirX reserves the right in its sole discretion to amend or change this blog post at any time and for any reasons without prior notice.