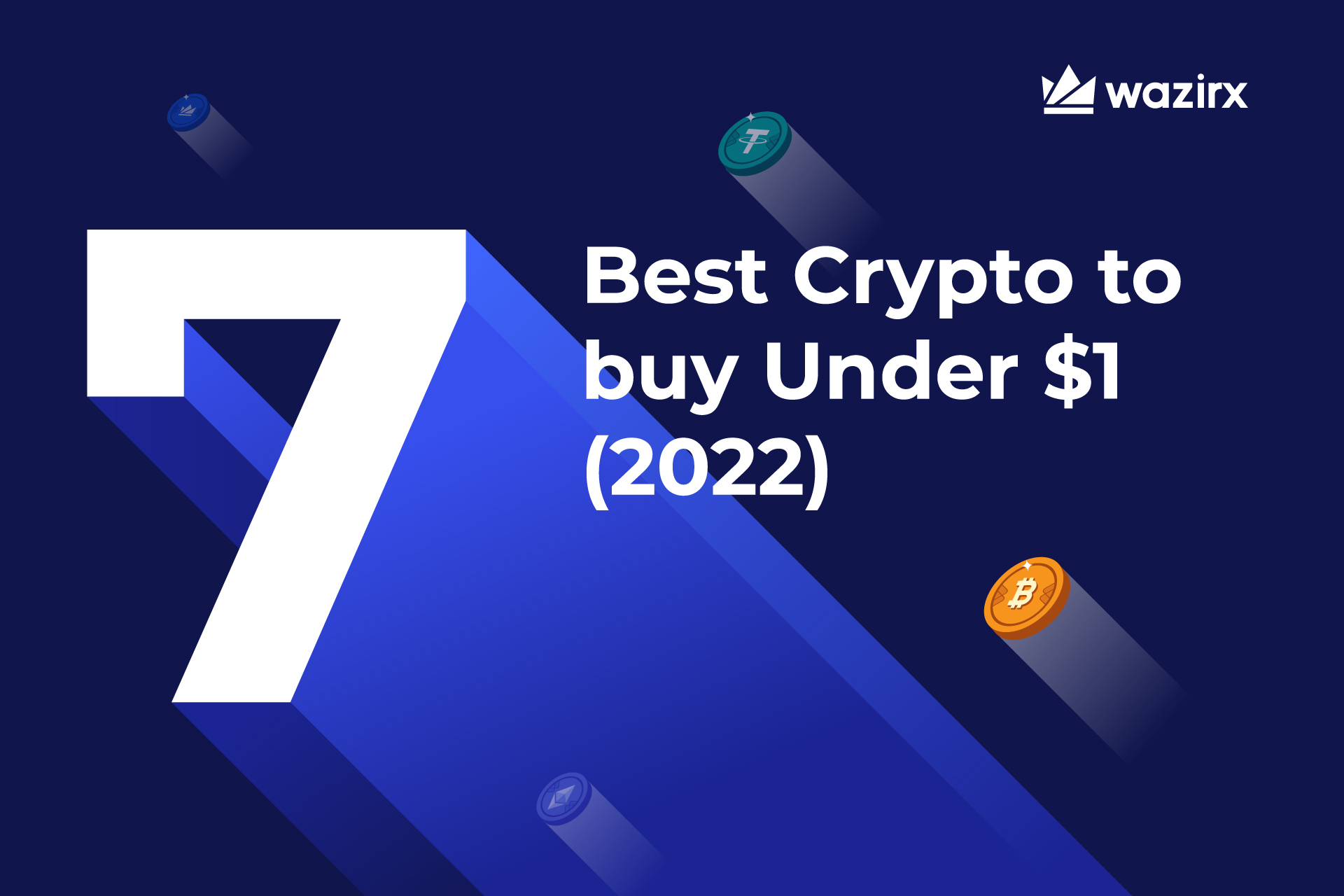 It's not an easy task to find the best Crypto under $1. Since there are multiple digital currencies in this category, the crypto market is swamped with them. Often, a crypto project can have a high market capitalization; still, it's possible that the tokens can have a high total supply, which results in a high per token price that is considerably below the dollar.
This blog discusses many of the best cryptos under $1 in 2022 to consider putting into your portfolio today to guide you in the right way and assist you in finding the best cryptocurrency to invest in 2022. Despite not having a $10 billion market valuation like Dogecoin (DOGE) or a one quadrillion total supply like Shiba Inu (SHIB), the following cryptocurrencies can be advantageous for investment purposes.
A quick overview of the best Cryptos to buy under $1 in 2022
Here is a list of the seven cheapest cryptocurrencies under $1 available today and can have incredibly bright futures. These can be the next cryptocurrency to explode in 2022.
Cardano (ADA) – The top cryptocurrency to purchase for under $1 in 2022
Basic Attention Token (BAT) – Finest Token Economy Crypto to Buy for Less Than $1
Stellar Lumens (XLM) – Proven Crypto Under $1 With Solid Use Cases
Tron (TRX) – The Best Crypto Under $1 in 2022 With a Solid Roadmap
Algorand (ALGO) – Most Potential Crypto Under $1 to Buy in 2022
Chiliz (CHZ) – Best Sports and Entertainment-Oriented Crypto Under $1
Polygon (MATIC) – TLeading Penny Crypto Based on Layer 2 Scaling Solution
A detailed look at the best Cryptos to buy under $1 in 2022
Given the fear and reluctance demonstrated by most traders, investing during a down market can be difficult. Nevertheless, many projects continue to succeed despite periodic downturns, which means experienced investors still have numerous possibilities to outperform the market.
In light of this, let's study some of the cryptos under a dollar that will explode and might assist in the market's recovery in the upcoming weeks:
#1 Cardano (ADA)
Our ranking of the best cryptocurrency to invest in 2022 is headed by Cardano, the most prominent smart contract platform and the most valued coin on this list. Cardano, which was introduced in 2017, aims to outperform Ethereum as the renowned smart contract platform in the long run. Moreover, unlike other blockchain technologies, it was the first to be peer-reviewed, making it the most trustworthy crypto network.
Cardano is considered the first blockchain platform to emerge from a scientific outlook and an evidence-based methodology. It is a totally open-source project with a strong emphasis on sustainability, scalability, and transparency with the goal of delivering an inclusive, equitable, and robust infrastructure for fiscal and social applications on a worldwide scale.
#2 Basic Attention Token (BAT)
Basic Attention Token is a token-based cryptocurrency created by Brave Software and given to the users of Brave Browser. It is a cryptocurrency with a lot of potentials and is aimed at the multi-billion dollar online advertising market. It sails the privacy wave of the web and gives you control over the kind and amount of personal information you want advertisers to gather from you and the types of advertisements you see. They even provide you compensation to watch these advertisements.
Your browser's corner will occasionally display advertisements as notifications. You can choose whether to click them or not. There is nothing wrong if you choose not to click it, although doing so rewards you with a small amount of BAT. Monthly rewards are given regularly to the users.
#3 Stellar Lumens (XLM)
Another cheapest cryptocurrency under $1 is XLM. Stellar aims to completely overtake the global financial system, a highly decentralized trading platform that is open-sourced. The offering of crypto storage services, financial inclusion, and reach to the unbanked are two of its primary aims that contribute to its popularity among the crypto community. Cross-border transactions are another goal of Stellar, and cash transfers and trades on its decentralized crypto exchange are reasonably priced.
As compared to institutions, XLM is primarily interested in helping people move money. Simply said, Stellar provides access to banking systems, enabling quick and inexpensive international money transfers. The XLM holder should hold at least one token to be an active participant in the network.
#4 Tron (TRX)
Tron is a disruptive blockchain that aims to transform the multibillion-dollar entertainment sector. The Justin Sun-led network behind Tron aims to cut out the huge digital intermediaries like YouTube, Apple, and Facebook from the entertainment sector. It was first launched on Ethereum before creating its own mainnet. Its main idea is to provide content producers and developers the control over how their work is paid for and distributed.
Its biggest attraction is the potential for content producers and crypto developers to build and sell services and goods on this blockchain. In order to accept gifts from their fans and product users, they could also design unique tokens.
There is no platform cost, and customers may get content more affordably and efficiently. Tron is noteworthy because of its emphasis on lowering the cost of publishing and gaining access to digital content. In addition, Tron can complete transactions more quickly and cheaply. Tron is thus a faster, more scalable, and lower transaction price network than Ethereum.
#5 Algorand (ALGO)
The most profitable cryptocurrency to purchase for under $1 in 2022 is Algorand. Algorand was introduced in 2018, and because of its lightning-fast and versatile blockchain technology, it has experienced continuous growth. Although it traded at 90% below its all-time high, it has a vast ecosystem and a $2 billion market worth.
Algorand's goal is to raise the value and demand of the tokens. Beginning in early 2022, the Algorand Foundation announced grants totaling $20 million to assist the establishment of decentralized applications (dApps) based on the Ethereum blockchain and $10 million for the creation of the EVM bridge.
#6 Chiliz (CHZ)
A different blockchain dedicated to sports and entertainment is named Chiliz. It aims to revolutionize the degree of interaction between content producers, their audience, and sports teams. Through the Socios engagement platform and exchange, it accomplishes this. Clubs can use the platform to create their own customized governance tokens, which they can encourage their supporters to use in exchange for the opportunity to vote on club matters like a t-shirt design.
The organization's major goal is to close the active and passive participation gap. The CHZ tokens allow supporters to own a share in their team while bringing them closer to the players.
#7 Polygon (MATIC)
A Layer-2 scaling option for Ethereum scaling and infrastructure development is Polygon (previously known as Matic Network). This cryptocurrency project provides developers with a collection of tools to create extremely scalable and high-performance blockchains and Decentralized Apps (DApps), intending to make "Ethereum's internet of blockchains" by resolving scalability concerns of existing blockchains.
Polygon is the only scaling solution that integrates the Ethereum Virtual Machine (EVM), which removes the technical barriers that now separate most blockchains and uses the Proof-of-Stake consensus mechanism to enable simple value and information movement between various blockchains.
Curtain thoughts: Are Cryptocurrencies Under $1 Good investments?
Most of the best Crypto under $1 in 2022 that we have covered are fairly comparable to penny stocks. If you make a sensible choice, there is a chance that their value may soar, potentially wiping out your investment. On the other hand, they have enormous growth potential. However, finding the best Crypto under a dollar that will explode has never been a foolproof process, so there is an equal possibility that your cheap crypto bet will lose money.

Disclaimer: Cryptocurrency is not a legal tender and is currently unregulated. Kindly ensure that you undertake sufficient risk assessment when trading cryptocurrencies as they are often subject to high price volatility. The information provided in this section doesn't represent any investment advice or WazirX's official position. WazirX reserves the right in its sole discretion to amend or change this blog post at any time and for any reasons without prior notice.