Dear Tribe!
I am glad that you are considering WazirX for your crypto journey. Please be assured that we are here for you if you need any assistance. In case you have any concerns, even after reading our guides, you can always reach out to us here.
WazirX Guides
What is WazirX P2P?
WazirX P2P (peer to peer) is a platform to help investors convert their Fiat to Crypto (and vice versa) instantly. In simple words, you get matched with another buyer/seller on the platform who wishes to trade their USDT for INR or vice versa. Here, the conversions are cheaper, faster & simpler for everyone! For buyers and sellers, WazirX acts as an escrow for safekeeping the transactions. This is a free platform and is available 24×7 while being safe, and absolutely legal!
To get a better overview, check this video on P2P by WazirX.
Points to remember here are:
Only users with Indian KYC can use this feature.
You can only buy USDT through WazirX P2P. That means, if you want to invest in any other crypto, you will have to first buy USDT via P2P and then use USDT to buy other cryptos on WazirX.
The most efficient way to sell your crypto is in the INR market. You can sell your crypto in the INR market and then withdraw the INR directly to your linked bank account. The minimum amount of withdrawal is INR 1000. P2P can also be used to liquidate your crypto investment. For this, you will have to first sell your crypto for USDT and then sell that USDT for INR via P2P.
How to use WazirX P2P?
Step 1:
Mobile: On the WazirX app, in the 'Exchange' tab, select 'P2P'.
Desktop: On the header, select 'P2P'.
Step 2:
Mobile: Click on 'Buy INR with P2P'
Step 3 (Mobile & Desktop):
For Buy orders: Add the INR price at which you would like to purchase USDT. Add the desired number of USDT tokens and click on 'BUY".
Please Note:
The minimum buy amount should be more than 14.5 USDT.
By clicking on the 'Add preferred seller (optional)' or 'Add preferred buyer (optional)' tab, you can add the XID of your preferred person and transfer INR or Crypto to your preferred person. However, adding XID is completely optional.
Once you click on the 'BUY' button, you will have only 10 minutes to select a payment mode. On the backend, WazirX will automatically match you to sellers (in cases when preferred XID is not added).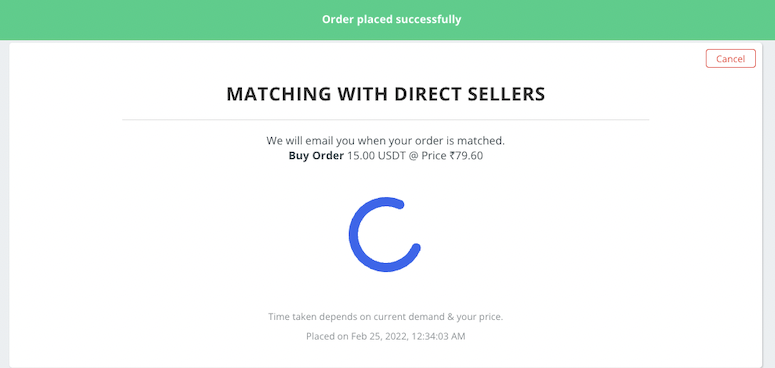 Step 4 (Mobile & Desktop): Select the preferred mode of payment. You can pay with UPI or IMPS.
Please Note:
At this step, the payment option shown is as per what the seller has opted for. On WazirX, IMPS linking is mandatory. However, linking UPI is optional. That means, the UPI option will be available only if the seller has linked his/her UPI ID to his/her WazirX account.
Please Note:
In the case of BUY orders, you will get extra 60 minutes to complete the payment if you confirm to pay for your order.
However, there will be a penalty for not paying after clicking "Yes, I will pay": Minimum penalty will be 10 USDT or 1.2% of trade value (whichever is higher).
False confirmations can lead to locking of your account.
Step 5 (Mobile & Desktop): Click on 'YES, I WILL PAY'.
Step 6 (Mobile & Desktop): Complete the payment based on the details available on the screen (seller's bank/UPI details). Once the payment is done, you will have to upload the payment proof and then click on the checkbox and 'I have paid'.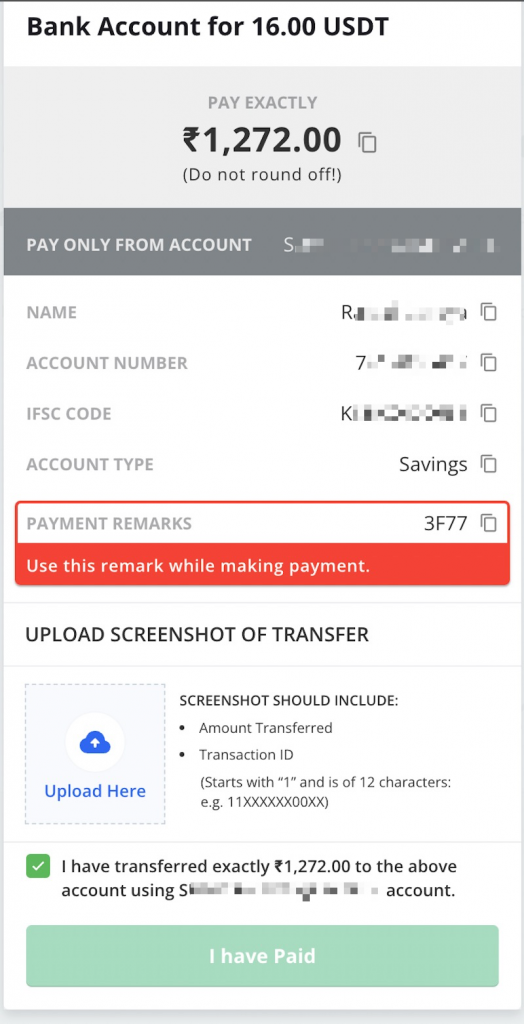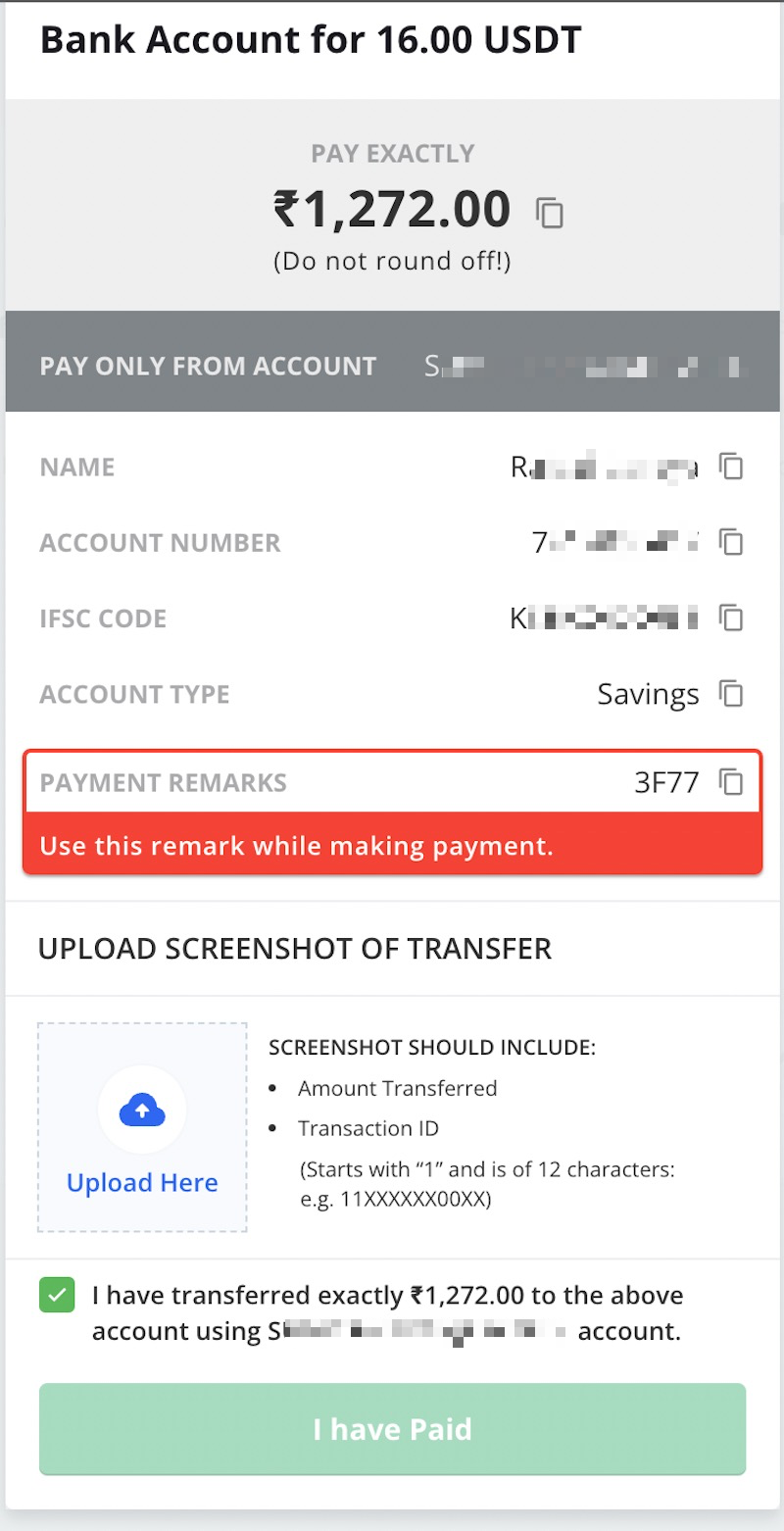 Please Note:
Once you have confirmed the payment, the seller will have to confirm the receipt.
After the seller confirms that they have received the payment, your order will be marked completed, and the USDT purchased will reflect in your 'Funds'.
Frequently Asked Questions
Why does WazirX P2P only have USDT?
USDT is a stable coin. To keep transactions simple and to ensure very high liquidity, USDT alone is supported.
What are the safety measures taken by WazirX?
We understand that trusting unknown peers is difficult. To ensure that your funds are safe, WazirX has an escrow system in place to make the entire transaction secure so that neither party can cheat the other. If you're a seller – WazirX will not release your USDT to the buyer until you confirm the receipt of payment, and if you're a buyer – WazirX will hold the seller's USDT while you make a payment to the seller. We also verify the KYC details of every user before allowing them to trade on WazirX. A record of each and every transaction that occurs on our exchange is maintained.
What to do if you forget to click on 'I have Paid'?
You will have 10 minutes to click on the 'Raise Dispute' option. Once you raise a dispute, you will immediately get an email from our dispute team requesting payment proof. Then, within the next 15 minutes, please reach out to our support team via chat, following the instructions mentioned in the email. The dispute team will then review your payment proof along with other details and make a final decision on your dispute. The decision of the dispute team is final and binding and cannot be reversed.
Please Note: We have a multi-check fool-proof process that ensures complete accuracy when reviewing a dispute.
How does the recovery (of funds) work if a transaction fails on WazirX P2P – When the buyer cancels the trade instead of confirming the trade?
When the Buyer makes the payment and then cancels the transaction, we share the buyer's payment details with the seller and ask them to make the payment back to the buyer. To ensure that the buyer gets their funds back, we lock the seller's funds and/or account and send an email with all the information along with the payment proof. We send a total of 3 reminders to the Seller, one every 24 hours. After the 3rd and final reminder, we proceed with funds recovery, which takes up to 13 business days (However, this only works when the funds are available).

Disclaimer: Cryptocurrency is not a legal tender and is currently unregulated. Kindly ensure that you undertake sufficient risk assessment when trading cryptocurrencies as they are often subject to high price volatility. The information provided in this section doesn't represent any investment advice or WazirX's official position. WazirX reserves the right in its sole discretion to amend or change this blog post at any time and for any reasons without prior notice.